Countdowns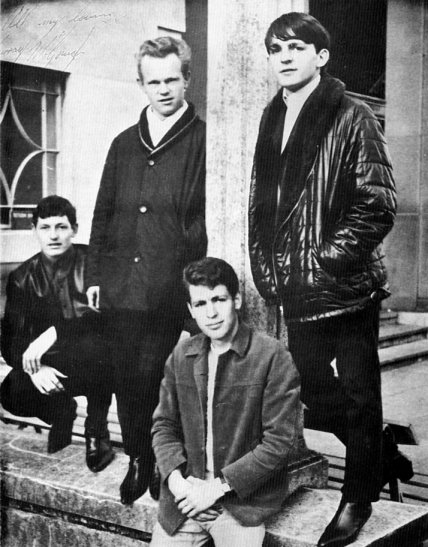 L to R: Darryl Florance, Murray McGough, Kevin Croon and Dave Diver.
Line-Up:
Ron Orchard (Drums)
Darryl Florance (Rhythm Guitar / Vocals / Harmonica)
Murray McGough (Bass Guitar / Vocals)
Kevin Croon (Lead Guitar)
At the end of 1962, the Countdowns emerged from the remains of the Sapphires. They quickly realised that in order to survive, they could no longer be just an instrumental band and would have to add vocals due to the onslaught of singing groups like the Beatles.
Murray was the only reasonable singer, but one was not enough, so Darryl was added, with even Kevin being obliged to add his voice as well. The Countdowns regular gig was at the Hideaway, previously known as the Mexicali, and later as Pedro's Room and then the Powder Poof. Kevin was guiding the group and he ensured that they didn't play any covers of hit songs, instead opting for B-sides and album tracks.
The group were very popular in Palmerston North and played there quite regularly. But before too long the pace was starting to tell and Ron Orchard decided to call it quits. He was quickly replaced by Dave Diver, who had recently returned from Australia, having just ended his stint with the Librettos. Now the group pushed on, traveling as far a field as Wanganui.
Kevin was looking for international stardom, local fame was not enough for him, and this lead to Murray deciding that he had just as much chance of being famous on his own, so he left to try a solo career. A new bass player was recruited, but by October 1965, the band folded.
Murray adopted the name Murray Marsden, and released two singles for HMV in 1966. They were "Lipstick Traces"/"Hucklebuck Shoes" and "It's A Crying Shame"/"She's Everything".
Dave Diver joined the Avengers for 5 minutes before returning to Christchurch.