Four Fours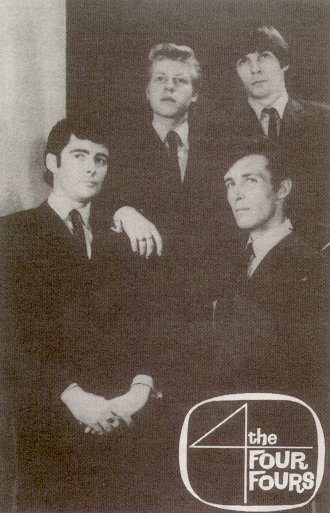 Original Line-Up:
Trevor Spitz (Drums)
Mike Horman (Piano)
Robert Smith (Alto Sax)
Colin Minifie (Alto Sax)
An unusual line-up of sax, piano and drums was what this Tauranga group, formed by Trevor Spitz, looked like in 1958. Realising their limitations, new members were recruited. In 1959 Bill Ward joined as lead guitarist and in 1960, Dave Hartstone as rhythm guitarist. At that stage Mike Horman switched to bass and the sax players moved on. With this new line-up they played mainly Shadows type music and by 1962 were the top group in the Bay of Plenty area.
A recording contract was signed with Allied International and the Four Fours started releasing singles. The first two were released in 1963 and were "That Happy Feeling"/"Janice B" and "The Wolf"/"Salenaci".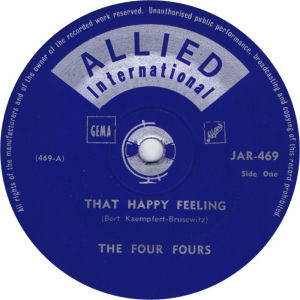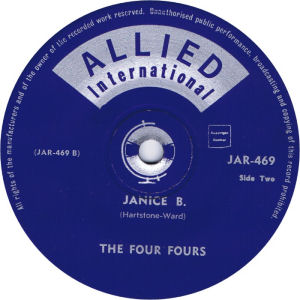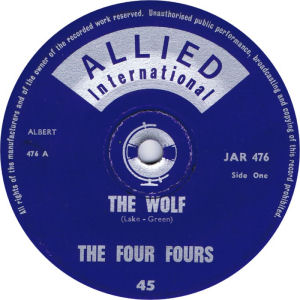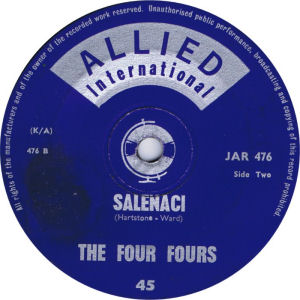 By mid-1963 the group decided to head to Auckland. Mike Horman didn't want to go so he left the group and was replaced by Frank Hay on bass. In November 1963, the group consisted of Spitz, Hay, Ward & Hartstone. They secured gigs at the Monaco nightclub and the Platterack.
In 1964 they released three more singles, "Barrow Boy"/"Answer Me The Wind", "Everytime"/"Jungle Cat" and "She's Gonna Get Me"/"Moon Blues".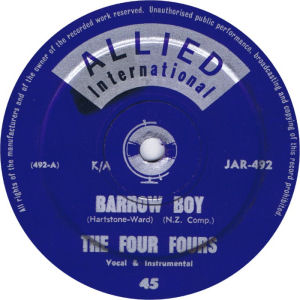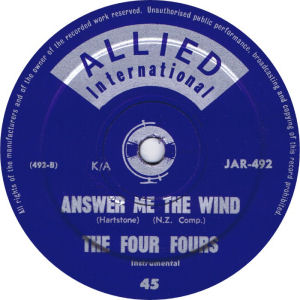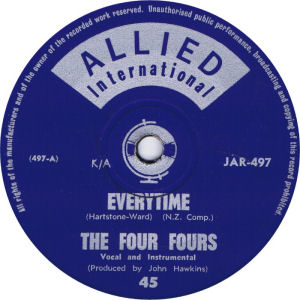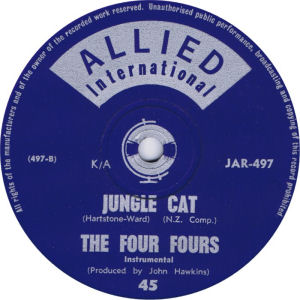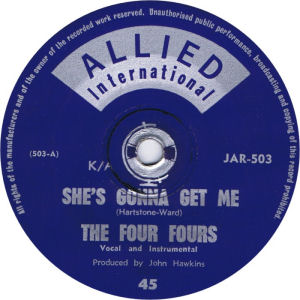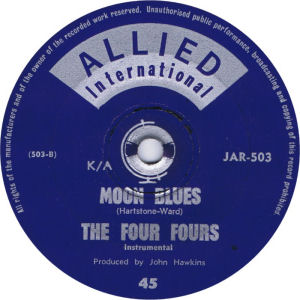 For their next single they had the A-side written, "Time Slips Away" They wrote most of their own music and ended up recording a strange song for the B-side called "Theme From An Empty Coffee Lounge" in 1965. It contains a whistled melody line and has ended up becoming a New Zealand classic. Two more singles were also released in 1965, "Baby Come Back To Me"/"It's Gonna Rain" and "You're My Baby (And Don't Forget It)"/"Four Bad Men".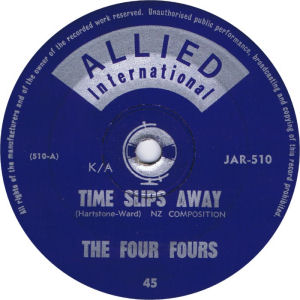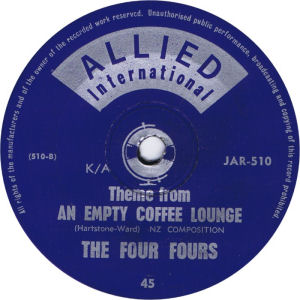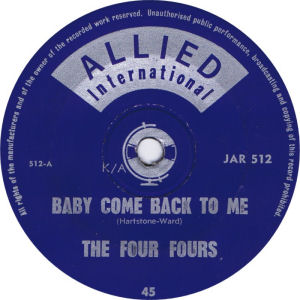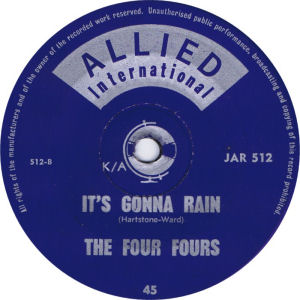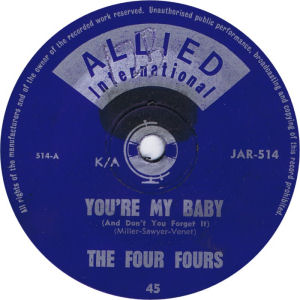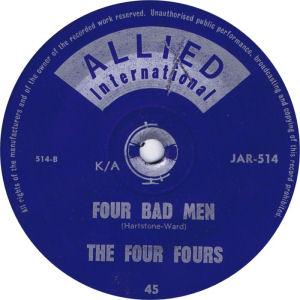 The band continued to play locally, while other groups were heading to Australia to try and make it big. Once the Four Fours got a taste of success with hit records and sell out crowds, the lads set their eyes on becoming the first Kiwi group to break into the London scene and decided that England had to be the place to make it big. Trevor Spitz didn't like that idea so in 1966 he left. The band began auditioning for a replacement and came up with drummer Maurice Greer, from the Saints, (from Palmerston North, not to be confused with the Christchurch Saints from 1962). That group was his own band and Maurice had been experimenting with drum kits from an early age. He had converted his kit to a stand up unit, which he claimed was better for his vocals. But it wasn't only his drumming ability that impressed the Four Fours, it was his ability to harmonise and hit those high notes, the trademark of chart topping bands of the time.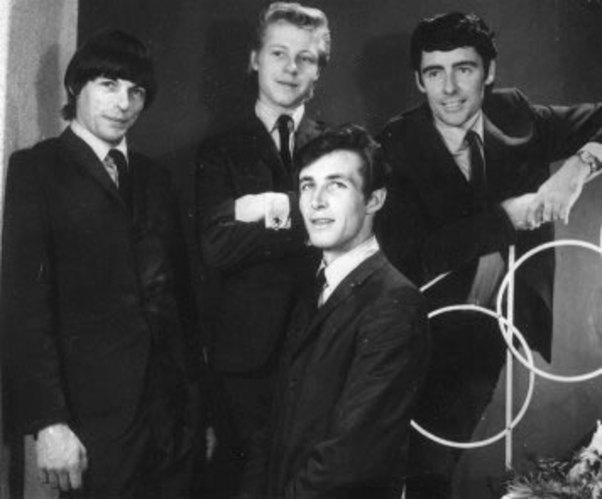 L to R: Frank Hay, Maurice Greer, Dave Hartstone & Bill Ward
A switch was then made to the Zodiac label in 1966, with two more singles being produced, "This Time Tomorrow"/"Trucking Blues" and "From The Bottom Of My Heart"/"Stingray".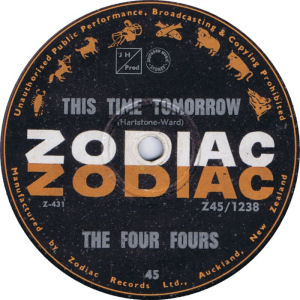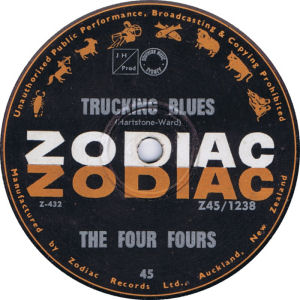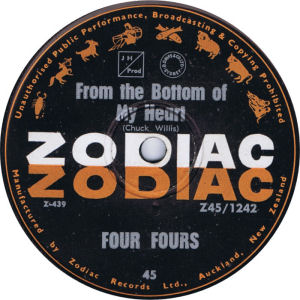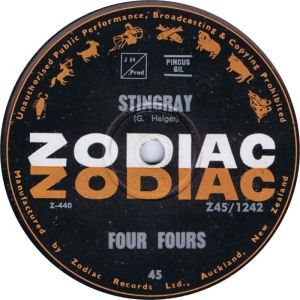 The next recording for the group was "Go-Go" backed with "Don't Print My Memoirs". It became their second biggest hit, and earned them a support spot on the tour by the Rolling Stones and the Searchers in March 1966.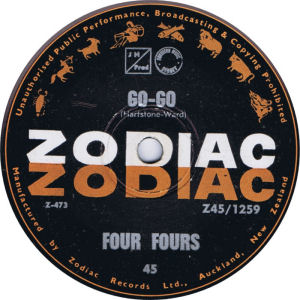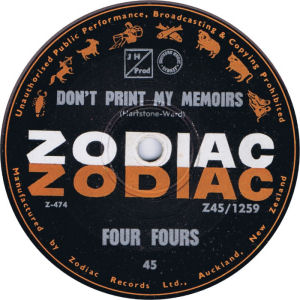 It was shortly after this tour that the trip to England eventuated in August, when the group boarded the Fairsky to take up residency and work their way to England. On arriving in England, they changed their name to Human Instinct. One last single was released in New Zealand as the Four Fours in 1967 called "One Track Mind"/"Hawaii".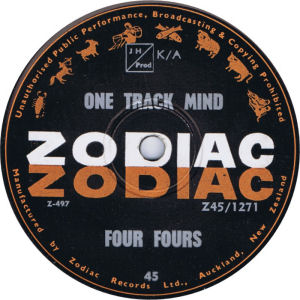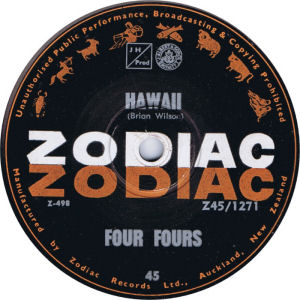 As the Human Instinct they stayed in England for two years, recording a few singles, without much success. They spent most of the time on the road, but were certainly the most successful New Zealand group to visit the UK in the 60's.
On their return home they went through a number of line-up changes, recorded a few more albums and retained residency spots at a number of night clubs, before officially disbanding in the late 70's.
Two Frenzy CD's were released in 2019. The first is a complete collection of all their singles and includes an unreleased single. The second covers both the Four Fours & Human Instinct, covering their better songs.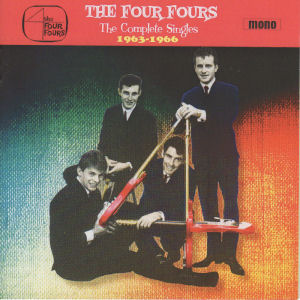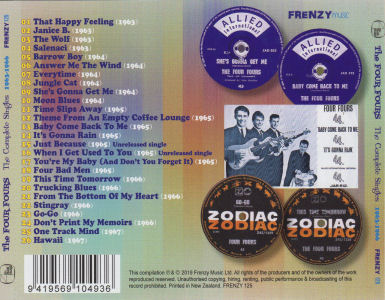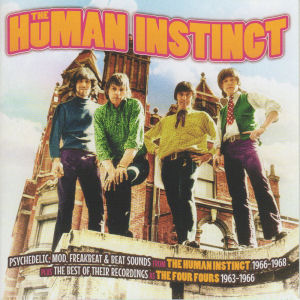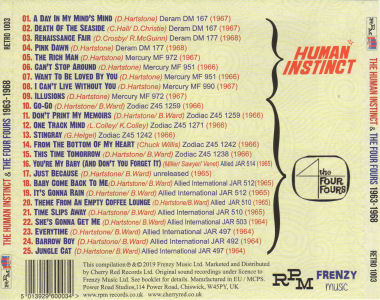 For further details, see Human Instinct.
The Four Fours can also be found on the following compilations.