Intruders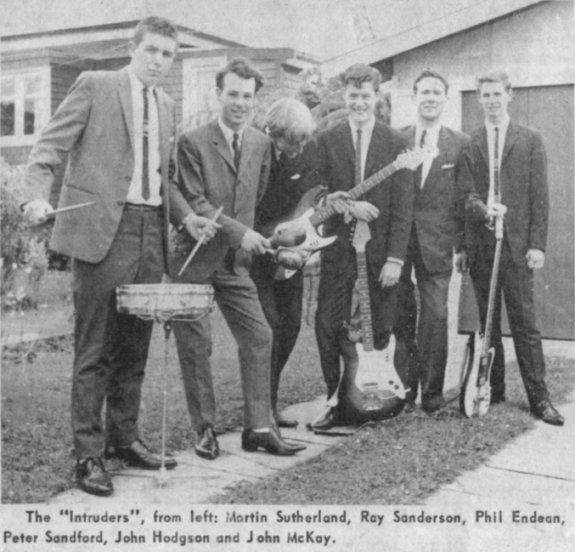 Line-Up:
Phil Endean (Lead Guitar)
Peter Sanford (Rhythm Guitar)
John Hodgson (Bass Guitar)
Martin Sutherland (Drums)
Ray Sanderson (Vocals)
John McKay (Roadie)
The above picture appeared in the Mt Roskill and Onehunga News on Wednesday 10th November 1965. Along with it were the following words :-
"A new Mt Roskill musical group, the Intruders, has been formed by six local lads. The boys have begun by playing at church dances and private functions. They later intend to move further afield in the entertainment world.
"The group comprises vocalist Ray Sanderson; lead guitarist, Phil Endean, who has made most of the equipment used by the group; rhythm guitarist and founder-leader of the group, Peter Sanford; bass guitarist John Hodgson; and drummer Martin Sutherland. One member, who is not yet a performer, is John McKay.
"The boys are ardent fans of the Beatles and Rolling Stones and their repertoire consists of many such numbers. They consider that this type of entertainment is one way in which they can help in any community youth work and are anxious to contact any youth organisations who would like their services."
The Intruders didn't end up staying around for long, as they split up when Phil Endean left to join the Lika Street Choir in 1966.