Paul 'Ivor' Fisher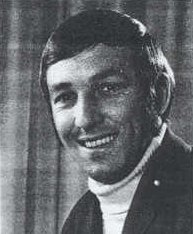 Ivor Fisher was a pop singer from Hamilton. He released two singles on Viking, the first in 1959, "Lookie Lookie Lookie"/"Call On Cupid" and the second in 1960, "Wild One"/"Shimmy Shimmy Ko Ko Bop", along with a 7" EP called "Wild One". He was backed on the EP by fellow Hamiltonians, rock and roll group, the Satellites.
He decided to join the Satellites as their vocalist. Other members of the group were Ken Wadsworth on saxophone, Dawn Wadsworth on piano, Sonny Murray on bass guitar, Derek Cummings on lead guitar, Tony Edwards on rhythm guitar and Morrie Holmes on drums.
The Satellites released four singles on the Kiwi label during 1962 and 1963. They were "Breaking Up Is Hard To Do"/"Ali Baba", "Venus In Blue Jeans"/"Come Back My Love", "Tell Me, Tell Me"/"Buckeye" and "Teenage Heaven"/"You Haunt Me".
He toured up and down the country for a number of years, and his final appearance with the Satellites and also in New Zealand, was on the Millie Small / David Whitfield tour. After this he went to Australia where he worked for nearly four years.
In Australia, Ivor adopted the name Paul Fisher and worked at all the Leagues and RSL Clubs on the Australian circuit, as well as appearing at Chequers Nightclub and on every major TV Show in the country. He worked with such artists as Neil Sedaka, Shirley Bassey and Bobby Rydell.
Under the Paul Fisher name he released another single on Viking in 1967 called "I Don't Need That Kind Of Lovin'"/"Blue Monday". In October 1968, he arrived back in New Zealand with his wife and two children and settled back in Hamilton. After working for two months at Auckland's Logan Park, Paul then worked for five weeks at Wellington's Beefeaters Arms. It was during his season there that he was noticed by HMV and they signed him to an exclusive deal. He even appeared on his own half-hour TV show "Just Paul" and was guest artist on "An Evening With Ricky May".
One more single came in 1970 on HMV called "Lady"/"Pickin' Up The Pieces".