Secrets
Line-Up: (Dynamics)
Derek Wright (Lead Guitar / Vocals)
Paul Muggleston (Rhythm Guitar / Vocals)
Peter Hansen (Bass Guitar / Vocals)
Pete Ward (Drums)
The Secrets were a Christchurch group who started out life as the Dynamics. The Dynamics consisted of the above line-up and toured New Zealand as a support group on the Searchers, Peter and Gordon and Del Shannon tour in 1965. Paul Muggleston had previously played in a group called the Measles, which included Neil Harrap, Bruno Lawrence and Puni Solomon.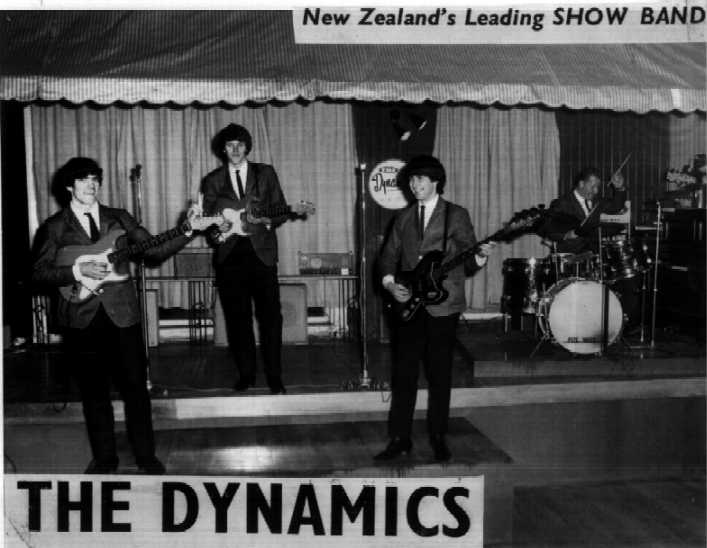 After the tour they decided on a line-up and name change. Peter and Pete departed and were replaced by Gary Thain on Bass and Wayne "Biggy" Allen on Drums. The group became known as the Secrets.
In 1965 they recorded one single on Allied International called "It's You"/"You're Wrong". Paul wrote "It's You" for his love at the time, Mara Romans, and "You're Wrong" was written by Paul and Gary. "It's You" was nominated for the 1965 Loxene Golden Disc Awards.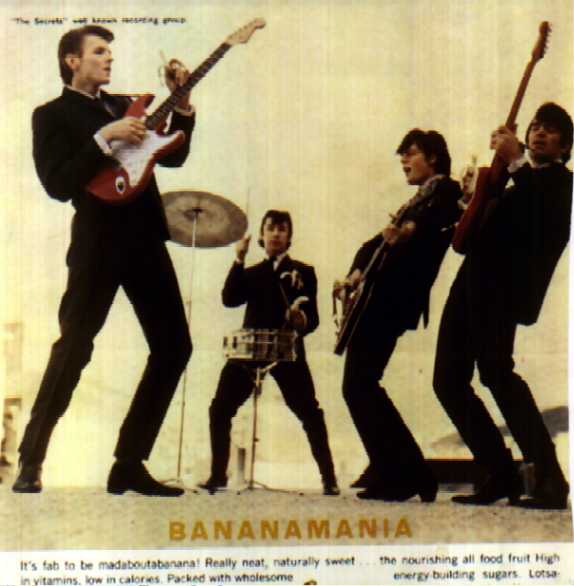 The Secrets doing a Bananamania ad. From left Paul, Wayne, Gary and Derek.
After their one single, the Secrets split up. Gary and Paul joined up with Peter Dawkins and Dave Chapman, taking the name Me and the Others to the UK, touring England, Scotland Wales and Germany.
Gary Thain eventually ended up playing Bass with British hard-rock band Uriah Heep. He sadly died of a drug overdose on 19/3/76.
As the Secrets were no longer using the name, Geoff Cavanagh and his band members moved into the Plainsman in Lichfield St Christchurch and adopted the name. As the Secrets, they went on to record a single called "Soothe Me"/"Fool On The Hill" in 1969 on Festival. Geoff's band consisted of himself on bass and vocals, Wayne Allen, from the original Secrets, on drums, and Stan White on keyboards. During their time, Wayne was replaced by Chris Fox and Stan by Harry Gilmour.
In the late sixties Paul made an attempt to create a new identity by recording a country and western type song called "Daddy On Your Mind" based on his dad. He recorded it under the name Paul Baron. The flipside was "Don't Leave Me In My World". It was released on the Orly label in 1969.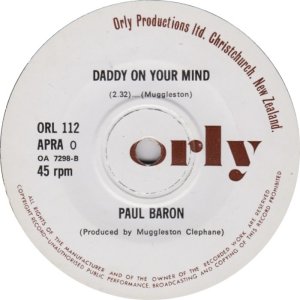 Paul Muggleston now lives in California USA and I am very grateful for the pictures and information he has provided.
The Secrets can also be found on the following compilations.