Yolande Gibson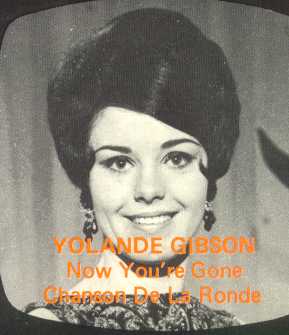 Yolande Gibson was a pop vocalist who originated from Napier. She later moved to Wellington before settling into a career in Christchurch. Yolande had a string of singles from 1968 to 1972. She appeared many times on television and was very popular on the Studio One series.
Recording for HMV, she had two singles in 1968, "Hush"/"Baby What I Mean" and "Rain In My Heart"/"Wonderful World". In 1969 came "World Of Music"/"Autumn" and "I Don't Wanna Play House"/"It's Another World".
Switching to Zodiac in 1970 she released "Ev'ry Little Bit Hurts"/"Pledging On Fear", and then in 1972 on Philips came "Where Did You Go"/"Song To Save The World".
1972 was the beginning of the Studio One series on television. Yolande was invited to sing songs written by various people. A various artists album was released to celebrate the series. Yolande had two songs on the album, "Now You're Gone" and "Chanson De La Ronde".
Her recordings went quiet for a while after that until she released an album called "Yolande Gibson Sings Vera Lynn" in 1976. She then had two singles on the Key label in 1977 called "Save Me"/"High Time" and "Beyond The Fields We Know"/"All I Want To Do In My Life". Her last single was released as Yo and was called "Falling In Love"/"Only A Fool".