Reference Number

NZ-C-51A
NZ-C-51Aa
NZ-C-51Ab
NZ-C-51B
NZ-C-51Ba
NZ-C-51C
NZ-C-51Ca
NZ-C-51D
NZ-C-51Da
Denomination

$5
$5
$5
$10
$10
$20
$20
$50
$50
Description

Stay Real. Dream Large.
Stay Real. Dream Large. - Reprint
Stay Real. Dream Large. - 2nd Reprint
Stay Real. Dream Large.
Stay Real. Dream Large. - Reprint
Stay Real. Dream Large.
Stay Real. Dream Large. - Reprint
Stay Real. Dream Large.
Stay Real. Dream Large. - Reprint
Control Number

250
270
290
251
271
252
272
253
273
Quantity

210,000
235,000
5,000
70,000
72500
15,000
17,000
100
60

Telecom New Zealand renamed itself to Spark New Zealand on the 8th August 2014. As an interim to issuing new phone cards with the Spark emblem,
existing stock had Spark stickers placed on the front and back of the cards. All four cards in the series had stickers applied.
Considering that there were only 60 of the $50 273 cards produced and most of them sold, there were very few of the $50 cards left to place stickers on.
There could only be a handful in existence. Here is one of them below.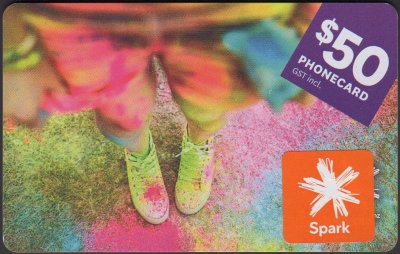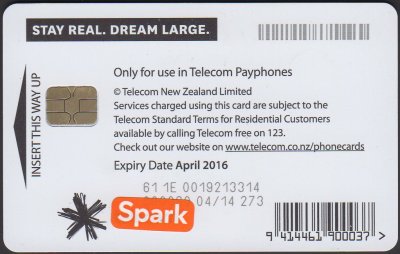 A small batch of 5,000 of the $5 card was produced in 2016, after the release of the Spark cards, that went back and used Telecom logo cards.
These cards had a new batch number of 66 and a control number of 290.
The cards were issued exclusively to the NZ Correctional Facilities.