New Zealand
Stamp Errors
Commemoratives
1958 Hawkes Bay Centennial
| | |
| --- | --- |
| | |
| S78a 3d Cape Kidnappers (Normal) | S78a? 3d Cape Kidnappers Major Perforation Shift (?????) |
1959 Marlborough Centennial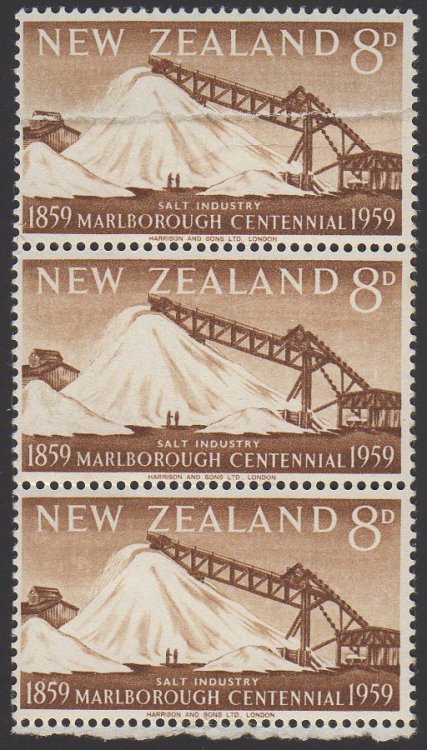 S73az 8d Salt Industry (Double Paper Reel Join, Vertical Strip Of Three) ($1,000)
The paper is joined halfway through the top stamp resulting in double paper for the second and third stamps.
1962 Centenary Of The Telegraph In New Zealand
| | |
| --- | --- |
| | |
| S88a(z) 3d Morse Key (Brown Colour Partially Omitted) ($600) | S88a(??) 3d Morse Key (Perforation Shift Resulting In Two Different Sized Stamps) ($500) |
1963 Centenary Of Railways In New Zealand
S90a Normal
S90a(z) Blue Colour Omitted ($1,500)

The error was caused by a dry print and affects the sky and the green of the left loco is now yellow, as is the grass in the foreground. Approximately 30 copies are known.

S91a Normal
S91a(z) Red Colour Omitted ($4,000)

Tom Pierron, in his online catalogue, states that a complete sheet of 120 stamps with the error existed originally, but the majority of stamps were stolen from dealers Bridger & Kay on 12 February 1964. It is believed the stolen copies were destroyed in panic as none bar the 16 examples from the top right of the sheet have ever surfaced.
1965 Anzac 50th Anniversary 4d Anzac Cove
| | |
| --- | --- |
| | |
| S94a Normal | S94a(v) Blurred Print ($500) |
1966 National Scout Jamboree

S103a(z) Strip of 5 with the first stamp as normal, the next 3 with Gold Colour entirely missing, and the 5th stamp partially gold missing ($10,000)
1969 Bicentennial Of Captain Cook's Landing 4c Cook and Octant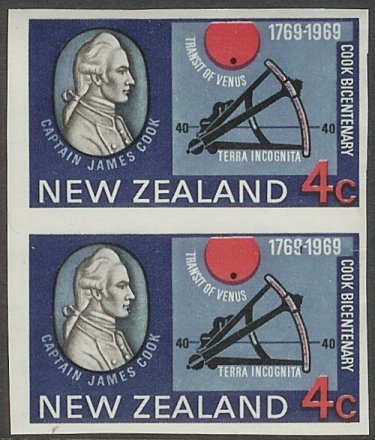 S122a(y) Pair Imperforate ($975)
1972 Lakes
| | |
| --- | --- |
| | |
| SS8a Normal Sage-Green Frame | SS8a(2) Yellow-Olive Frame ($1,000) |
1973 Mountains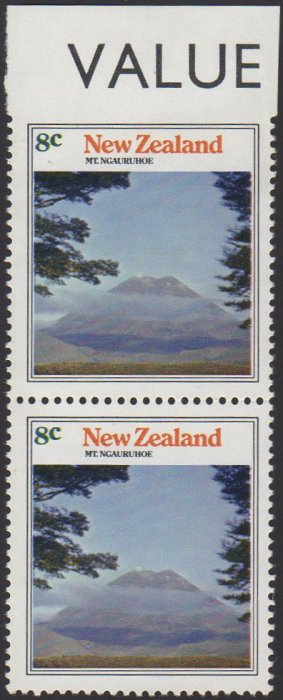 SS10a(z) Imperf At Top With Selvedge ($750)
1973 Six Commemoratives 4c Westport Centennial

S164a(x) Dark Blue Overprinting, almost removing New Zealand & 4c from right hand stamps ($400)
1973 Six Commemoratives 8c Olympic Rowers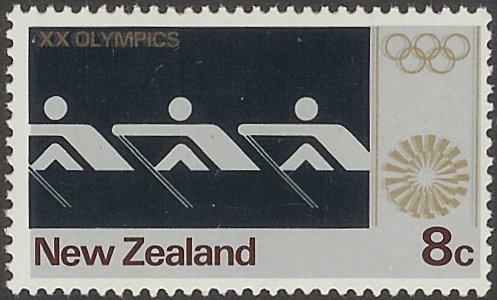 S167a(z) Gold Colour Doubled ($200)
1974 New Zealand Day Miniature Sheet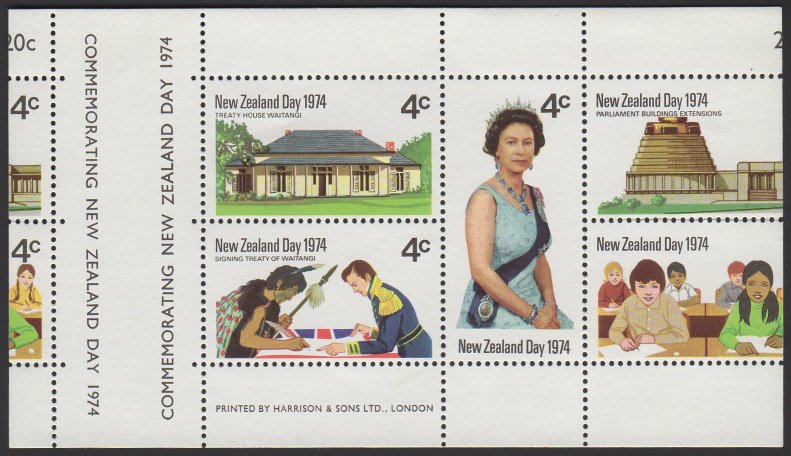 MS186(z) Grossly Mis-Guillotined ($700)
1975 Forest Parks
| | |
| --- | --- |
| | |
| SS19a Normal | SS19a(z) Dark Blue Colour Omitted ($500) |
1977 AA and RACS
| | |
| --- | --- |
| | |
| S218a Normal Pair | S218a(z) Grey Colour Omitted (Lower Background) ($1,500) |
1978 Resources Of The Sea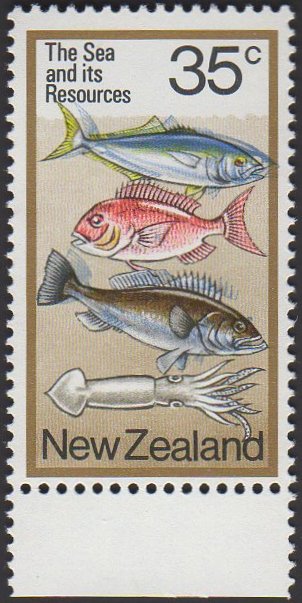 S248a Unlisted Blue Colour Shift To The Right (??)
1980 125th Anniversary Of New Zealand's First Stamps 14c Strip Of 3

SP260-262(z) Black Colour Omitted ($1,000)
1986 Police Centenary

S334SP Strip Of 5 Stamps Se-Tenant (Normal)

S334SP(z) Strip Of 5 Stamps Se-Tenant (Brown Colours Major Shift Upwards, Now Showing At Bottom Of Stamp, Leaving A White Strip In The Middle) ($500)
1994 Man On The Moon (25th Anniversary) $1.50
| | |
| --- | --- |
| | |
| S479a Normal | S479a(z) Missing Hologram ($2,000) |
1998 Scenic Skies $1.00 Mt Maunganui Sunset
| | |
| --- | --- |
| | |
| SS128a Normal | SS128a(z) Major 12.5mm Silver Colour Shift ($1,000) |
2000 Scenic Reflections $1.20 Rainbow Mountain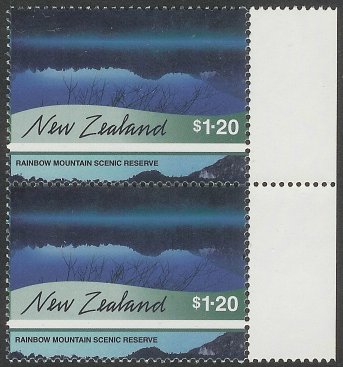 SS141a(z) Major Perforation Shift ($500 each)
2001 100 Years Of Tourism $1.50 Sea-Kayaking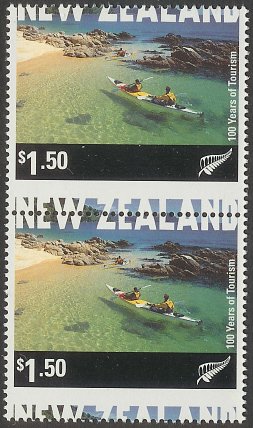 SS148a(z) Major Perforation Shift ($400 each)
2003 Lord Of The Rings III - Return Of The King $1.30 & $1.50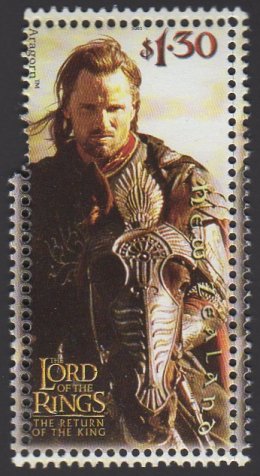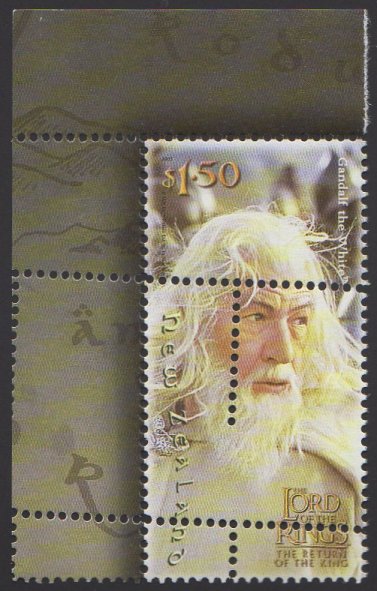 S864a(z) & S865a(z) Major Perforation Errors ($800 each)
2004 Olympic Games $2.00 Peter Snell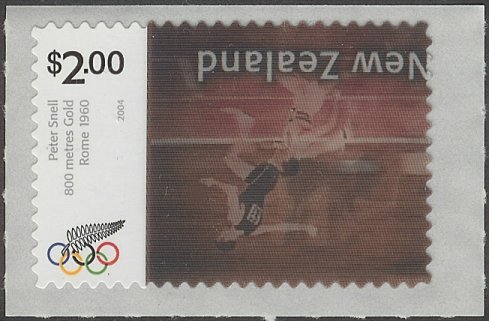 S918a(z) Illustration Inverted ($6,000)
2004 Olympic Games 90c Yvette Williams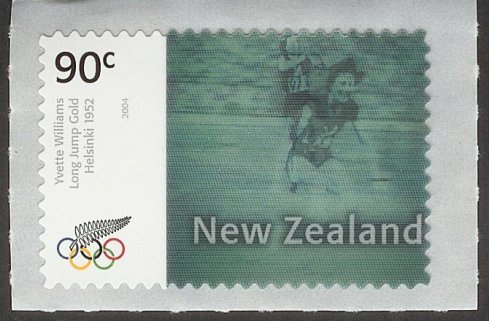 S916a(z) Illustration Misplaced Upwards ($250)
2005 Coffee Cups 45c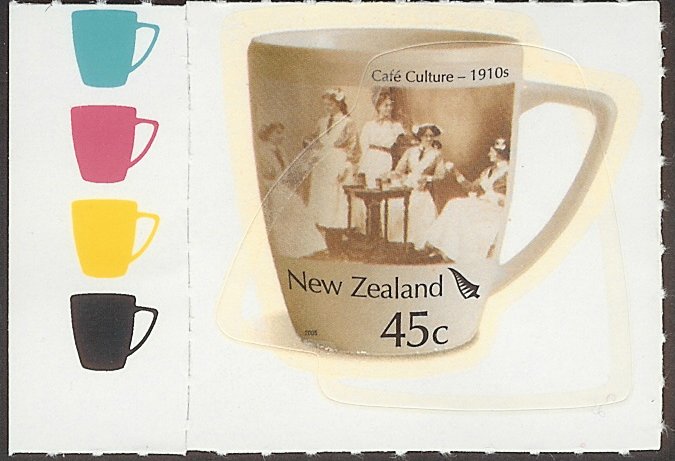 SH116a(y) Die-Cut Outline Inverted and Double Phosphor Print - 1 Normal, 1 Inverted. ($1,000)
2005 Farmyard Animals $1.50 Rooster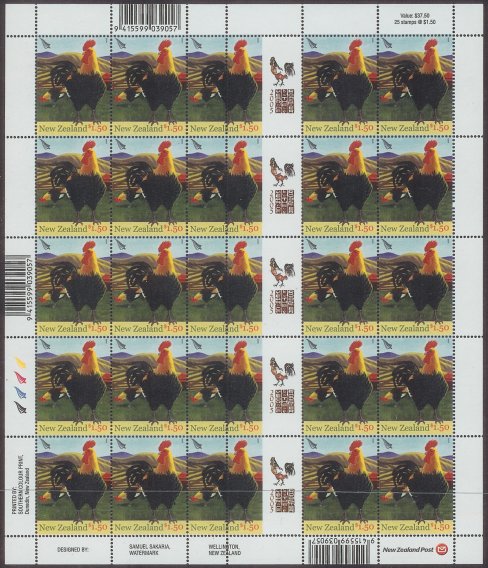 S927a(y) Sheet inverted causing perforation error to middle rows ($850 for 1 strip of 5)
2008 Weather Extremes 50c
| | |
| --- | --- |
| | |
| S1063a Normal | S1063a(z) Three Colours Omitted (Bronze, Yellow & Magenta) ($3,000) |
1990 The Maori 40c Legend Of Rangi and Papa
| | |
| --- | --- |
| | |
| SH31a Normal | SH31a(z) Chalky Blue Colour Omitted (Value) ($850) |
2011 Year Of The Rabbit Miniature Sheet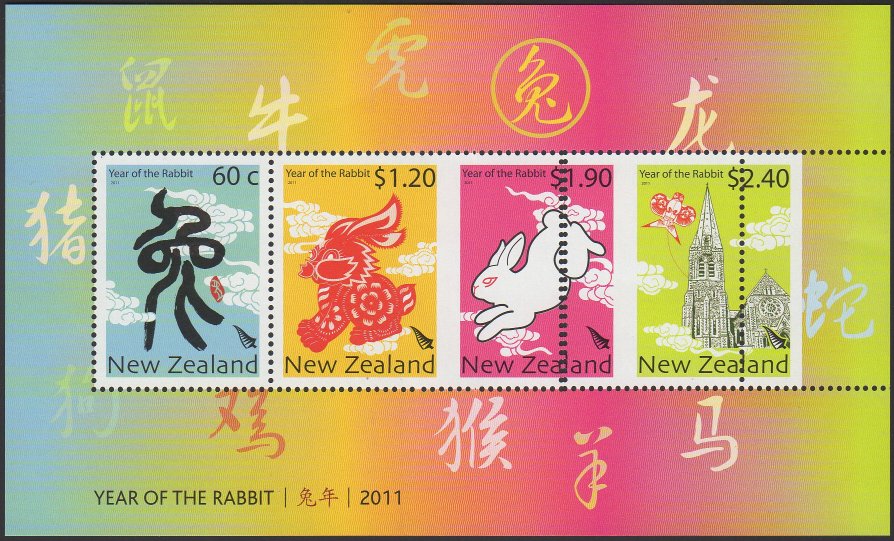 SM1237-40(z) Major Perforation Error ($3,750)