New Zealand
Decimal Banknotes
1990 Coin & Banknote Collection
Brash Signatures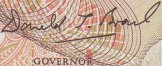 Approximately 800 Sets were produced. Each set contained a $1 & $2 note from the last Brash issue and the first release of the $1 & $2 coins.
Also included were versions of the old & new 20c coin and a 1 & 2 cent coin last released in 1987.
The serial numbers of the notes were not matched.
They came in a foldout cardboard folder, inside a cardboard sleeve, shown below.

The Reserve Bank was not impressed that this issue had the same look and appearance as there own Official Issue and instructed the issuers to place an explanatory sticker on the set to show it was not an official release.
These sets are much scarcer than the official sets.
Another set with the same contents as this one was released with different packaging, see Coin & Note Pack.