New Zealand
Decimal Banknotes
1990 Kiwi Dollar Collection
Brash Signatures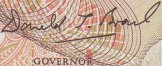 Ten Thousand Official Sets were produced. Each set contained the same numbered last prefix ANS & EPN $1 & $2 notes and the first release of the $1 & $2 coins.
The serial numbers of the notes ranged from 989001 - 999000.
They came in a foldout cardboard folder, inside a cardboard sleeve, shown below.

An almost identical collection was produced privately when the official version was difficult to obtain, See Coin & Banknote Collection.