Lord Howe Island
Postal Services
1999 Emergency Paid Label
A new release of stamp labels was scheduled for April / May 1999, but because the initial release had totally sold out, they had to revert back to using the rectangular hand stamp and dated circular postmark.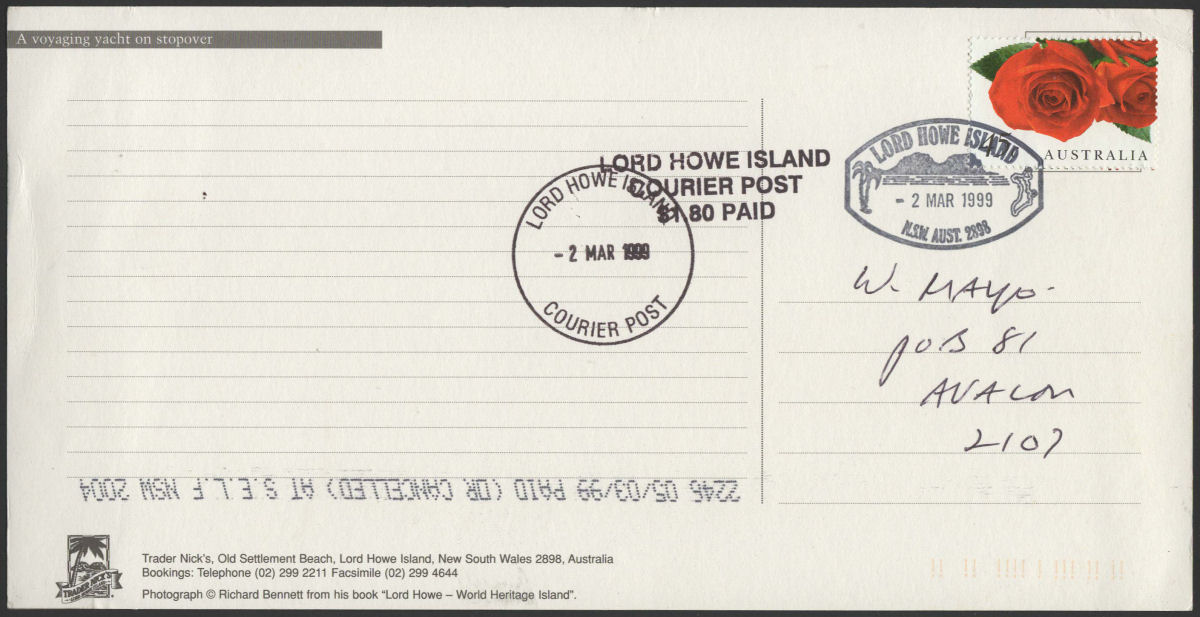 In March 1999, the Lord Howe Island Courier Post received a letter from the legal department of Australia Post, claiming that they were in breach of Section 29 of the Australian Postal Corporation Act, which gives Australia Post the exclusive right to issue postage stamps within Australia, including Lord Howe Island. The letter demanded that producing such stamps should cease immediately or legal proceedings would take place.
A long series of correspondence finally resolved the matter with the ACCC ruling that LHICP was not contravening Section 29 of the Act A great victory for a small organisation up against the size and resources of Australia Post.
While all this was going on, it delayed the scheduled release of the new issue, so an interim solution was required.
On June 10, 1999 an Emergency Paid Label was produced. It was issued in 2,000 Booklets with 4 x $1.80 Paid Rectangular labels. Shown below are the booklet, front & back covers, the four labels, a Proof booklet and a booklet cancelled on First Day of Issue. There are less than 20 Proof Covers.




Two different FDC's have been seen.