Third New Zealand
Grand Prix 1956


B. Bira holding the N.Z. Motor Cup after winning the Second NZ Grand Prix in 1955 in his Maserati 250F.
The New Zealand Grand Prix of 1956, will always be remembered as the Stirling Moss Benefit. Following the end-to-end win of Bira in the previous year, this 1956 race led to a revision of conditions, the elimination of the prize for each lap lead, the substitution of heats and, eventually, a shorter final.
What caused the organisation to ponder seriously was the fact that once again, probably unavoidably, there had been a runaway victory for one driver. And, incidentally, Maserati had bagged the trophy two years running.
Before the race, most people conceded victory to Moss, who would be driving his Maserati 250S fitted with Dunlop alloy wheels and the latest state of the art Dunlop disc brakes in place of the large Maserati drums. Already his fame was such that all the car needed to do was hold together and Moss would bring it home.
That same fine machine stayed in New Zealand. It was bought by Ross Jensen at the end of 1956 and won him the New Zealand Drivers' Championship for 1956-57 and again in 1957-58. Then it moved into the hands of Johnny Mansel, who started it in the 1959 and 1960 event.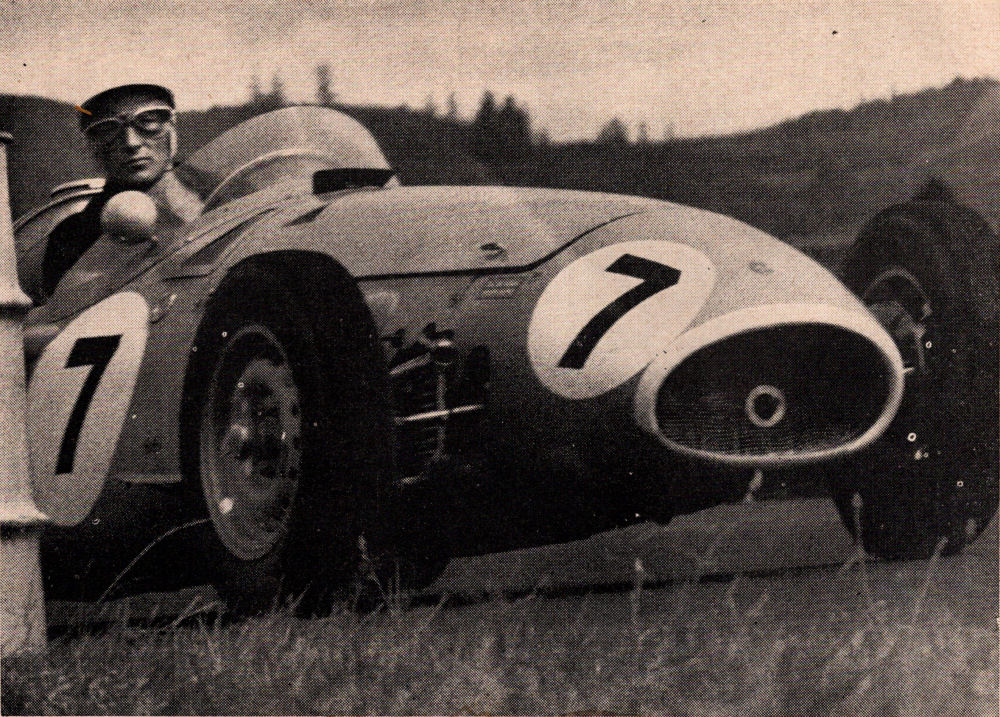 Stirling Moss in action during the race.
Moss apart, there was an interesting and well-matched international field, headed once again by Whitehead and Gaze, bent on making the circuit and picking up a little money on the way. Their mounts were the Ferraris of the year before - but this time tuned to run on methanol, giving them several miles an hour more. They had been completely rebuilt and fitted with 750S Monza motors in place of the 625's.
With them was one of the most famous and versatile of all British drivers, Reg Parnell, and in a crate came the real "dark horse" of the meeting, the experimental single-seater blown 2.5-litre Aston Martin, an early prototype for the grand prix cars of 1959. Unfortunately, this motor blew up in testing and it was replaced with a regular 3.0-litre DB3S instead.
And finally from Britain came the latest streamlined Connaught type B, with Jaguar D-type motor, entered by Leslie Marr, better known for sports car drives than grand prix's.


Leslie Marr (Connaught Type B).
Among the Australians, Jack Brabham was the only one likely to match the British contingent, with his lightened and streamlined rear-engined Cooper-Bristol, about 15 mph faster than the form in which it battled into fourth place the previous year. The car was a basic T39 stretched by 51mm and designated a T40.
Stan Jones entered, but was unable to bring the Maybach, which now disappeared from the international scene, but David McKay brought an Aston-Martin DB3S sports-racing car, Tom Sulman another, and Alec Mildren a Cooper-Bristol Mk II. Frank Kleinig, an Australian veteran and also well-known trials driver, drove the factory 1.5 litre Porsche Spyder, the car driven to victory in the Ardmore Sports Car Handicap by Moss prior to the main event.
On the New Zealand scene, there had been some changes. South Aucklander Dave Caldwell had the ex-Roycroft Alfa Romeo and John McMillan, a similar car. Roycroft, himself, was driving the Jaguar-engined Bugatti, as roadworthy as ever, but the colourful Fred Zambucka had made a trip to Europe and came back with three old Maseratis of great potency though none of them was well suited to Ardmore's turning circuit.
They were two 3-litre 450 bhp 8CLT-50's, the enormously powerful machines built in 1939 to match the pace of the Mercedes-Benz and Auto-Unions which had swept all before them in Europe for the previous five years and a smaller 6CM, but their handling was not up to modern standards, and the 6CM was also unable to compete successfully.
It was a sporting gesture on Zambucka's part to bring these cars in for the benefit of New Zealand sport; he drove one 8CLT in the 1956 Grand Prix, then died suddenly later in the year. The other 8CLT was driven by Harley Beckett, but he failed to qualify by three places. The 6CM was entered for Roly Crowther, but he also failed to qualify by one place.
Zambucka's older blown 2.9-litre Maserati had been brought by Auckland saloon-driver, Tom Clark, while Ross Jensen had a disc-braked Austin-Healey 100S.
Chugging along merrily amongst these came a whole string of motorcycle-engined Cooper-type cars. These ranged from the new Mk IX cars of the Ecurie Pomme (Ron Frost and Arnold Stafford) and Syd Jensen's and Ray Drew's own cars, through the Mk Vllls of Bob Hugill and Terry Nixon, Bruce Webster's Mk VII, Len Gilbert's Mk VI, J. 'Snow' Petersen's Mk IV and Ronnie Moore's Mk IV (with 1000 cc JAP engine) to Les Moore's Kieft-JAP and Bruce Wood's Staride-JAP.

Ron Frost (Cooper T36 Norton).
The locally built cars also constituted a large portion of the entry. The GeeCeeEss with Mercury power was back in race winning form, and Frank Shuter at last came up from Christchurch with his very potent Cadillac engined machine. McCutcheon's yellow Normac proved to be better suited to the circuit, however, and was higher-placed in the actual race. Morrie Stanton (Stanton Special) and Des McDonagh (Thomas-Mercury) returned as before, and Northland saloon-driver Lionel Bulcraig entered a very pretty 4-litre car called the Northland Special, which was actually the Palmer Special (Jackson-Mercury) renamed once again.
Of all the races at Ardmore, the 1956 one was more fraught with doubts, anxieties and disappointments than any other. Shipping arrangements went haywire, several cars being shipped to Wellington instead of Auckland.
They included Moss' Maserati, the two Ferraris, and Marr's Connaught, which, to add to its troubles, was loaded well down in the ship, was delayed in unloading by holidays and wet weather, and finally was flown to Auckland on the eve of the race, assembled and run without either adequate preparation or practice.
Cases of spares for all the cars were still missing the day before the race, though most turned up, and more than the ordinary race tension mounted.
Then came the final blow. On main practice day Parnell's Aston-Martin threw a conrod through the side of the crankcase, an irreparable blow in the time available. Had it not been for Whitehead, who lent Parnell his second car, a Cooper-Jaguar sports-racer, Reg would have watched the race from the sidelines.
Moss was worried about tyres and gearing, Gaze bothered by carburetion troubles, Whitehead concerned about having no spares. The only one untroubled was the fresh-faced Brabham.
In practice, it was clear that the previous year's lap times would go by the board, Moss, Whitehead and Parnell all clipping a second off Wharton's two-year-old record and setting a new mark of 1 min 29 secs. (84.94 mph) for the 2.1-mile circuit.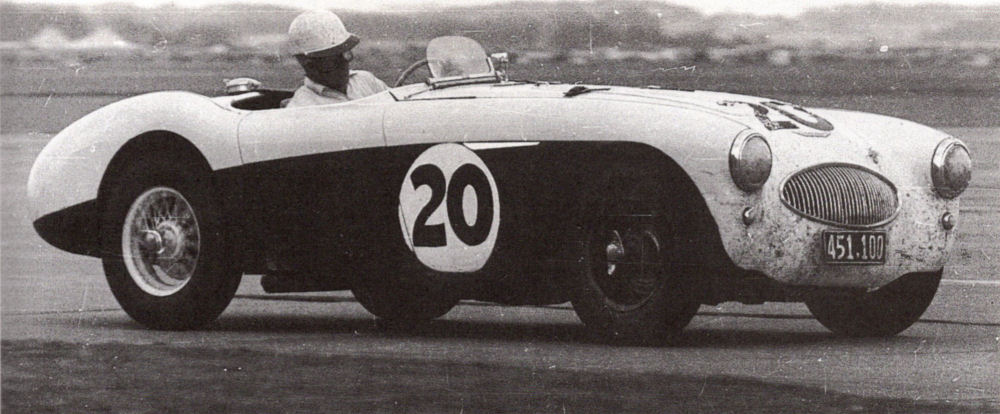 Ross Jensen (Austin-Healey 100S).
On official practice-day, the best that Whitehead turned in was 1 min 32 secs, though Moss again went round in 1 min 29 secs. Parnell, relegated to the Cooper-Jaguar, dropped to 1.38, Gaze got down to 1.32, and Brabham to 1.33. Roycroft was the best of the New Zealanders at 1.38.
Fred Zambucka was the only one out of his three cars to start. Fred Crowther took the wheel of Caldwell's Alfa-Romeo for the race.
When the day dawned, pole position on the starting-grid was taken by Moss, followed by Whitehead, Gaze, Brabham, with Roycroft leading the second rank, comprising Parnell, Syd Jensen and Clark. The remainder were (in order) Zambucka, McKay, Kleinig, Frost, Stanton, McCutcheon, Sulman, Stafford, Ross Jensen, McMillan, McDonagh, Marr, Mildren, Shuter, Bulcraig and Fred Crowther.
But as Jack Brabham made a pre-race warm-up run through the paddock before going out on to the line, there was a dreadful graunch as his gearbox split, and he was out of the race, the last of the pre-race disasters. Neither of the two next-fastest cars (Smith's trusty old Ford V8 GeeCeeEss or Len Gilbert's Cooper VI) was prepared to start in his place, so Rob Hugill (Cooper VIII) did instead.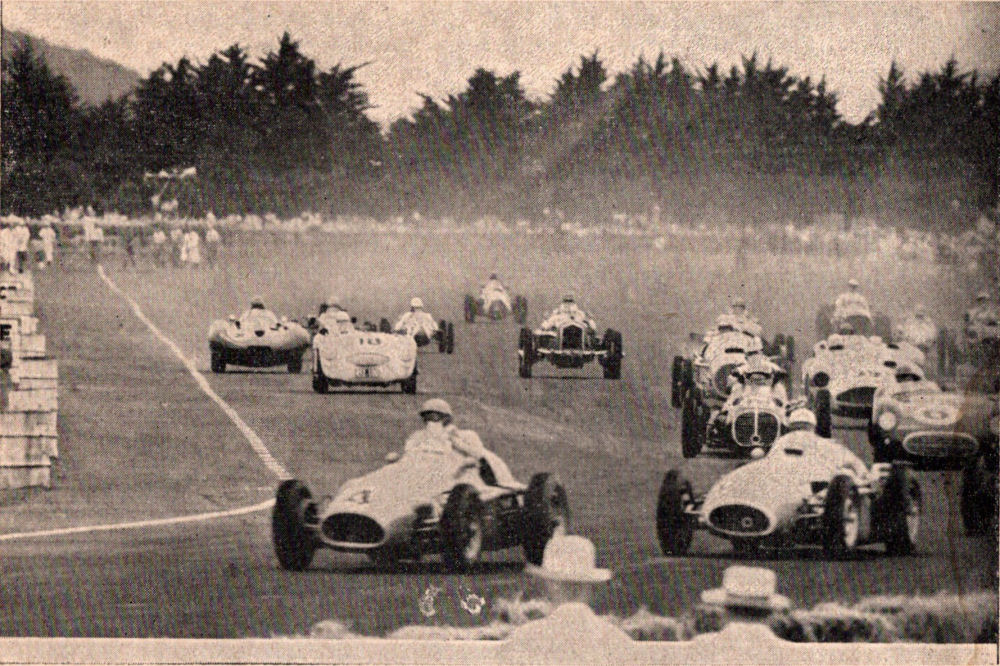 Just after the start, Tony Gaze in the lead closely followed by Stirling Moss.


Another view showing Whitehead behind Moss and Clark out wide.
Tony Gaze's Ferrari led at flagfall, followed into College Corner by Moss and Whitehead, and in next place was Alec Mildren's Cooper-Bristol. Mildren had had trouble with his car's head-gasket in practice, but seemed to have found a remedy. Moss took the lead along Hangar Straight - the start of an almost trouble-free run of 200 miles, so far ahead of the field that no one was able to challenge him.
For Mildren, it was the beginning of the end. On that flat-out first lap he blew a head gasket on the Cooper-Bristol and that was that.
It was not Australia's day. Before the race was half over, only Frank Kleinig, the man who had stood down for Moss to take the Porsche Spyder in the sports car race, was left. And he ruined his chances by spinning out on College Corner in the third lap, plunging tail-first through the straw bales.
In the 10th lap, David McKay took the right-angle at the end of Hangar Straight (the slow hairpin came into the circuit the next year) too fast, clouted two weighted marker drums, and damaged the rear suspension of his Aston-Martin DB3S, forcing a retirement. A few laps later, veteran Tom Sulman sent the needle too far into the red in his Aston-Martin on the back straight, blowing a piston with expensive noises.
Meanwhile, Moss was steadily increasing his lead, averaging 78.2 mph, and by the 10th lap he had lapped Marr.
Marr, treating his new car with consideration, had driven a clever race to make good his position. Despite all the trouble it had had, the car was running well and stood up for the race, as the final result showed.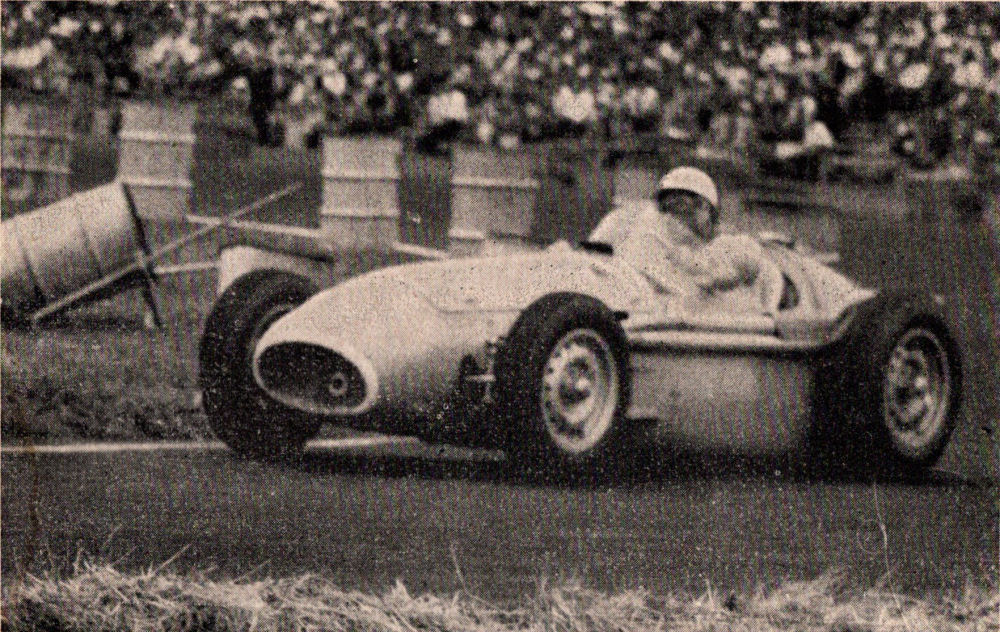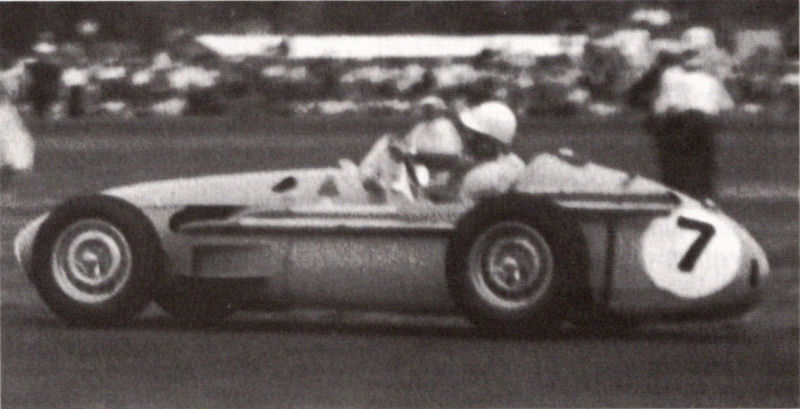 Moss leading the field.
By the 15th lap, Moss had lapped all but the half-dozen fastest of his followers, and appeared in an unchallengeable position. Two laps later, he put in a lap at 1 min 29 secs, a figure which was to fall before the end of the race.
In the "race within a race" Roycroft's aged Bugatti was showing that with a modern motor it could handle with the best of them, leading Syd Jensen, Zambucka, Clark and Frost.
Moss had lapped the field on lap 33, keeping up a steady 78 mph, about a mile an hour faster than Whitehead and Gaze in the Ferraris.
Several more retirements had been forced by the pace, Hugill (Cooper) with a clutch failure, Ross Jensen with a broken crankcase, Stanton missing badly with the Gipsy Six-engined "Cropduster" special. Bulcraig's Northland Special blew up spectacularly on College Corner.
Marr had worked his way up to fourth place by the 35th lap, but a spin on the same old College Corner let Parnell by in the Cooper-Jaguar.
But by this time, Marr was going well, and needed only a few laps to make good the leeway and slip back into fourth place again.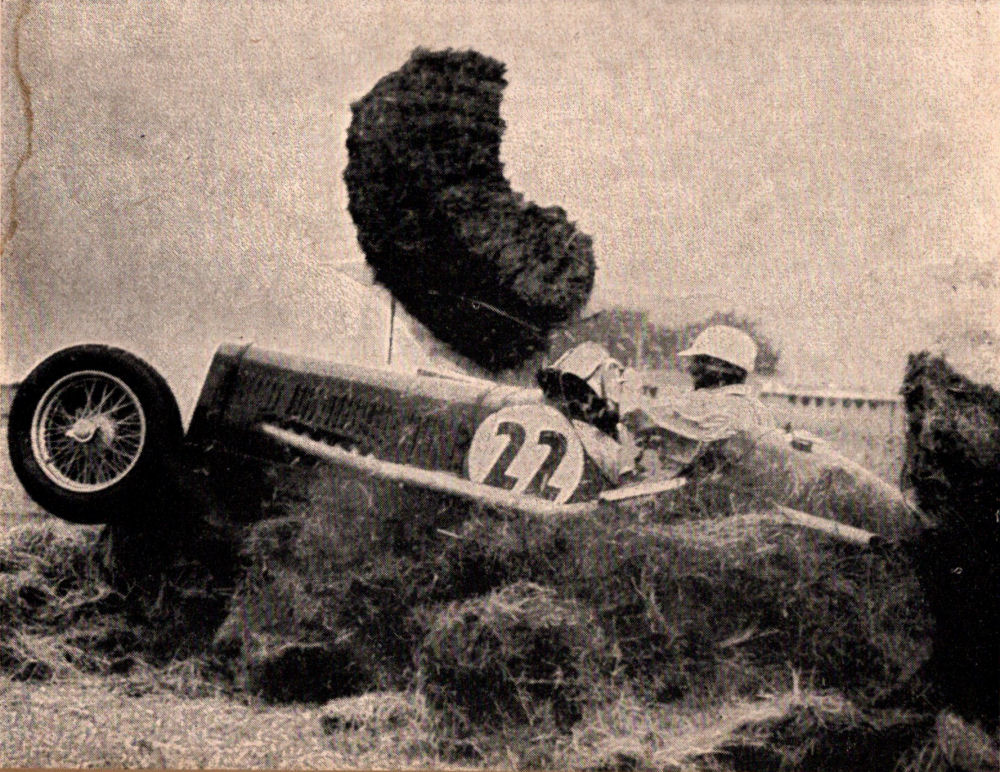 Tom Clark (Maserati) loses control after spinning out at College Corner.
The half-way order was: Moss, Gaze, Whitehead, Marr, Parnell, Syd Jensen, Roycroft, Zambucka, Clark, Frost and McCutcheon. Roycroft came in for fuel, letting Jensen, Zambucka and Clark through, but by Lap 70 had overtaken them again despite a somewhat sick-sounding motor. On the way, Zambucka had adjourned to the pits, the 8CLT suffering from overheating, but resumed again.
The last half of the race, these incidents apart, looked like a dull finish, but 20 laps from home drama entered the picture.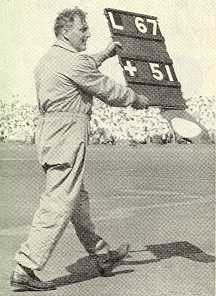 The lap board shows how far Moss was ahead at the three-quarter mark.
Moss was almost a lap out in front of Gaze and Whitehead when he felt rain on his face and goggles. But it was petrol, not rain. Half-blinded, choked by fumes, Moss had to reduce speed as the petrol from a broken lead sprayed back into the cockpit. The fuel level dropped precipitately, but Moss found that he could carry on. Eight laps from home he made a pit-stop, while eight gallons of fuel were tossed on board and a temporary stopper applied to the pipe.
It was enough to see him home safely, and although his lap speeds had dropped and Gaze was creeping up, Moss managed to set a fresh lap record of 1 min 28 secs, or 82 mph on the 98th lap. Whitehead, pressing forward smartly on his final run, had a spin which almost cost him third place. And in these closing stages Kleinig had managed to nose the Porsche in among the New Zealanders, bringing it home in ninth place.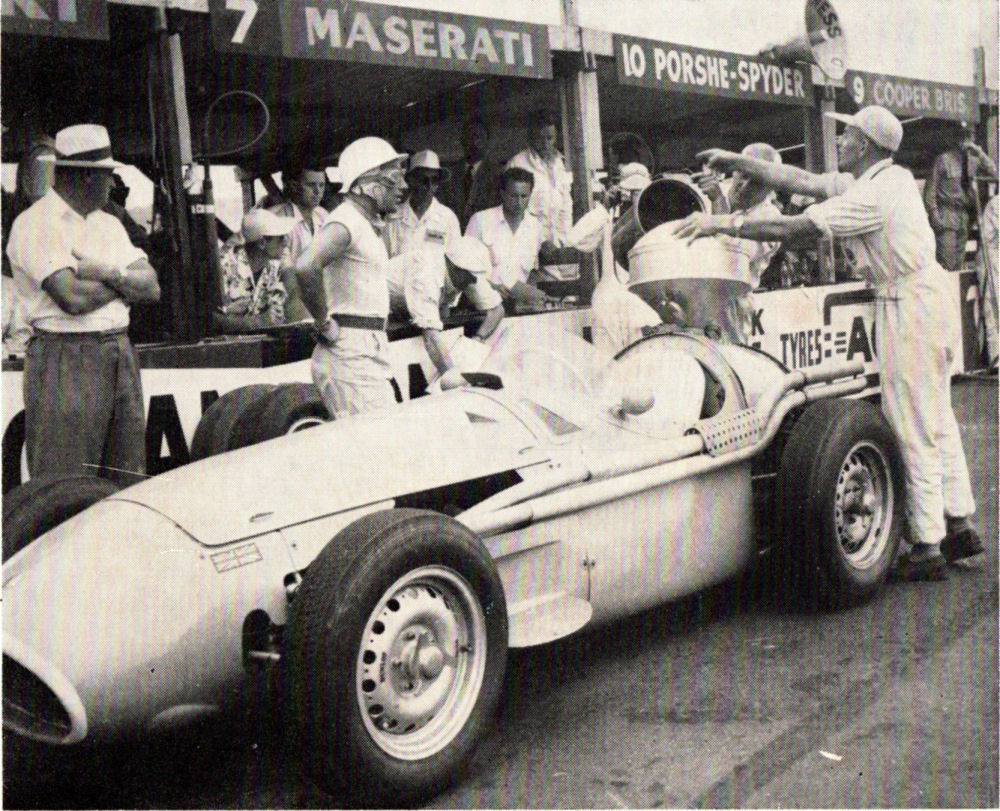 Dizzy from petrol fumes, Moss recovers while a few gallons are thrown on board for the final laps.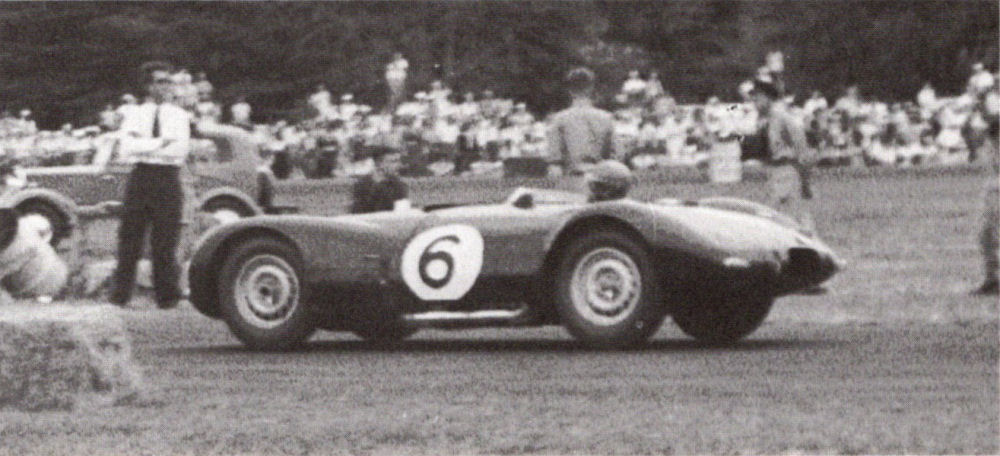 Reg Parnell came 5th in the Cooper-Jaguar.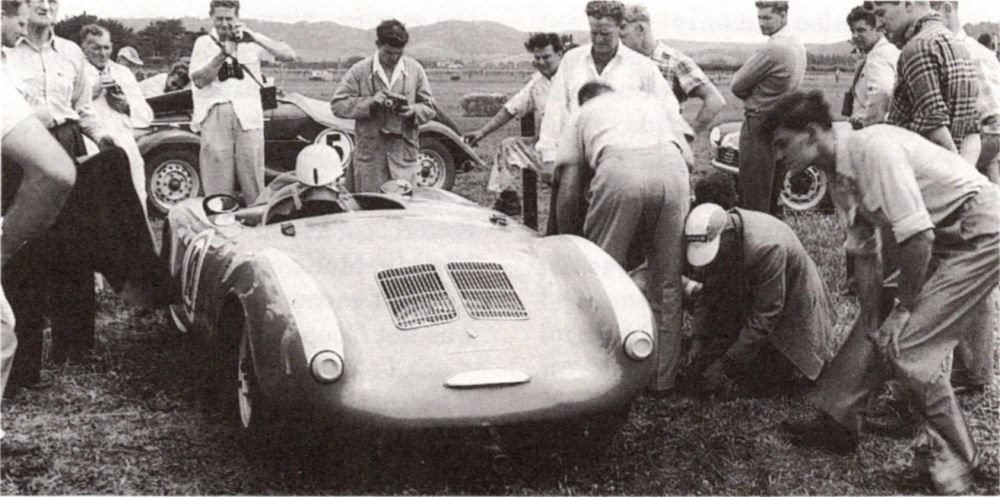 Frank Kleinig (Porsche Spyder 550)
Date: 7th January 1956
Distance: 100 laps of 3.3795 km (337.95 km)
Fastest Lap: Moss 1m 28s
| | | | | | |
| --- | --- | --- | --- | --- | --- |
| Result | Driver | Nat | Car | Laps | Time |
| 1 | Stirling Moss | UK | Maserati 250F / Maserati 2497cc 6cyl | 100 | 2h 32m 23.1s |
| 2 | Tony Gaze | Aust | Ferrari 500/750S / Ferrari 2968cc 4cyl | 100 | 2h 33m 06.7s |
| 3 | Peter Whitehead | UK | Ferrari 500/750S / Ferrari 2968cc 4cyl | 99 | |
| 4 | Leslie Marr | UK | Connaught B Type / Jaguar 3442cc 6cyl | 99 | |
| 5 | Reg Parnell | UK | Cooper T38 / Jaguar 3442cc 6cyl | 98 | |
| 6 | Ron Roycroft | NZ | Bugatti-Jaguar / Jaguar 3442cc 6cyl | | |
| 7 | Syd Jensen | NZ | Cooper Mk IX / Norton 530cc 1cyl | | |
| 8 | Tom Clark | NZ | Maserati 8CM / Maserati 2992cc 8cyl s/c | | |
| 9 | Frank Kleinig | Aust | Porsche Spyder 550 / Porsche 1498cc 4cyl | | |
| 10 | Reg McCutcheon | NZ | Normac Special / Chevrolet 3870cc 6cyl | | |
| 11 | Frank Shuter | NZ | Cadillac Special / Cadillac 5200cc V8 | | |
| 12 | Fred Zambucka | NZ | Maserati 8CLT-50 / Maserati 2984cc 8cyl s/c | | |
| 13 | Arnold Stafford | NZ | Cooper Mk IX / Norton 530cc 1cyl | | |
| 14 | John McMillan | NZ | Alfa-Romeo Tipo B / Alfa 2905cc 8cyl s/c | | |
| 15 | Des McDonagh | NZ | Thomas-Mercury / Mercury 4100cc V8 | | |
| Ret | Rob Hugill | NZ | Cooper Mk VIII / Norton 498cc 1cyl | | |
| Ret | Ron Frost | NZ | Cooper Mk IX / Norton 530cc 1cyl | | |
| Ret | David McKay | Aust | Aston-Martin DB3S / Aston 2996cc 6cyl | | |
| Ret | Tom Sulman | Aust | Aston-Martin DB3S / Aston 2996cc 6cyl | | |
| Ret | Morrie Stanton | NZ | Stanton Special / DeHavilland 6124cc 4cyl | | |
| Ret | Ross Jensen | NZ | Austin-Healey 100S / Austin 2660cc 4cyl | 15 | Crankshaft |
| Ret | Fred Crowther | NZ | Alfa-Romeo Tipo B / Alfa 2905cc 8cyl s/c | 7 | |
| Ret | Lionel Bulcraig | NZ | Northland Special / Mercury 4100cc V8 | 5 | Engine |
| Ret | Alec Mildren | Aust | Cooper-Bristol Mk II / Bristol 1971cc 6cyl | 0 | Head Gasket |
| DNS | Jack Brabham | Aust | Cooper T40 / Bristol 1971cc 6cyl | 0 | Gearbox |
| DNQ | George Smith | NZ | GeeCeeEss / Mercury 4071cc V8 | | |
| DNQ | Roly Crowther | NZ | Maserati 6CM / Maserati 1493cc 6cyl s/c | | |
| DNQ | Harley Beckett | NZ | Maserati 8CLT-50 / Maserati 2984cc 8cyl s/c | | |
| DNQ | Allan Freeman | NZ | Lago-Talbot 26C / Talbot 4485cc 6cyl | | |
| DNQ | Len Gilbert | NZ | Cooper Mk VI / Norton 498cc 1cyl | | |
| DNQ | Gordon Brown | NZ | Buckler Mk VI / Ford 1172cc 4cyl s/c | | |
| DNQ | Ronnie Moore | NZ | Cooper Mk V / Vincent 998cc V2 | | |
| DNQ | Les Moore | NZ | Kieft C50 / Vincent 998cc V2 s/c | | |
| DNQ | Snow Petersen | NZ | Cooper Mk IV / JAP 497cc 1cyl | | |
| DNQ | Bruce Wood | NZ | Staride 52 / JAP 497cc 1cyl | | |
| DNQ | Terry Nixon | NZ | Cooper Mk VIII / Norton 498cc 1cyl | | |
| DNQ | Ted Bristed | NZ | Triumph TR2 / Vanguard 2088cc 4cyl | | |
| DNQ | Bruce Webster | NZ | Cooper Mk VII / JAP 497cc 1cyl | | |
| DNQ | Ray Drew | NZ | Cooper Mk IX / Norton 498cc 1cyl | | |
| DNA | Dave Caldwell | NZ | Alfa-Romeo Tipo B / Alfa 2905cc 8cyl s/c | | |
| DNA | Stan Jones | Aust | Maybach Special / Maybach 4640cc 6cyl | | |
| DNA | Paul England | Aust | Ausca / Holden 2350cc 6cyl | | |
| DNA | George Palmer | NZ | Cooper-Bristol Mk I / Bristol 1971cc 6cyl | | |
| DNA | John Seabrook | NZ | Austin-Healey 100M / Austin 2660cc 4cyl | | |
| DNA | Phil Neill | NZ | Austin-Healey 100/4 / Austin 2660cc 4cyl | | |
| DNA | Bruce McLaren | NZ | Austin-Healey 100/4 / Austin 2660cc 4cyl | | |
| DNA | Ray Archibald | NZ | Jaguar XK-120 / Jaguar 3442cc 6cyl | | |