Fourth New Zealand
Grand Prix 1957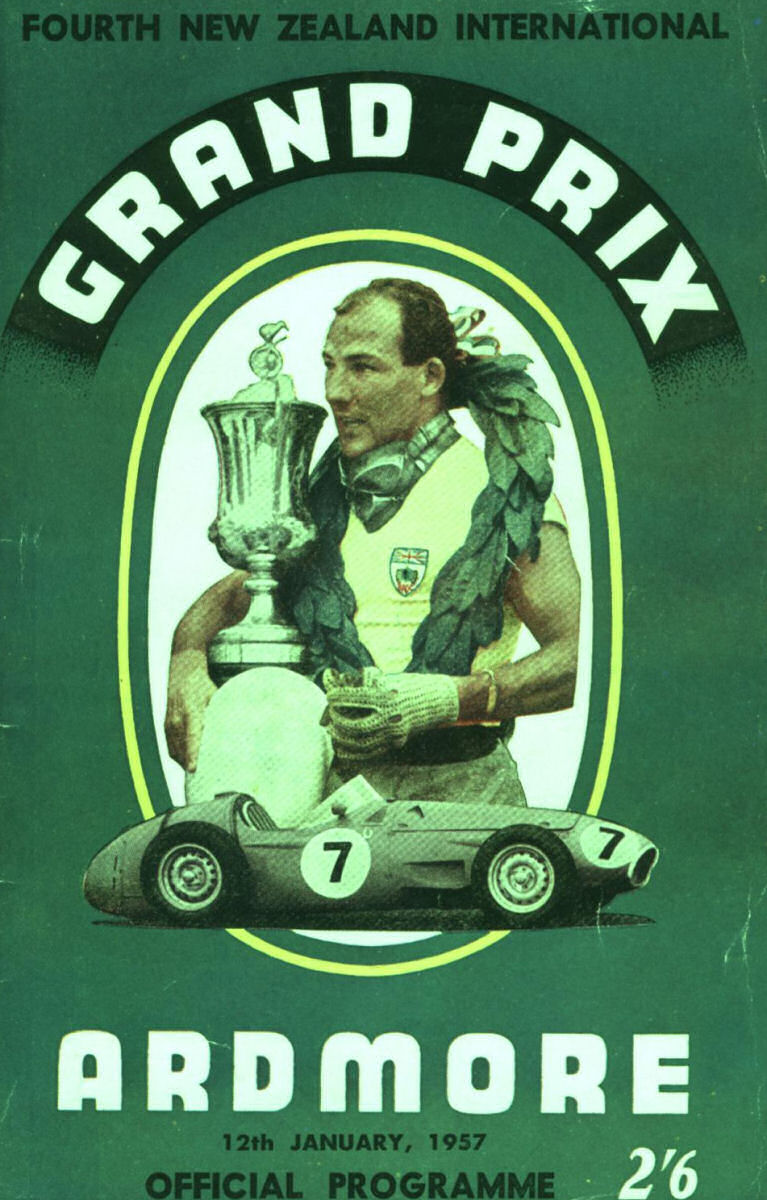 Several points distinguished the 1957 New Zealand Grand Prix from every other one in the series so far. It was the longest, most gruelling, most closely-fought, and it was run under the shadow of the only fatal accident to have occurred on the course.
The inquiry into the death of Ken Wharton in the Ardmore Sports Car Race, which traditionally precedes the New Zealand Grand Prix, showed that New Zealand Grand Prix (Inc.) had taken all reasonable precautions. The accident had been one of those which people who take part in the dangerous sport of motor-racing must expect.
Wharton, favourite for the first race of all at Ardmore in the 1½-litre blown BRM, but eventually placed second, had brought an impressive string of cars to New Zealand - a Maserati 250F for the grand prix, a Monza Ferrari for the sports car race, and a Cooper Climax 1500 cc sports car for an additional driver in the smaller event.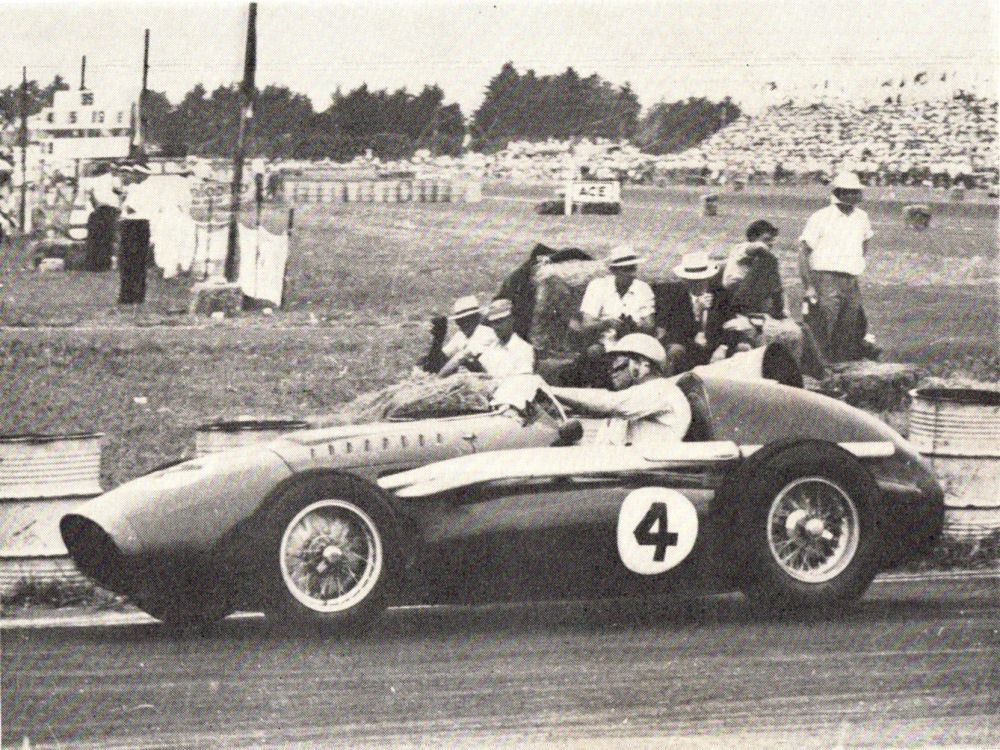 Reg Parnell (Ferrari) sweeps into Hangar Straight on the way to his last major win after a notable career.
The Ardmore race was clearly an open and shut job for him in the three-litre Ferrari, his speeds approaching those of the Formula I cars and being well ahead of the next-best, Bob Gibbons in Jim Shelley's Jaguar.
Disaster struck half-way through the race, as Wharton was accelerating out of the last left-hander into the pit straight.
He was about to overtake a slower car when through some temporary lapse of judgment he elected to pass the car in front on the right and not on the left.
Ironically, it had been Wharton who had been insistent at the drivers' briefing the night before that drivers of slower cars must observe the international rule, giving way to faster ones coming up astern and pulling over to the right.
As Wharton came up astern the leading car duly moved over to the right, but Wharton, travelling at something around 100-110 m.p.h., was already pulling out to the right.
The dark red Ferrari moved out on to the loose metal which had been brushed off the track, skidded violently, but still under control, zigzagged in a series of correcting movements along the verge.
Another 30 yards and Wharton would have pulled through safely, but just as he was moving on to the track again, the car struck the straw bales around the base of the pylon carrying an overhead banner above the starting line.
Several somersaults, in the course of which Wharton was thrown out on the track, unconscious and with severe head injuries, left the Ferrari a battered wreck in the middle of the track, the crowd hushed and awestruck as Wharton and the wreckage were removed.
Wharton died later in Middlemore Hospital, and the remainder of the meeting continued under a cloud which even the exciting win of the redoubtable Reg Parnell in the main event could not dispel.
With the inclusion of Wharton, the field lining up for the 1957 New Zealand Grand Prix was what the organisers and presumably the crowd really wanted, an evenly matched one from which some exciting racing could be expected.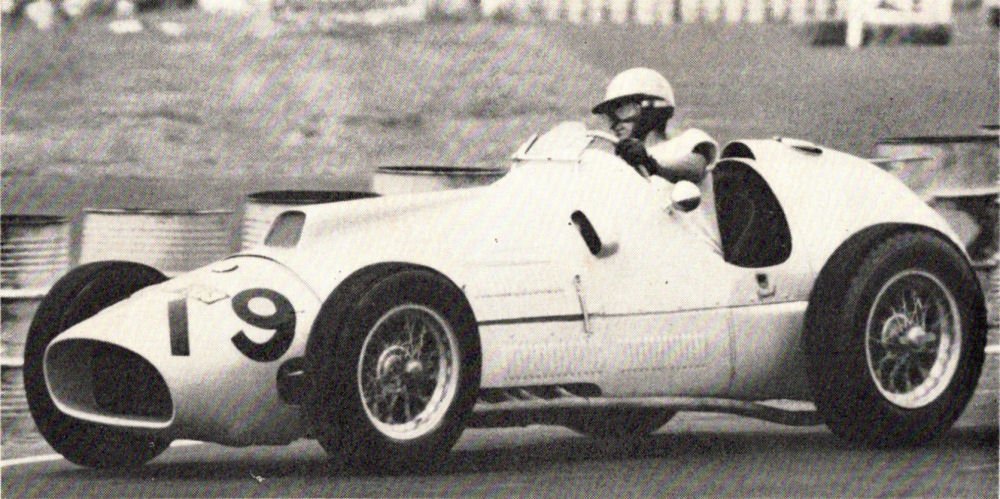 1957 was Ron Roycroft's year. With the big 4½-litre V12 Ferrari he was second fastest
in practice and led the race for 10 laps.
Some other features also distinguished the race. It was over its final course layout for the first time, an exact two miles with the slow hairpin at the end of Hanger Straight, and it was set initially on a time basis, three hours, changed subsequently to 240 miles compared with the 210 miles of the previous races.
Parnell and the inevitable Peter Whitehead were racing for the Scuderia Ambrosiana in two Ferraris, the notorious, or famous, Super-Squalo filled with the larger 3½-litre motor for the New Zealand Formula Libre race in place of the 2½-litre Formula 1.
Otherwise the leaders were a Maserati field, Horace Gould, Jack Brabham, Stan Jones and Reg Hunt all entering 250F models, Brabham's and Hunt's with disc brakes.
In the event, however, Brabham elected to drive his Formula II Cooper in the big race rather than the Maserati, while Hunt retired from the sport, selling his car (already in New Zealand) on the eve of the event, to Bib Stillwell, who flew over for his first drive in the event.
Among the New Zealanders, there were for the first time four modern machines, though none of them basically Formula I jobs.
The most likely contender was Ron Roycroft, in a 4½-litre V12 Ferrari, originally a 1952 sports car, but considerably modified and fitted with a single-seat body.
Ross Jensen had bought the 100S Healey and in its modified condition would undoubtedly have qualified. However, Peter Whitehead had been so impressed by his performance in the Australian TT that he had offered him his Monza Ferrari for the New Zealand season, and Jensen immediately became a leading prospect. This car was similar to the one in which Wharton was killed. Bob Gibbons of Wellington, multiple hillclimb champion, had the leading sports-car entry with the D-type Jaguar owned by Jim Shelley, and Syd Jensen another Formula II Cooper, a marquee in which he was to distinguish himself in Britain over the next two seasons. Jensen's Cooper was a single-camshaft, a type of car which in later (twin-cam) form, proved to be ideally suited to the Ardmore circuit.

Ross Jensen in Peter Whitehead's Ferrari Monza.
Finally, a "mystery" Formula II Cooper turned up, sent to New Zealand by British driver Alan McKay, but not entered in time. Then McKay arrived, with a damaged hand which would have prevented him from driving in any case, and sportingly handed it over to New Zealander Alex Stringer, who justified the choice by finishing the course safely.
The field included Tom Clark, by this time driving the ex-Gaze, ex-Horton HWM-Alta. Christchurch driver Pat Hoare had his eight year old ex-Parnell 4CLT Maserati blown 1½-litre. Allan Freeman was in the outmoded 4½-litre Lago-Talbot which was to become a familiar sight on New Zealand circuits. A gaggle of Formula II Coopers and the better of the specials made up the field.
After a couple of very good seasons with Austin-Healeys, Phil Neill was expected to return good times with the ex-Scuderia Zambucka 6CM Maserati, but was a non-starter. George Palmer had had a very successful season in hillclimbs and races with his Cooper-Bristol, and had now sold the car in favour of a couple of newer models. He purchased them from Horace Gould. One was driven by Bill Morice and Palmers was the car Gould drove in the 1954 race. The old car was now owned and driven by Te Awamutu rookie Gavin Quirk.
Caldwell and McMillan again had their old black Alfa-Romeos. Roycroft's Bugatti-Jaguar was entered for Peter Gendells to drive, and Ted Thompson had his 4-litre Ford V8 engined Bugatti type 38.
The only New Zealand made car in the race was a new one, Ralph Watson's machine, which was fitted with a 4.7-litre, flat four, air-cooled Lycoming engine from a crashed Piper aeroplane. This was the last New Zealand special to qualify for a New Zealand Grand Prix at Ardmore.
Cooper 500's were entered for Bob Hugill, Bruce Webster and Len Gilbert as well as for Ron Frost and Arnold Stafford. In addition, Les Moore and Wally Henwood entered 1000cc Mk IV Coopers.
The Avery brothers had acquired a 5.5-litre V8 Cadillac engined HWM for Ted Avery to drive, and there were three sports-cars fitted with 1100cc Coventry-Climax engines; Ronnie Moore's Cooper (the one he had raced in UK), Roly Crowther's new Lotus XI and Jimmy Boyd's Buckler, an imported Le Mans deDion rear ended DD1 with an 83bhp stage II alloy block Climax FWA motor.
During 1956, Fred Zambucka had died following a tragic battle with cancer at the age of 43, ending a career which had started with motor-cycles in 1930. His cars were sold, with the 6CM going to Phil Neill and the 8CM and 8CLT going to Frank Shuter.
British driver Bill Morrice, who turned up with a Cooper-Bristol, proved too slow in practice to qualify, and finally scraped into the race when Gavin Quirk's similar machine failed between practice and the race.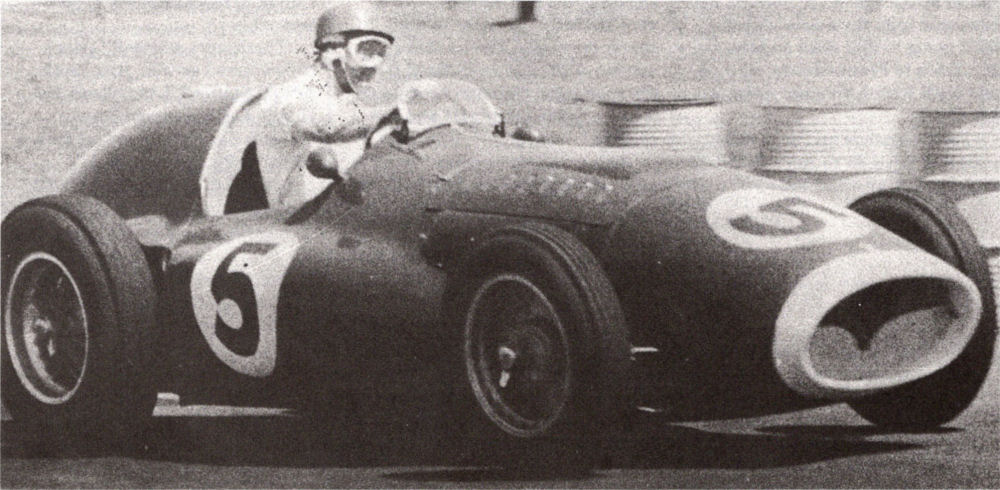 Peter Whitehead (Ferrari) had to settle for second behind Parnell.
Any idea that Parnell and Whitehead might be running as a team was quickly dispelled. Though close friends, each was out for what could be got in New Zealand. Parnell was anxious to crown his career with a major win, he had probably driven more types of cars in more races for more placings than any English driver before him, and Whitehead was equally anxious to make his trip a profitable one.
Their cars were destined to stay in New Zealand, Whitehead's in the hands of Tom Clark, who raced it with varying success both before and after a near-fatal crash at Bathurst, New South Wales, and Parnell's in those of John McMillan.
The latter also crashed in Australia, sold the car to Arnold Glass, who raced it for a couple of years (including an expensive refit at Maranello), and then opted for a Cooper.
These Ferraris were a model which in Formula I form - 2½ litres unsupercharged - had not been enormously successful, racing in the shadow of Mercedes-Benz at first, then the all-conquering Fangio and Moss in Maserati 250F's.
With the bigger motors installed, it was expected that they would outlast the Maseratis on the long drag of the 1957 Ardmore event, and so it turned out, although the presence of Wharton might have altered the picture.
In practice, it was clear that times would be no faster than those of the year before, principally because the hairpin had slowed down the course in spite of its having been shortened by a tenth of a mile.
First to rock the practice-day spectators was Roycroft, who handled the big Ferrari to such effect that he chalked up a lap of 1min. 29.2 sec., an average of 80.5 m.p.h. compared with Moss' record of 1.28, or 86 m.p.h., the previous year.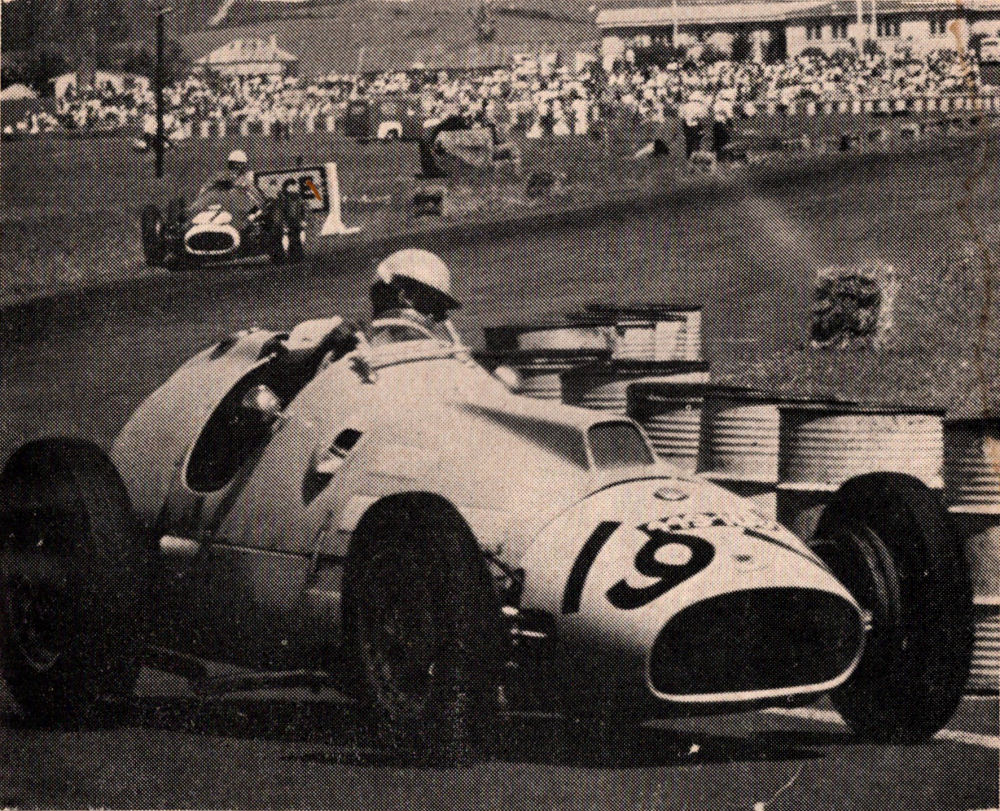 Ron Roycroft (Ferrari).
Wharton, after a desperate struggle to clear fuel lines of methanol mixture which had jellied during the voyage, came out to practice and recorded a smart 1.29.5, Parnell 1.30.7 and Clark a forceful 1.31.
Ross Jensen put in a lap at 1.31.8 in the Monza Ferrari, and Syd Jensen in the little Cooper one at 1.32.9.
Then Whitehead made a run of 1.30.2 to put him just ahead of Parnell, but Gould had to be content with 1.32.2, Brabham managed 1.32.8 in his FII Cooper-Climax 1500cc, which he decided to use in favour of his Maserati, and Stillwell's Maserati was only fractionally slower.
Stan Jones was one who later bettered his time, registering a lap of 1.32.5. Wharton improved his time to 1.28.5 which was fastest of all and would have given him pole position.
This year there were no qualifying heats, and when the race started, under a blazing sun, the pole position was occupied by a New Zealander for the first time on record.
The starting order was Roycroft, Whitehead, Parnell, Clark, Ross Jensen, Gould, Jones, Brabham, Syd Jensen, Stillwell, Palmer, Hoare, Stringer, Crowther, Caldwell, Gibbons, Watson, Freeman, Gendells, Frost, Moore, McMillan, Stafford and Morrice.
For the first time, the crowd had the thrill of seeing a New Zealander in the lead of the New Zealand Grand Prix, for Roycroft showed that he and his car were a shade better than the visitors for the first ten laps.
Roycroft was first away from the grid, first round College Corner, and stayed in front for the early part of the race, lapping at a consistent 76-77 m.p.h. to keep ahead of Whitehead and Parnell, with Brabham, Gould and Clark following up behind.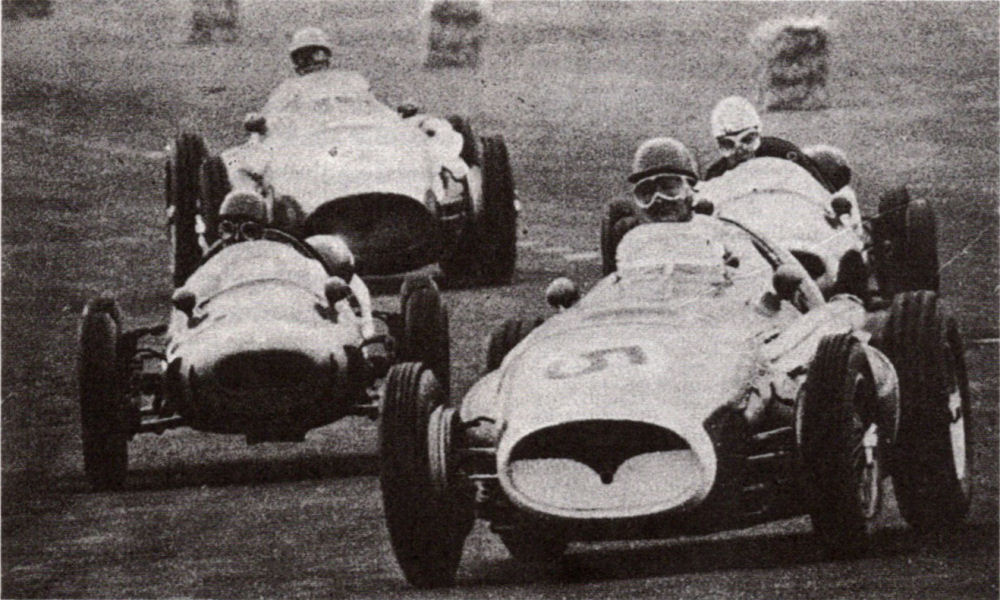 Brabham's little Cooper surrounded by Whitehead, Jensen and Parnell.
First casualty of the race was Morice's Cooper-Bristol, on which the gear-lever snapped on lap one, and he was followed to the pits a couple of laps later by Caldwell, with a broken valve on the elderly 2.9 Alfa-Romeo. Syd Jensen's Cooper, which had been duelling with Ross Jensen (Ferrari) and Bob Gibbons (Jaguar), retired a little later.
On lap 10 Ross Jensen, his Monza Ferrari heavily laden with fuel in an extra tank to last out the distance, misjudged his speed on the left-hander into the cloverleaf, left the track, and lost the best part of a lap to his nearest rival, Gibbons in the Jaguar, before setting out in pursuit again.
Not long before half-way (55 laps), Gould coasted into the pits with a bent valve, the end of the race for him, but he had been losing ground to Parnell (now out in front), Whitehead, and Roycroft.
At this stage, it became clear that something was amiss with Roycroft. He made a call at the pits, was given an orange drink and after being sluiced with water, carried on again gamely.
But on lap 63, overcome with heat exhaustion, the New Zealand champion driver coasted in to the pits, was lifted from the cockpit and given medical attention.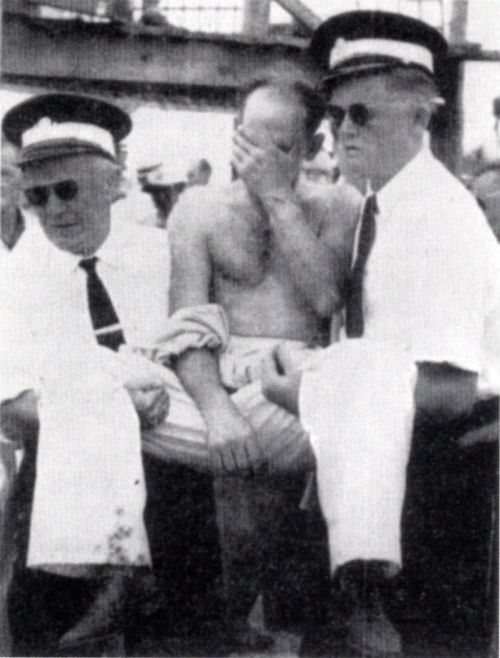 Ron Roycroft is carried from his car with heat stroke.
In the meantime, Stillwell had had to retire with a jammed gearbox, on lap 50, and Brabham's Cooper was not running as well as he had expected it to. The order in the last third of the race was Parnell in front, followed by Whitehead, Brabham, Jones (who was driving a steady rather than a spectacular race), Gibbons, Ross Jensen, George Palmer and then Clark.
Clark, while hammering it out with the leaders in the early stages, had found his motor turning rough and was forced into the pits twice for adjustments, including a change of plugs, sufficient to put him out of the major places; then his clutch, smothered in oil, started to burn out, and Clark finished the race in a cloud of fumes.
Disappointment awaited Brabham on lap 100, when his engine temperature soared and a call at the pits disclosed a burst radiator hose and a blown gasket, replacement of which cost him the third place he had been holding ahead of Jones.
Meanwhile, although he had had no pit stops, things had not been going well for Whitehead. With a slightly faster car than Parnell's, he had been unable to keep his lead through failing brakes, and despite an all-out effort over the last half-dozen laps finished 2.6 seconds behind Parnell, with Jones a lap further back.
In fourth place came the Monza Ferrari, which had finally passed the Jaguar three-quarters of the way through the race to give Ross Jensen the highest placing yet earned by a New Zealander, with the veteran Gibbons fifth after a sterling effort.
Palmer was sixth in his ex-Gould car, and in seventh place, hammering along without any trouble at all, was Ralph Watson's remarkable Lycoming Special. Ron Frost's little Cooper was eighth, a fine effort in such a first-class field.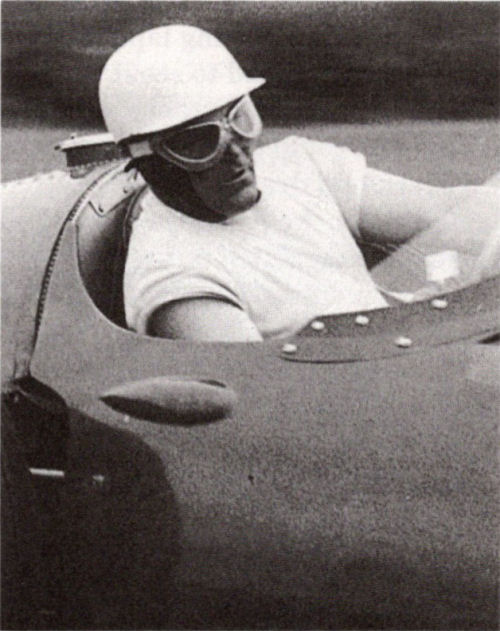 Stan Jones in his Maserati finished third.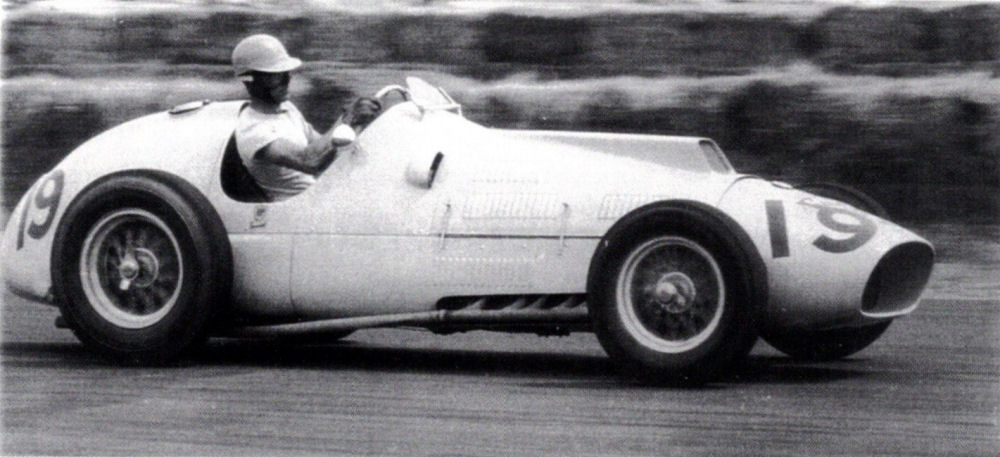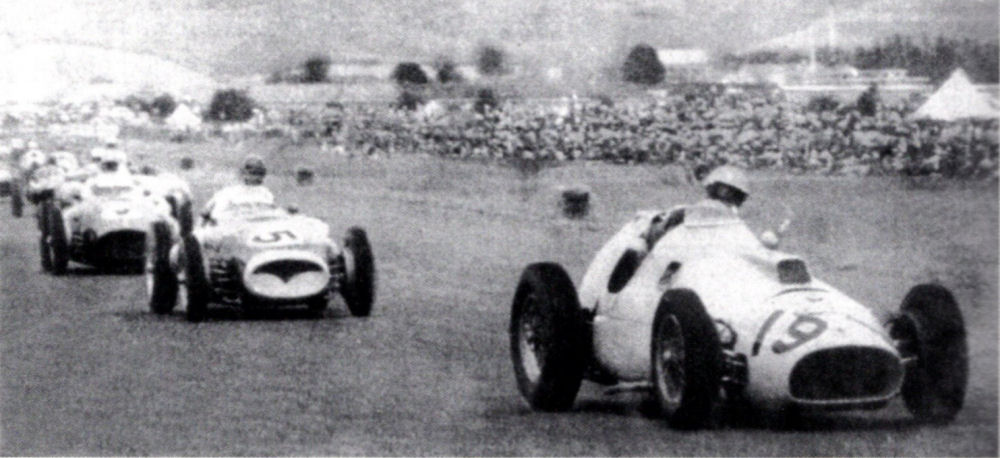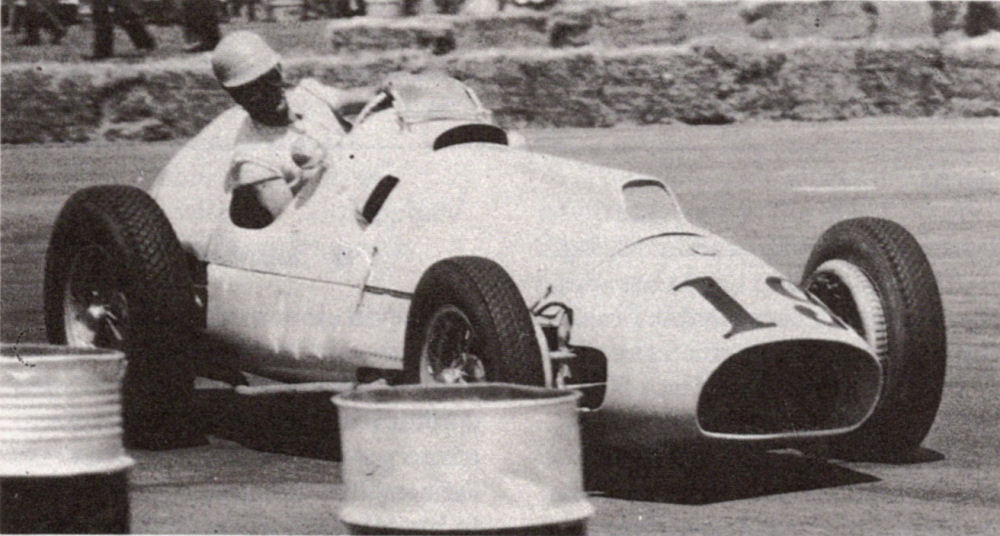 Ron Roycroft (Ferrari)
The time for the winner, 3 hr 7 min 56.1 secs. for the 240 miles, was the only one officially released for the 1957 event. Finishers were given with their average speeds as follows:-
| | | | | | |
| --- | --- | --- | --- | --- | --- |
| Result | Driver | Nat | Car | Laps | Time |
| 1 | Reg Parnell | UK | Ferrari 555/860 / Ferrari 3431cc 4cyl | 120 | 76.63 mph 187m 56.1s |
| 2 | Peter Whitehead | UK | Ferrari 555/860 / Ferrari 3431cc 4cyl | | 76.61 |
| 3 | Stan Jones | Aust | Maserati 250F / Maserati 2497cc 6cyl | | 74.41 |
| 4 | Ross Jensen | NZ | Ferrari 750 Monza / Ferrari 2999cc 4cyl | | 72.29 |
| 5 | Bob Gibbons | NZ | Jaguar D-type / Jaguar 3442cc 6cyl | | 71.40 |
| 6 | George Palmer | NZ | Cooper-Bristol Mk II / Bristol 1971cc 6cyl | | 69.45 |
| 7 | Ralph Watson | NZ | Lycoming Special / Lycoming 4733cc 4cyl | | 68.56 |
| 8 | Ron Frost | NZ | Cooper Mk IX / Norton 515cc 1cyl | | 68.35 |
| 9 | Tom Clark | NZ | HWM / Alta 1960cc 4cyl s/c | | 68.22 |
| 10 | Jack Brabham | Aust | Cooper T41 / Climax 1460cc 4cyl | | 68.14 |
| 11 | Peter Gendells | NZ | Bugatti-Jaguar / Jaguar 3442cc 6cyl | | 67.82 |
| 12 | Alex Stringer | NZ | Cooper T41 / Climax 1098cc 4cyl | | 63.91 |
| 13 | Ronnie Moore | NZ | Cooper T39 / Climax 1098cc 4cyl | | 59.72 |
| 14 | John McMillan | NZ | Alfa Romeo Tipo B / Alfa 2905cc 8cyl s/c | | 56.19 |
| Ret | Ron Roycroft | NZ | Ferrari 375 / Ferrari 4493cc V12 | 63 | Driver Exhaustion |
| Ret | Bib Stillwell | Aust | Maserati 250F / Maserati 2497cc 6cyl | 50 | Gearbox |
| Ret | Arnold Stafford | NZ | Cooper Mk IX / Norton 515cc 1cyl | 49 | Oil Pressure |
| Ret | Allan Freeman | NZ | Lago-Talbot 26C / Talbot 4485cc 6cyl | | Magneto |
| Ret | Roly Crowther | NZ | Lotus 11 / Climax 1098cc 4cyl | 32 | |
| Ret | Pat Hoare | NZ | Maserati 4CLT-48 / Maserati 1498cc 4cyl s/c | | |
| Ret | Horace Gould | UK | Maserati 250F / Maserati 2497cc 6cyl | 15 | Valve |
| Ret | Syd Jensen | NZ | Cooper T41 / Climax 1460cc 4cyl | 7 | Engine |
| Ret | Dave Caldwell | NZ | Alfa Romeo Tipo B / Alfa 2905cc 8cyl s/c | 3 | Valve |
| Ret | Bill Morice | UK | Cooper-Bristol Mk I / Bristol 1971cc 6cyl | 0 | Engine |
| DNS | Ken Wharton | UK | Maserati 250F / Maserati 2497cc 6cyl | | Fatal Accident |
| DNS | Gavin Quirk | NZ | Cooper-Bristol Mk I / Bristol 1971cc 6cyl | | |
| DNQ | Frank Shuter | NZ | Maserati 8CM / Maserati 2992cc 8cyl s/c | | |
| DNQ | Phil Neill | NZ | Maserati 6CM / Maserati 1493cc 6cyl s/c | | |
| DNQ | Ted Thompson | NZ | Bugatti-Ford / Ford 4071cc V8 | | |
| DNQ | Rob Hugill | NZ | Cooper Mk VIII / JAP 497cc 1cyl | | |
| DNQ | Bruce Webster | NZ | Cooper Mk VII / JAP 497cc 1cyl | | |
| DNQ | Len Gilbert | NZ | Cooper Mk VI / Norton 498cc 1cyl | | |
| DNQ | Les Moore | NZ | Cooper Mk V / Vincent 998cc V2 | | |
| DNQ | Wally Henwood | NZ | Cooper Mk IV / Vincent 998cc V2 | | |
| DNQ | Jim Boyd | NZ | Buckler DD1 / Climax 1098cc 4cyl | | |
| DNQ | Ted Avery | NZ | HWM / Cadillac 5420cc V8 | | |
| DNA | Norman Hamilton | Aust | Porsche Spyder 550 / Porsche 1498cc 4cyl | | |
| DNA | Bill Culver | NZ | DeSoto Special / DeSoto 3368cc 6cyl | | |
| DNA | Alex Mackay | Aust | Cooper T39 / Climax 1098cc 4cyl | | |
| DNA | Reg McCutcheon | NZ | Normac Special / Chevrolet 3870cc 6cyl | | |
| DNA | Paul England | Aust | Ausca / Holden 2350cc 6cyl | | |
| DNA | Johnny Mansel | NZ | Ardun Special / Mercury 4500cc V8 | | |
| DNA | Bruce McLaren | NZ | Austin-Healey 100/4 / Austin 2660cc 4cyl | | |
Fastest lap was put in by Parnell at 1 min 31.2 secs, or 82 mph, and the race average was slower than in either of the preceding years, mainly owing to the necessity to conserve motors to cope with the additional distance.