Bitter End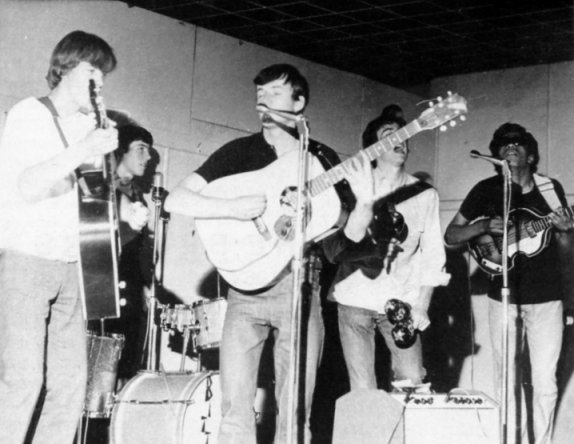 Early Line-Up, L to R: Peter Raxworthy, Alan Bateup, Dave Longmore, Peter Hall and Ben Kaika.
Line-Up:
Peter Hall (Vocals)
Ben Kaika (Bass)
Alan Bateup (Drums)
Dave Longmore (Guitar)
Dave Orams (Keyboards)
This line-up is just one of many for this R&B band who originated from the Hutt Valley, just north of Wellington. It is this line-up that was responsible for their one and only recorded single. The Bitter End were active around New Zealand between 1965 and 1968. They were hugely popular in Dunedin, where their particular brand of R&B was much appreciated by the locals and they stayed there at one time for close to nine months.
Throughout their reign as New Zealand's wildest r&b act, the Bitter End were plagued by line-up changes, 23 personnel changes in three years, but nevertheless managed to tour extensively and built up a big following around the country. Guitarist, Dave Longmore, was from England, but grew up in New Zealand (Stokes Valley). Dave has confirmed with me that he has never played in a band in Australia. Some publications claim that he was with the Missing Links, as well as Chris Hall and the Torquays.
George Barris, later of the Underdogs, Glyn Mason from the Roadrunners and Bruno Lawrence from Blerta were just some of the better known artists to pass through the band. Dave Orams had also been with the Breakaways and later the Underdogs. Ben Kaika had a stint with Sounds Unlimited and later joined the Joyful Crye, who took Australia by storm in the seventies as Compulsion. Peter Hall later became vocalist with Train, got into glam rock in the seventies and then played with Wellington band Trixx in the nineties.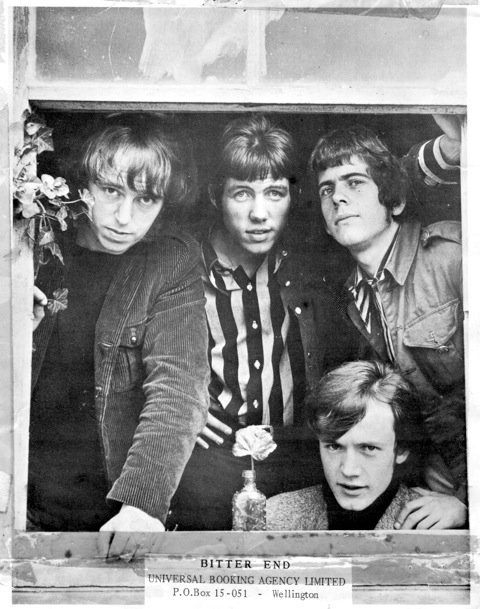 Bitter End (taken at Hidden Valley, Upper Hutt)
Top L to R: Dave Orams, Alan Bateup and Peter Hall. Bottom is Dave Longmore.
Only one single was recorded, this was in 1967 and was "Single Man"/"Too Much Monkey Business". Peter Hall was the vocalist on the original composition "Single Man". The other song was an excellent cover of a Yardbirds song.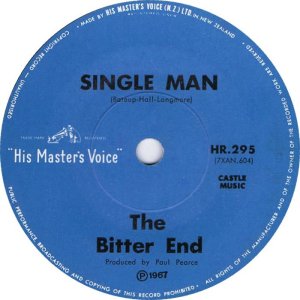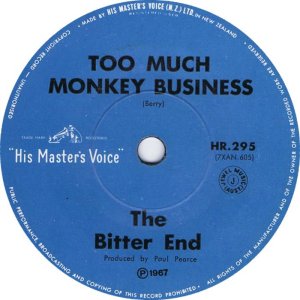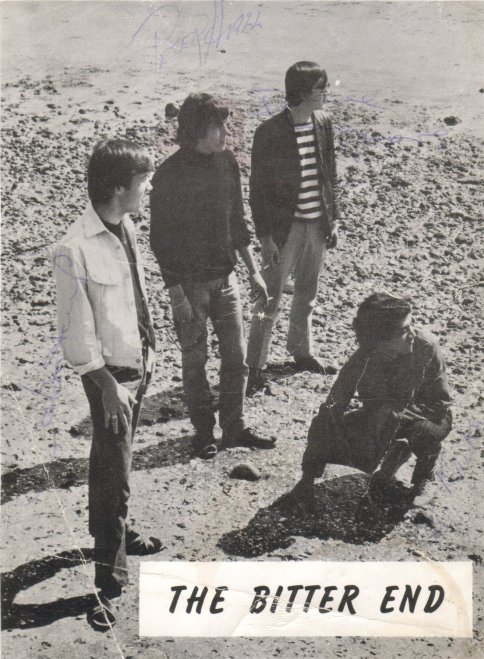 At Oriental Parade, Wellington.
Top L to R: Alan Bateup, Peter Hall and Dave Longmore. Below Ben Kaika.
The original line-up for the group consisted of Peter Hall on vocals, Peter Raxworthy on lead guitar, James Dwain on rhythm guitar, Roger Knox on bass guitar and Alan Bateup on drums. James Dwain left to join Spyce Of Life and was replaced by Dave Longmore. Roger Knox was replaced by Ben Kaika, and Peter Raxworthy was replaced by George Barris. Glyn Mason joined the band to assist George as dual lead guitarist and vocalist. Dave Orams later joined the group, playing keyboards on the recording, before switching to bass when Ben Kaika left. When Dave Orams and George Barris left for the Underdogs, Noel Koskella from the Roadrunners stepped in on bass.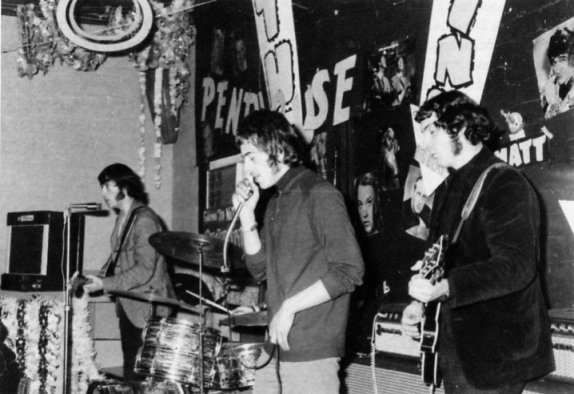 A later version with George Barris on vocals and Glyn Mason on right.
The Bitter End can also be found on the following compilations.