Underdogs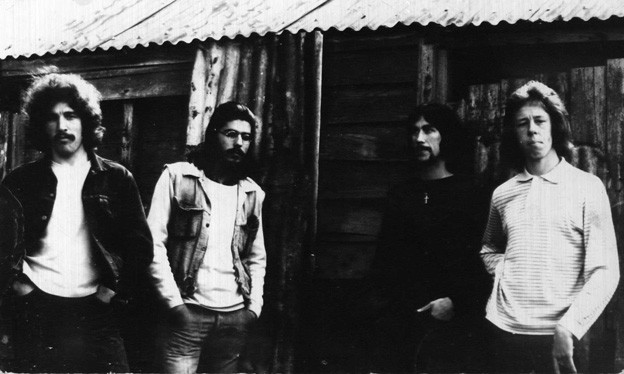 L to R: Doug Thomas, Lou Rawnsley, Murray Grindlay and Harvey Mann.
Line-Up:
Tony Walton (Drums)
Neil Edwards (Bass)
Lou Rawnsley (Rhythm Guitar)
Murray Grindlay (Vocals)
Harvey Mann (Lead Guitar)
The Underdogs went through many line-up changes during their time, with numerous people coming and going.
It all started back in 1957 in Mt Maunganui, when Archie Bowie got his wake-up call after hearing Elvis Presley's "Hound Dog". He was very interested in rock and roll, and by 1960 was a member of a local group called the String Stars. This group consisted of Julian Collier on lead guitar, Roger Knight on drums, Dennis Pocock on piano, and Archie playing second guitar and sharing the vocals. Julian's girlfriend at the time was Harvey Mann's sister.
In 1963 Archie went to live in Auckland as a V8 boy, his musical interests at that time shifting more to British R'n'B. By 1965 he was living in an old rented house in Magee Street down by the railway yards in Otahuhu. Meanwhile back in Mt Maunganui, Harvey Mann had been playing guitar in another local band called the Krazy Kats. Before long he and the drummer, Barry Winfield, arrived in Auckland and moved into the rented house with Archie. Along with fellow V8 rock'n'roller, Tony Rawnsley, a band was formed, but they still needed a bass player. The boys were regular attendees at the Top Twenty Club in Durham Lane, and it was there that they met Neil Edwards.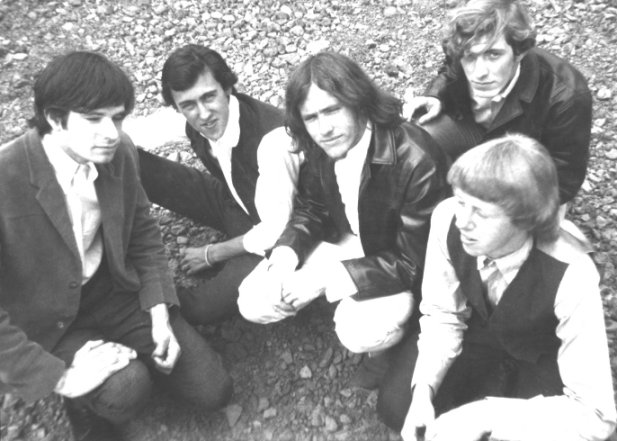 First version of the Underdogs (1965)
L to R: Tony Rawnsley, Neil Edwards, Archie Bowie, Harvey Mann, Barry Winfield (at rear).
Still without a name, they practiced and played locally, as drummers came and went. One of their flat mates, Alex Winton, was going around the Top Twenty and other clubs, telling people of the hot, new R'n'B group from Otahuhu. When asked their non-existent name, he replied that they are "just a group of underdogs" and the name stuck. These days, as a way of distinguishing them, this line-up is referred to as the "Magee St Underdogs".
So the Underdogs were born. The drummer by this stage was Ian Thompson (from the recently disbanded Dark Ages). By 1966 Bowie had departed, to be replaced briefly by Mick Sibley, also from the Dark Ages. At this point the band was based in Ada Avenue, Remuera. When Mick departed he was replaced by Soul Agent vocalist Murray Grindlay. Lou Rawnsley took over from his brother and Tony Walton replaced Ian Thompson. Lou and Tony having both come from the Boddys. Towards the end of 1966, this line-up was signed up by Zodiac.


Underdogs 1966 L to R: Mick Sibley, Ian Thompson, Tony Rawnsley, Harvey Mann and Neil Edwards.
Picture was taken at the New Plymouth Trades Hall during the bands North Island tour.
In early 1967 they released their first single "See Saw"/"Looking Back" and were invited to appear on TV's C'mon show. They caused a stir by appearing in their street clothes and their attitude was far from the normal immaculately groomed pop groups that the public was used to seeing. The producers tried to clean their act up, but Harvey Mann didn't want any part of that and left the group to join the Brew.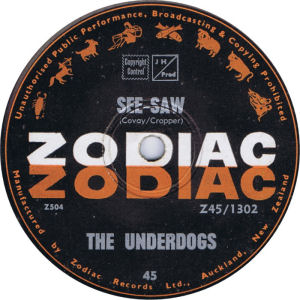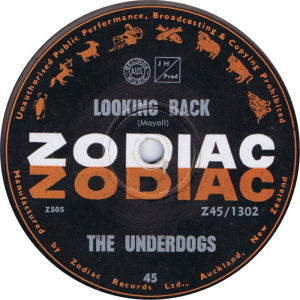 Mann's departure could have been disastrous for the group, but they readjusted the line-up, putting Rawnsley on lead guitar, and recorded their best selling single. It was a remake of John Mayall's "Sitting In The Rain" backed with "Shortnin' Bread".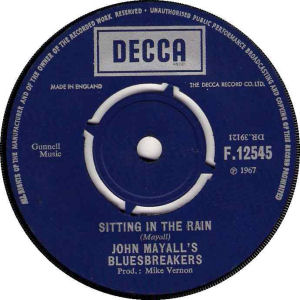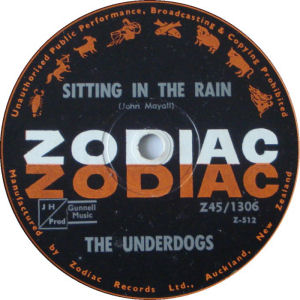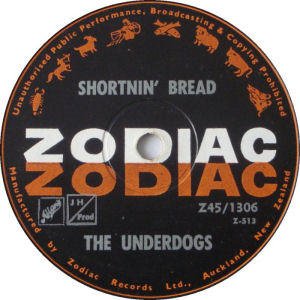 It was a huge hit in the Auckland area and did well nationally. It was also the title of their EP. 1968 saw the release of their album "Blues Band". The Underdogs were also referred to as the Underdogs Blues Band.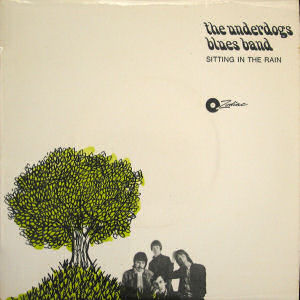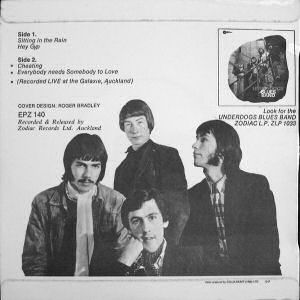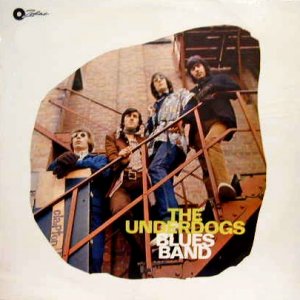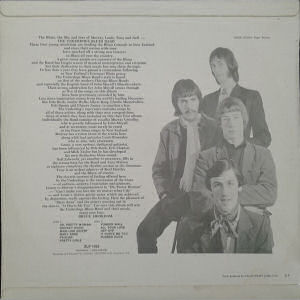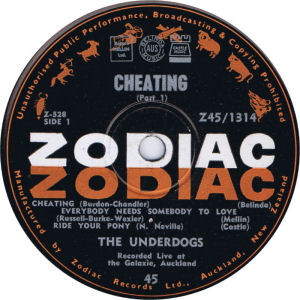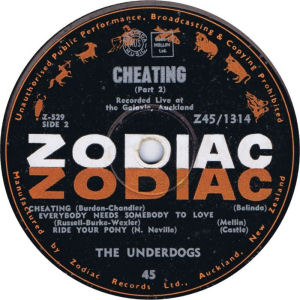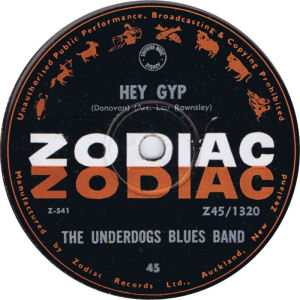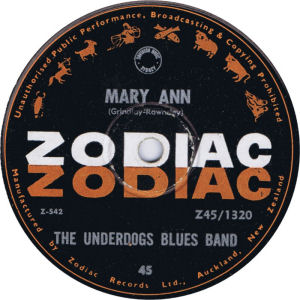 Following this success, they joined the touring version of the "C'mon" show. In late 1967, the band moved to Wellington, Neil Edwards decided to leave and he joined Le Frame. He was replaced by Dave Orams from the now defunct Breakaways. Dave didn't stay long, he was enticed to join the Quincy Conserve, and he was subsequently replaced by George Barris from Bitter End. 1968 saw the group disband for the first of many times. Barris and Walton went on to form Jigsaw.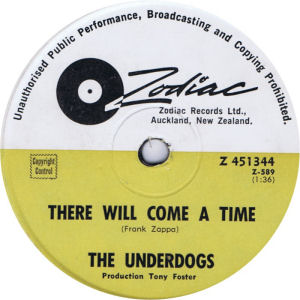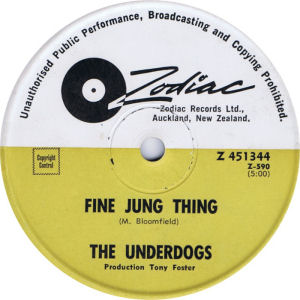 Murray Grindlay joined Mann in the Brew, but soon after, the pair reformed the Underdogs with Lou Rawnsley on bass and Doug Thomas (also from the Breakaways) on drums. Rawnsley eventually left and was replaced by Chaz Burke-Kennedy. In late 1969 they disbanded again. Doug Thomas now has his own web site. This can be found by clicking on the following link, Doug Thomas.
Other versions of the group appeared during the seventies, but they never matched the success of the group who were "Sitting in the Rain". The version of note was when Mann and Edwards got together with Glen Absolum on drums in 1970 and released the 1971 album "Wasting Our Time" as Pig, Mann and Edwards.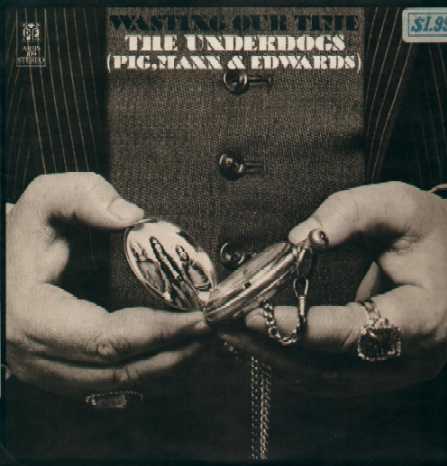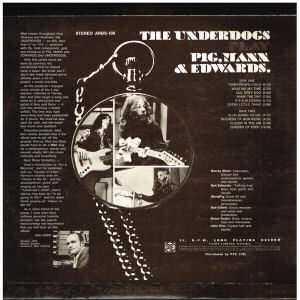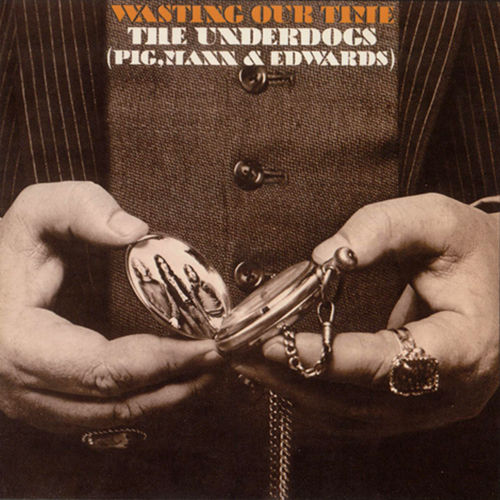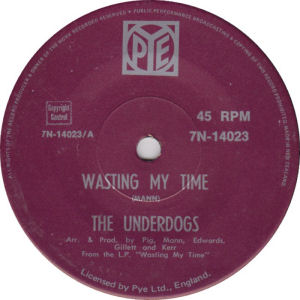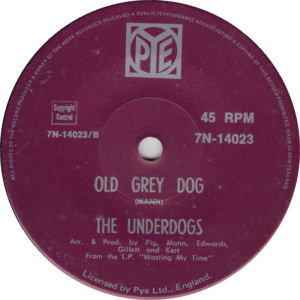 Murray Grindlay went on to form a version of Cruise Lane in 1972 and did have success in later years when he recorded the song "Shoop Shoop Diddy Wop Cumma Cumma Wang Dang" as Monte Video and the Cassettes. The song reached number 2 on the New Zealand charts in 1982 and also made it to number 11 on the Australian national charts the same year.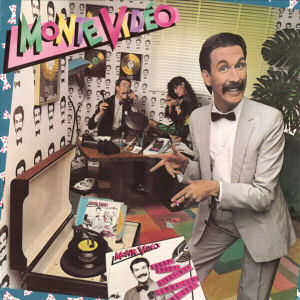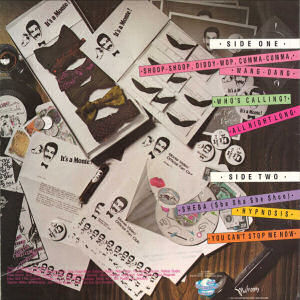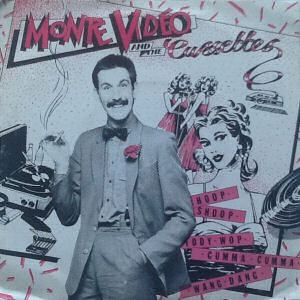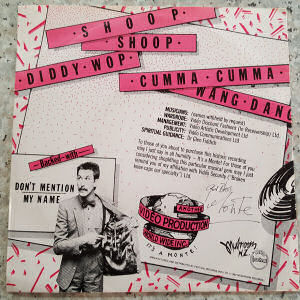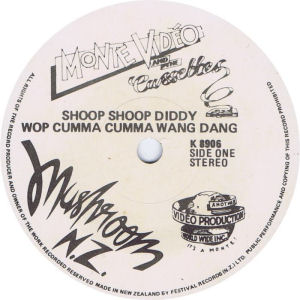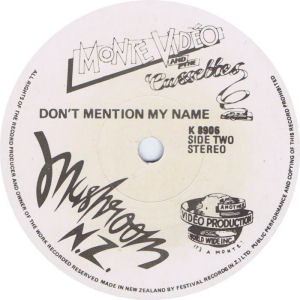 Murray also had three solo singles under his own name, the first in 1974 on Zodiac, "Nova's Song"/"Thoughts Of Returning Home" and two in 1977, one on the EMI label called "Don't Look Back"/"Night Train Back To Waiuku" and the other on Key, "So In Love With You"/"Eight Sheets To The Wind". The same year a self-titled album was also released on Key.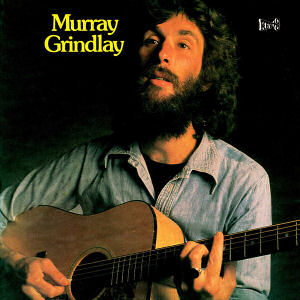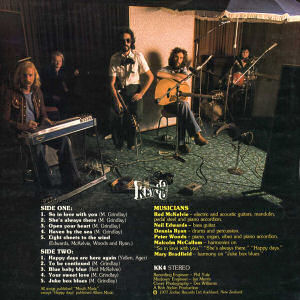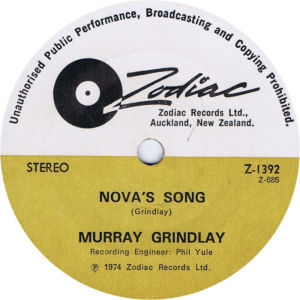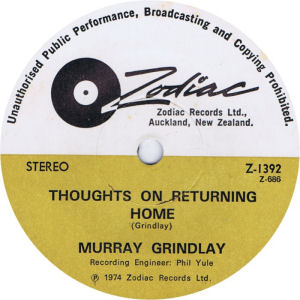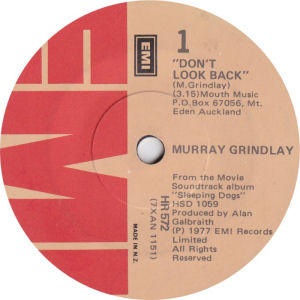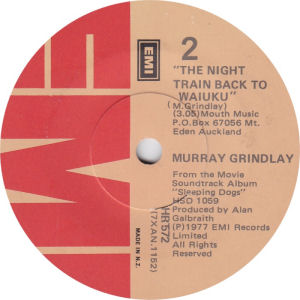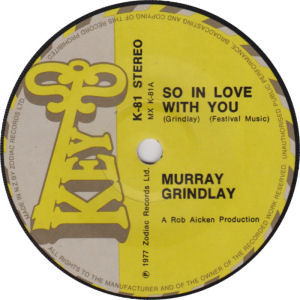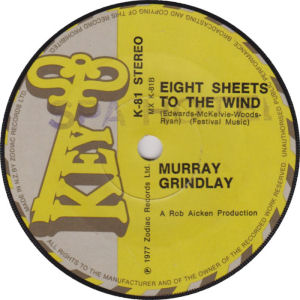 A one-off single was also released in 1980 called "Give 'Em A Taste Of Kiwi"/"Bondi Blues". This was by Black Bolt and the Silver Ferns, who were actually Murray Grindlay and Neil Edwards, with Red McKelvie and Murray McNabb. The single reached 36 on the national charts.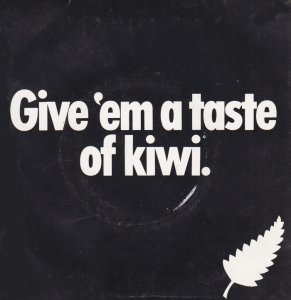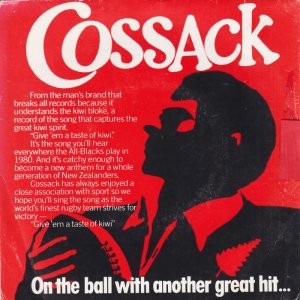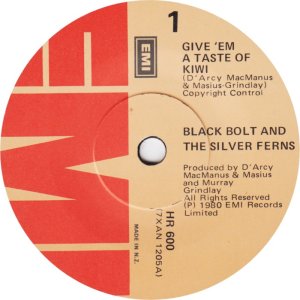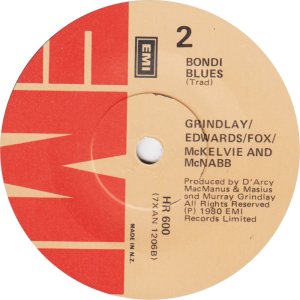 In 1971 Neil Edwards joined Human Instinct. At this point Harvey Mann brought in new bassist Bill Williams and to beef up the sound, Bob Gillett was added on saxophone. They renamed themselves the Australasian Rock Squad before becoming Space Farm.
In 2000 Ascension Records released a CD called "Blues Band and Beyond" which included their original Zodiac album, Zodiac EP and their Zodiac singles.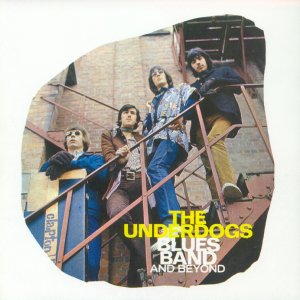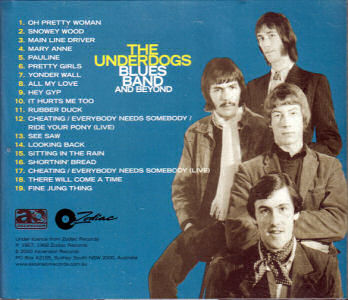 The Underdogs can also be found on the following compilations.
Black Bolt and the Silver Ferns can be found on the following.
Monte Video and the Cassettes can be found on the following.