Brew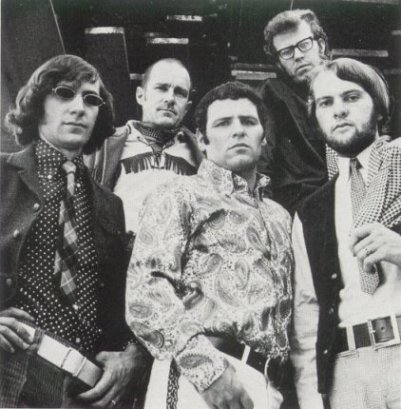 L to R Jerebine, Gillette, Ferguson, Harrison and Willoughby.
Line-Up:
Doug Jerebine (Lead Guitar / Vocals)
Bob Gillett (Saxophone)
Puni Solomon (Bass Guitar / Vocals)
Charles Gray (Drums)
Tommy Ferguson (Vocals)
The Brew are recognised as being New Zealand's first 'Underground' band. They were started in 1967 by Bob Gillett, who had decided to form a band capable of playing a new kind of music, unlike anything that was currently being played. Bob had originally come from Santa Anna, California and arrived in New Zealand around 1960. After playing many jazz gigs he decided to form his own band.
Bob recruited Doug Jerebine, who was keen to experiment with new sounds and equipment. Doug was a guitar wizard and had previously played with the Embers. Andy Shackleton of the Premiers was originally recruited to play drums, but never made it past rehearsals, before being replaced by Charles Gray and Puni came in on bass, having arrived in Auckland as a member of the Invaders. Tommy Ferguson wanted to be part of the experiment as the vocalist. There were no rules, they just wanted to create a sound that was not rock, pop, blues or jazz.
They were approached by the Tea Council to record a jingle to promote Tea to the teens. The council had been trying for months to succeed with their promotions, but had been unsuccessful. This association was where their name was derived from - the Brew. Rather than write a jingle they recorded the old standard "Tea For Two". At the same time they recorded "Bengal Tiger". This single, in 1967, was the only release for the group.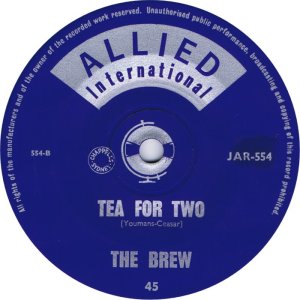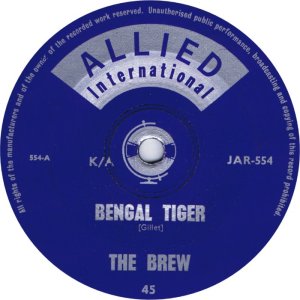 On the strength of this single they secured the residency job at the new Picasso nightclub. Gray left and was replaced by Graeme Willoughby, who had begun his career as a member of the Truetones. The Truetones also having Eddie Low and Teddy Toi as members. Solomon also left and was replaced by John 'Yuk' Harrison on bass. With Gillette's influence, Jerebine started playing Sitar in the band.
About halfway through the band's life, John 'Yuk' Harrison left, to be replaced by Harvey Mann. Harvey was dissatisfied with the direction that the Underdogs were going and he wanted to be with the group he thought was the ultimate band at the time. Other musicians to pass through the group were drummers Jon Drinkwater, Ian Thompson from the Dark Ages and the Underdogs, as well as Bruno Lawrence.
After Tommy Ferguson left the Brew, the reformed line-up consisted of Bob Gillett on drums and percussion, Doug Jerebine on bass guitar, Harvey Mann on lead guitar (with a regular body and a bass neck), and Archie Bowie, from the Magee St line-up of the Underdogs, on vocals and harp. Archie stayed for about nine months and was replaced by another singer, Murray Grindley, also from the Underdogs.
Tommy Ferguson had previously been with the Astrobeats in 1965. They released a single called "Jenka Rock". He went solo after the Brew and released two singles during 1968 and 1969, "9 Miles From Nowhere"/"Ain't Nothing Like The Real Thing" and "Something Bad On My Mind"/"Shoot 'Em Up Baby".
Bob Gillett later formed a band called Breeze in 1971, which included Sonny Day, Dave Shepherd, Steve Wilson and Brett Neilsen. He later ended up in Space Farm.
Graeme Willoughby joined the Dave Shepherd Group for a short while in 1969 and then kept playing in New Zealand and Australia, but sadly died in 1974. His music lives on through his daughter Kim, who was a member of the 80's group, When The Cat's Away.
Doug Jerebine went on to record under the name Jessie Harper, before quitting the rock scene to become a Krishna monk.
The Brew can also be found on the following compilations.