Cascados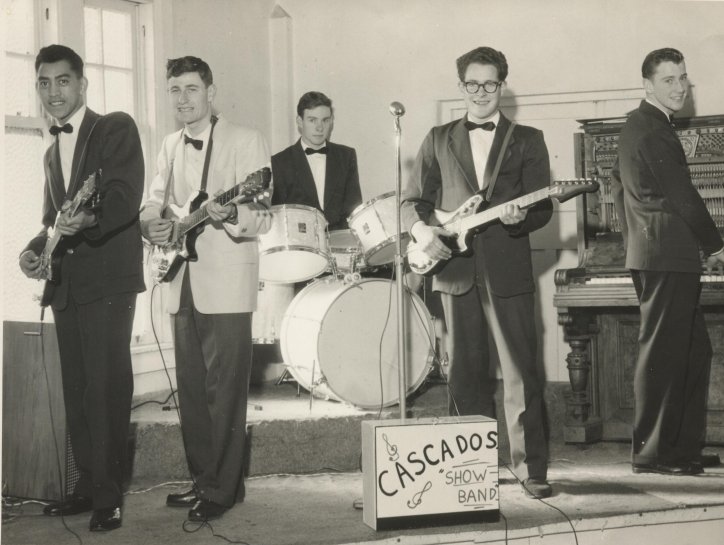 Cascados Show Band 1957, L to R: Dennis Morehu, Thomas McDonald, Peter Pritchard, Rick Williams and Max Bell.
Line-Up:
Rick Williams (Lead Guitar)
Dennis Morehu (Bass Guitar)
Thomas Oswald McDonald (Rhythm Guitar / Vocals)
Peter Pritchard (Drums)
Max Bell (Piano)
Thomas McDonald always wanted to be famous and become a rock and roll star. He started hanging around the bands that were playing around Wellington at the time. In the summer of 1957, Thomas decided to form his own band, the original Cascados Show Band. Thomas himself was not the greatest of musicians, but he managed to convince the others to join him. He recruited Rick Williams on lead guitar, Dennis Morehu on bass guitar, Peter Pritchard on drums, Max Bell on piano and himself, on rhythm guitar and vocals.
The above publicity photo was taken at one of the band's very first "dress rehearsals" in 1957. Unfortunately it doesn't show in black and white, but Rick was actually wearing blue suede shoes. He is also playing a kiwi built "Jansen" guitar, one of the very first electric guitars produced in New Zealand. He also had a "beefy" 30 watt Jansen amplifier. Rick still has and continues to play the guitar today.
Like all good bands in those days, there was always a good roadie behind the scenes. The Cascados had Brian McPherson, who drove the Morris Minor van, into which all the necessary gear would fit. He was responsible for making sure that everything technical was working and that all the bits and pieces ended up in the right places.
During the first four years of their existence they did a bit of work for radio station 2ZB, and worked with Neville Chamberlain (Cham the Man) on fashion shows and the like.
Line-up changes did occur during their time. Dennis Morehu took over on lead guitar and Rick moved to bass guitar. Bryan Miller replaced Peter Pritchard on drums. During a promotional gig at Paraparaumu at Christmas 1961, Rick took ill and had to pack it in for a while. His place was taken by Lani Love. Also around that time Max left and Bryon Knight was brought in as a vocalist.
They covered the rock and roll hits of the day, but were never taken seriously as a great group. The better players in the group probably only stayed for the money and eventually, when there was obviously no future for them, they left.
Lani Love ended up in the Soundells, while Bryan Miller spent some time with the Supersonics. Rick Williams later played a few gigs for the Dave Lake Quartet before leaving New Zealand in 1969, to go to Amsterdam to play jazz, and he has been there ever since. Thomas never made it as a rock and roll star, but he did become quite famous over the next 10 years as a promoter. He set about building up a booking agency and organising the huge jamborees and Battle Of The Bands competitions that proved very popular and an excellent avenue for up and coming groups to strut their stuff. He had all the big name bands of the time under his wing for a period.
And for a piece of trivia, Thomas was related to lead guitarist, Colin Lock, from the Skyrockets.