Falcons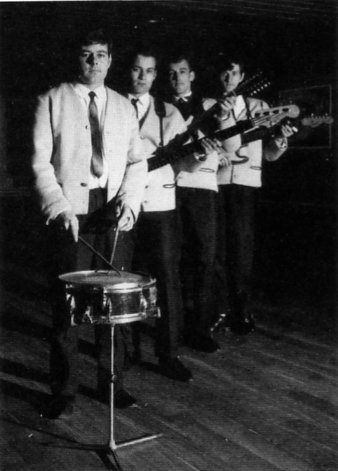 Line-Up:
John McKenzie (Drums)
Randal Gibson (Rhythm Guitar / Vocals)
Robin Page (Bass Guitar / Vocals)
Blake Thomson (Lead Guitar / Vocals)
Bill Trott (Vocals)
The Falcons were around the Wellington scene from 1965 through to 1969. They had a residency at the Sheridan in Herbert Street. They were not a full blown pop or rock group, preferring to stick to the standards and throw in a bit of Shadows and Ventures material.
The Falcons had a number of line-up changes during their time. Randal Gibson was the first to depart, with the group not replacing him immediately. Eventually they took in Doug Harvey, who could play rhythm guitar and also play the trumpet and sing. John McKenzie then left to go to Australia, and his place was taken by Maurice Butterworth, who stayed with the band virtually till the end. At about the same time, they added Nigel Keith as second trumpet player. With this additional brass they now adopted a style similar to Herb Alpert, and this proved very popular with the slightly older audiences that they attracted. When Doug Harvey retired, his replacement was Dave Lakeman on saxophone.
They also did a stint on a cruise liner to Australia and the Pacific Islands, that proved to be very successful, before returning to their residency.