Humble Pie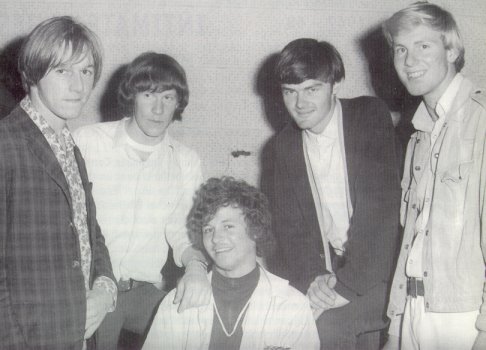 L to R : Bill Reid, Bob Graydon, Mal Vance, Barry Gill and Terry Potter.
Line-Up:
Bill Reid (Lead Guitar)
Ken Tibby (Rhythm Guitar)
Barry Gill (Bass Guitar)
Terry Potter (Drums)
Mal Vance(Vocals)
At the end of 1967, the then current line-up of the Rogues basically changed their name and style to become Humble Pie. Ken left the ranks very early and was replaced by John Carter on rhythm guitar. John had previously been with the Vision. He didn't stay for long and when he departed, Mal Vance also decided to go back to the solo career he'd had before joining the Rogues.
The new singer for the group was Bob Graydon, previously with the Principals. John was not replaced. They secured regular gigs at the Platterack and the Montmartre, and occasional gigs at the Galaxie. They proved successful for bringing in the crowds and as a result secured the residency at the Bowl in mid 1968, a gig they retained until they disbanded.
While at the Bowl, Bill Reid left the group and was replaced by John Morton. John had previously played with the Mockers (not the classic group by that name to appear in the early 80's) and Nobody's Children, and later was to play with Deja Vu in the 70's.
Humble Pie never made any recordings and at the end of 1968 they disbanded. Bob Graydon, Terry Potter and Barry Gill all went to Australia, but never did anything in the musical field. Barry Gill returned to Auckland in 1971 and joined his brother Graham, who had earlier been with the Dallas Four, and they went into a new group called Denver, whose line-up included Larry Killip on lead guitar and Denis 'Tub' Winters, from Zarks and Omnibus, on drums. Denver gigged at the Montmartre, but only lasted about three months before disbanding.