Dallas Four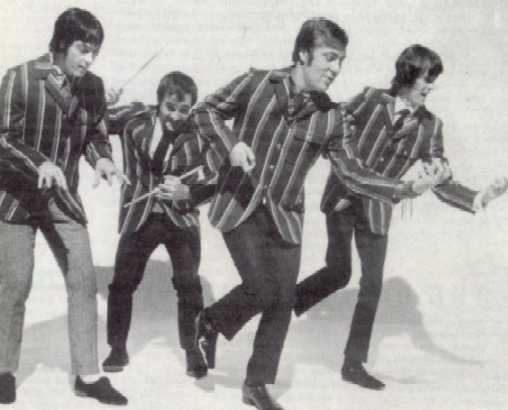 Graham Gill, Jim Ford, Rodney Potter and Basil Peterken.
Line-Up:
Rodney "Dody" Potter (Lead Guitar / Vocals)
Al Dunster (Rhythm Guitar / Vocals)
Basil Peterken (Bass Guitar / Vocals)
Brian McLaren (Drums / Vocals)
Rodney Potter was more commonly known as Dody. He was from Wellington and had played with Malcolm Hayman's Trademarks. Malcolm was to later form Quincy Conserve. After that Dody moved to Auckland where he joined the Keil Isles. In 1963 he met Basil Peterken and Brian McLaren, who were both playing with the Spartans, and out of that meeting, the Dallas Four was formed in April 1964.
The Dallas Four's original line-up only stayed together for a very short time. When Brian McLaren left, he was replaced by Jim Ford from Darryl and the Demons, the same group that Al Dunster had come from.
The group quickly became known for their singing prowess and polished harmonies and were hired to provide the backing vocals for artists on the TV pop show "Happen Inn". They also sang backup on recordings by the Challenge.
A two year residency at the Platterack with this line-up was interrupted in late 1965 when Al Dunster left to join Dave Miller and the Byrds, who had arrived in Auckland from Christchurch, and were on their way to Australia. This started a series of line-up changes over the next two years before they settled down again.
Al Dunster was replaced by keyboard player Chris Young, who only stayed until the end of 1965. Jimmy Elliot was recruited to replace Chris. Jimmy had been lead guitarist / keyboard player with the Premiers, and they had just recently broken up. But Jimmy set off to Australia in 1967 to work with Johnny O'Keefe and his replacement was Graham Gill from the Rogues.
A single from 1967 was billed as Jim Ford and the Dallas Four.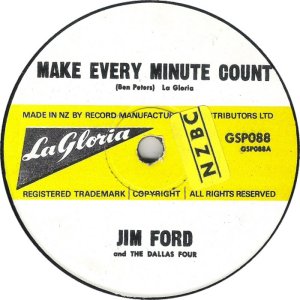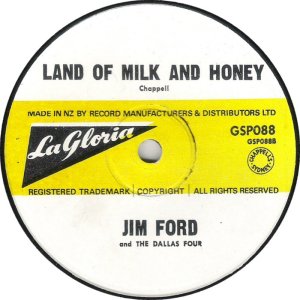 In 1968, Leo De Castro was added to the line-up. He had a soul style about his singing, which gave the band a new sound. They also took up a new residency at the Crypt. Graham Gill left the group in 1969 and his replacement was Bob Smith from Hastings. De Castro stayed with the band for about 6 months before going solo and heading to Australia and he was replaced by Sonny Day, who had been around the Auckland scene for many years with his own band the Sundowners. Basil Peterken was the next to go and his replacement was John Kristian, who had been with the Action while they were in Australia.
In 1970, another move came about with a new residency at the Tabla. Dody wasn't happy and he moved on. John took over on lead guitar and Ian Rowe was recruited as the new bass player. Now the band resembled nothing of its earlier years or sound and when John Kristian lost the battle to change them even further, he left. His replacement was Peter Timperley, from Classic Affair, but when Sonny Day decided to leave, the Dallas Four finally disbanded. Peter Roberts also had a short stint with the group as was to later have a period with the La De Da's in Australia.
Bob Smith and Peter Timperley recruited John Banks from Troubled Mind and Dave Shepherd from Dave Shepherd Group and formed a new band called Karma, who took up a residency at Granny's.
Preferring long-term residencies at the various clubs to maintain their popularity, the Dallas Four only recorded five singles during their eight year stint. There were four covers and only one original. The first single in 1964 was "Silence Is Golden"/"Louie Louie" followed by "Bells Of Rhymney"/"Thou Shalt Not Steal" in 1965. Their third and only original from 1966 was "That Man's Got No Luck"/"I'm So Lonely" . 1967 saw "White Christmas"/"Toe-Hold" and their last in 1968 was "Sitting In The Park"/"Rag Doll". Five singles, five different labels.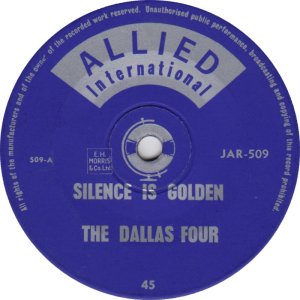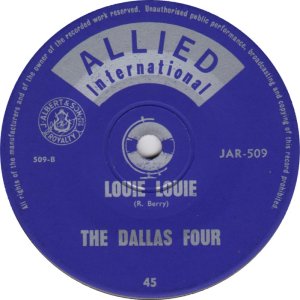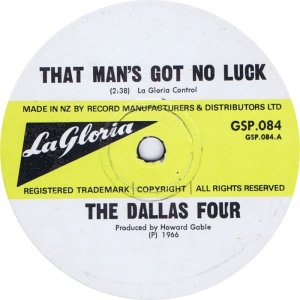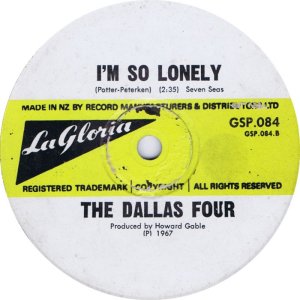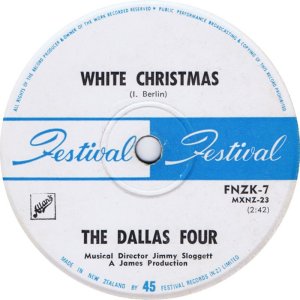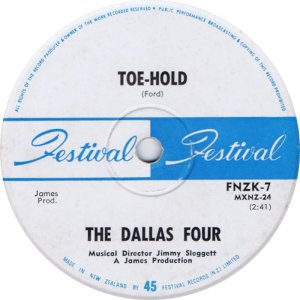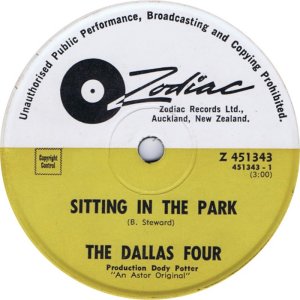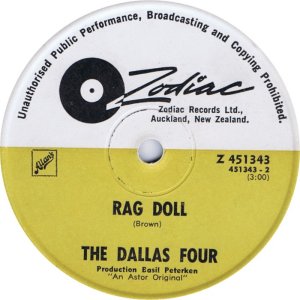 The Dallas Four can also be found on the following compilations.