Troubled Mind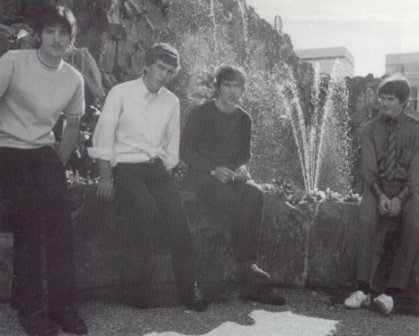 Dick Roberts, Len Whittle, Bob Jackson and John Banks.
Line-Up:
Bob Jackson (Lead Guitar)
Derek Fitzgerald (Bass)
Dick Roberts (Vocals/Percussion)
John Banks (Drums)
The Troubled Mind originated from Napier around 1965. They played around the Hawkes Bay area and Wellington, before turning professional and moving to Auckland in 1967. At this point there was a change in line-up. Ian Rowe replaced Fitzgerald on bass and Len Whittle joined on organ. Numerous appearances were made around the Auckland dance scenes, including a regular spot at the Galaxie, Platterack and Monaco. Rowe then left the group and Whittle improvised the bass on the organ. George Barris joined the group for a brief stint in between gigs with Fresh Air and Jigsaw for a visit to Christchurch, where they were in residence at Snoopy's. Bob Jackson had a growing infatuation with jazz so he left and was replaced by Bruce Robinson from the Pleazers. The Troubled Mind made television appearances on the "C'mon" series.
Their first single on Zodiac was "Under My Thumb" b/w "Child" in March 1968, but it wasn't until their second single on Festival, "I'm Good For You", written by Ray Columbus while he was in the US, that success came their way. In March 1969, the single reached number 20 on the New Zealand Hit Parade, but the group disbanded shortly after.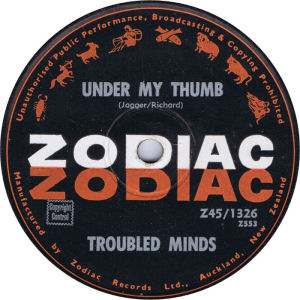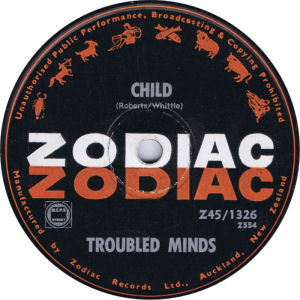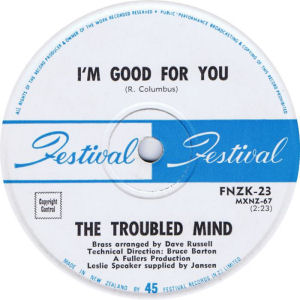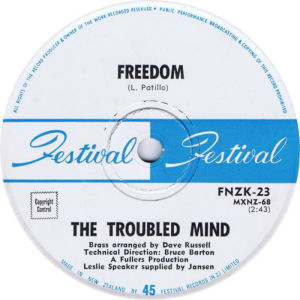 John Banks was to later show up in Karma. He died in September 1993. Bob Jackson shifted to bass and later appeared in Shotgun, the band that backed Larry Morris.
The Troubled Mind can also be found on the following compilations.