Fresh Air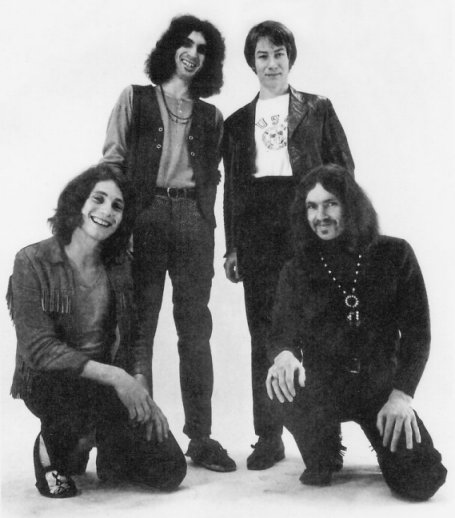 Fresh Air : L to R: Chris Seresin, George Barris, Tony Walton, Chaz Burke-Kennedy
Line-Up:
Chaz Burke-Kennedy (Lead Guitar / Vocals)
Chris Seresin (Keyboards)
George Barris (Bass Guitar)
Tony Walton (Drums)
Fresh Air is actually a continuation of Jigsaw, with a gap of about a year. It has the same line-up as Jigsaw, with the exception of Chris Seresin on keyboards, replacing Glyn Mason who had left to join the Rebels, before moving on to Australia.
After Jigsaw, Chaz had a short stint with the Underdogs, before joining Tony in the Bob Jackson Trio, which also included Chris Seresin and Bob Jackson himself.
After playing Glyn Mason's guitar while with Jigsaw and borrowing Harvey Mann's all through the Underdogs, Chaz finally decided to buy a guitar of his own, a Rickenbacker six string. On evening in mid 1969, he took it down to the Embers Club to jam with the club's owner Nick Villard to see what it sounded like through an amplifier. Nick so enjoyed his set with Chaz that he asked him to come on board at the Embers as resident guitarist. So the trio was turned into a foursome. But nothing is ever easy, with Nick and Bob having been at each others throats for quite a while, and it coming to a head one night when Nick gave Bob his marching orders. Nick had always liked George Barris, so he was quickly brought in to replace Bob on bass.
Nick Villard, basically a folk singer with a pick-up on his guitar, was the star at the Embers. He would sing songs like "Ghost Riders In The Sky" and Trini Lopez's "If I Had A Hammer" and the crowd just loved him. As the Jackson-less quartet started to develop their repertoire, it became clear that they were going to be too loud and off-beat for the Embers, so unfortunately they were asked to leave.
They floundered around for a while and decided to give the band a name. Tony came up with Fresh Air. With this new name they approached Dave Henderson, who now owned the Galaxie, to give them a try. He accepted them and they became resident band on the far stage of the Galaxie. Chaz's wife Janett, an art student from San Francisco whom he had married only a week before, was commissioned to paint a number of murals for the Galaxie walls. The club took on a whole new look as her work was very much in the San Francisco style.
One evening after only a few weeks playing, the group were setting up their equipment and getting ready to play, when Dave walked up to the stage and informed them that the premises had been sold that day and the club would not be opening. That was the end of the old Galaxie.
From there they were able to persuade Johnny Tabla, the owner of the Tabla Club in Lorne Street, to give them a go. At that stage they were performing a lot of originals, which was fairly unusual for bands at that time, and this appeared to leave the audiences a little stranded. So they gradually dropped the originals and developed a repertoire of songs mainly from the Band's "Stage Fright", Dylan's "Nashville Skyline", and songs from Cream and Blind Faith, as well as others from the latter period of the Beatles. To add extra commerciality, they provided backing for Tommy Ferguson, who performed three songs each set. He did mainly top ten songs and this balance worked superbly and before long, the Tabla was packed night after night, week after week.
Only one record was ever released by Fresh Air and that was in 1969. It was Bob Dylan's "Country Pie", with the B-side "Got To Get Away" being their own composition. This was written by Chaz and George during the recording session.
In 1970 Fresh Air appeared at the 'Redwood Music Festival'. They were also involved in a number of other events outside the clubs. One such event that expressed the spirit of Fresh Air was the Albert Park free concerts. These were held in Auckland's Albert Park on Sundays. The park is directly across the road from Auckland University and was well attended by families, students, kids and hippies alike.
There was another band that also used to play at the Tabla at weekends, in order to share the load. They played commercial songs, which included some Chicago numbers. Sometimes Tony would sit in with them and it soon became clear to the rest of the group that he really enjoyed playing that kind of material and that his enthusiasm for Fresh Air was waning. It is quite amazing that after working with each other for many years through the Underdogs, Jigsaw, and now Fresh Air, George and Tony rarely used to speak to each other, but there is really nothing unusual about this, as this sort of thing is prominent in most successful bands. Midway through 1971, Tony Walton left the group.
It had really felt for some time like they were just going through the motions, so one Sunday morning, George, Chaz and Johnny Tabla drove down to Wellington and met up with Bruno Lawrence and his wife Veronica. Bruno was convalescing at the time and although his family was in Wellington and he had upcoming commitments, Johnny Tabla made him a very generous offer to fly up to Auckland and play with Fresh Air for six weeks, which Bruno and Veronica accepted.
Chaz, George and Chris had no idea what they were going to do with the band after Bruno's six week sojourn, but by the fourth week Chaz and his wife Janett had decided that they would sell the 1966 Ford Mustang that her parents had shipped over to them when they got married, and move to the USA.
The group disbanded after Bruno's six weeks, but his influence was strong enough that all the other members of the group would later end up in his new venture, Blerta.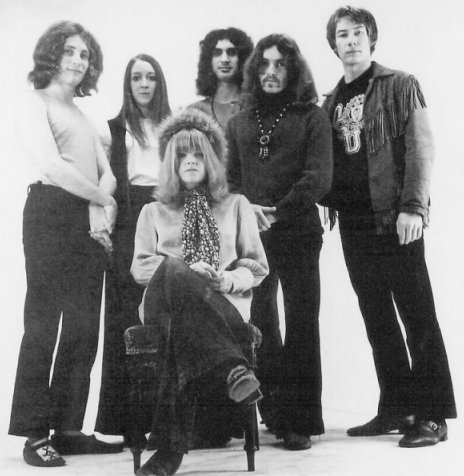 The Fresh Air Family : L to R Chris, his friend Mary, George, Chaz, Tony,
seated is Chaz's wife Janett.
Chaz Burke-Kennedy spent 6 months in the US before joining Blerta on his return. While he was in the US he wrote a song called "Find Her" and on his return to Wellington he recorded it. It was released in 1972 with "Can You Anybody" on the flipside. "Find Her" is a classic cut and although it didn't see much chart action it stands as an example of Chaz's abilities as a singer, songwriter and guitarist.
Late in 1972, Chaz, George and Chris all found themselves touring as part of Blerta. They went on a North Island tour which ended with performances at the Ngaruawahia Music Festival at the beginning of 1973. The first performance which was at night was kind of the old Blerta with Corben Simpson on bass and went down fairly quietly. The second performance was on the Sunday afternoon. To begin with, only Bruno, Chris, George and Chaz walked out on stage. Bruno then stood up from behind the drums and said "Blerta has many faces, and one of those faces is Fresh Air". They then immediately launched into "Find Her" and the audience began to stand up and dance right away. By the time they got to their extended version of "Love The One You're With", all the other Blerta musicians, actors, wives, girlfriends and hangers on came on stage singing and dancing and everyone just went bananas.
This was the last time Fresh Air as such ever played together.