Lee & Mick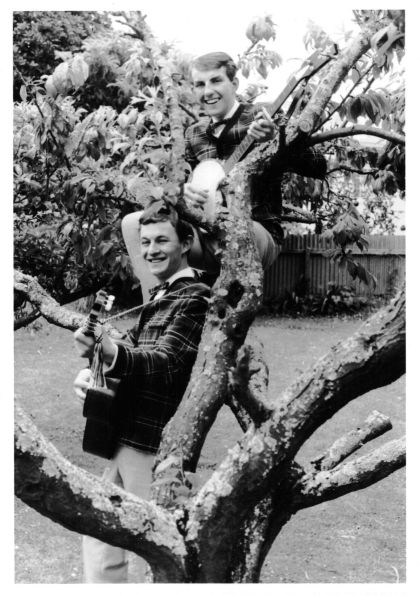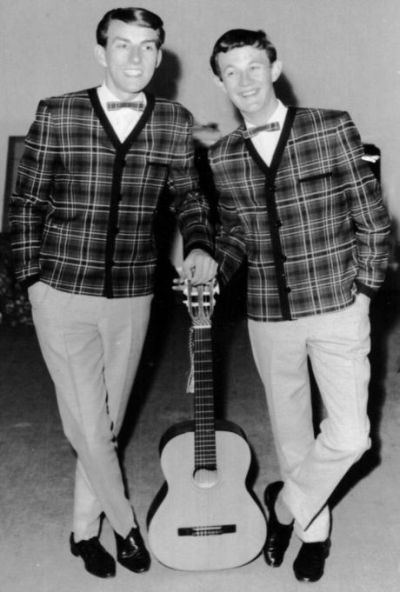 Left: Mick Sauvage, Right: Lee Stewart Left: Lee Stewart, Right: Mick Sauvage
Lee & Mick were a folk duo from Auckland who mainly entertained by way of the 'dine and dance' circuit throughout the Auckland area from 1966 to 1972. Both of them sang, with Mick singing the harmony. Lee played guitar and banjo and Mick played guitar and occasionally the 'kazoo' for the more light-hearted numbers that they often did. They could easily be picked out in a crowd due to the distinctive tartan jackets that they wore for their performances.
Most of the material they performed was Scottish and Irish folk songs, along with ballads and some old-time "evergreens" with the occasional pop song of the day thrown in. Both of them had immigrated to New Zealand from the United Kingdom, Lee from Scotland in 1964 and Mick from England in 1965.
They met at a party of a mutual friend and immediately hit it off when Mick joined in with the harmony to a popular party song Lee was singing at the time. Lee was already playing and singing Scottish folk songs he had learned as a lad growing up through the 1950s, and for a while after arriving in New Zealand, he had performed with another male singer and guitarist as a duo, and also sometimes as a trio with a female singer, calling themselves the Tru-Vetts and performing a mixture of popular folk songs and pop songs. They performed on one particular occasion as a duo, and covered a few popular releases, including Fats Domino's Good Hearted Man, for which Lee played the blues harmonica. This was at Queen's Birthday Weekend 1965, at both the Starlight Ballroom and the Eastside Ballroom in Hamilton. The final performance of the Tru-Vetts was as a trio, at the Monument Motel, Otahuhu, Auckland, at Christmas 1965.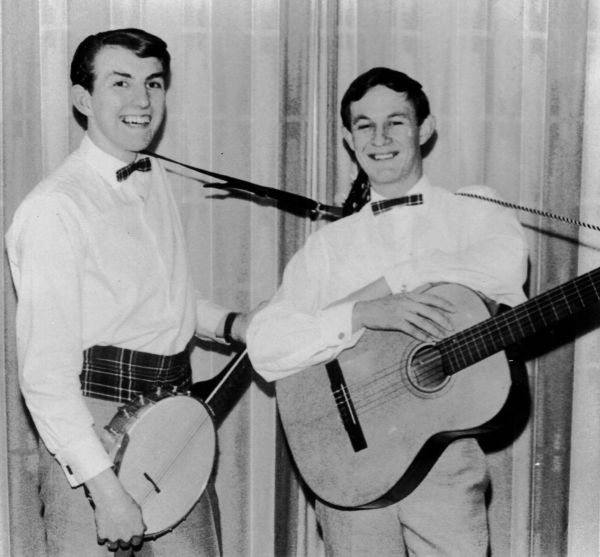 Lee & Mick
While performing as the Tru-Vetts, Lee had met Robert Handlin from Kingsway Productions who helped introduce the act to Eddie and Elaine Hegan, and also Mary Throll and Benny Levin, all of whom organised bookings for them around the Auckland entertainment scene, and for a few months in 1965 they had a regular Friday and Saturday night spot at the Bel-Air Coffee Lounge in Queen St, Auckland, alongside rhythm and blues group The Founders and vocalist Ray Cowell.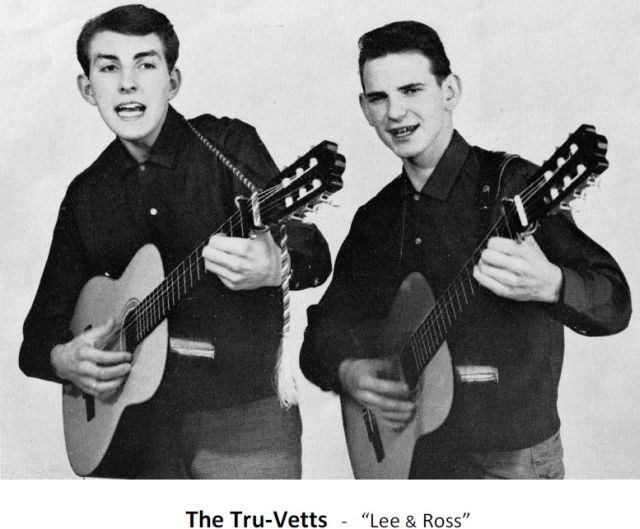 Lee Stewart and Ross Hasselberg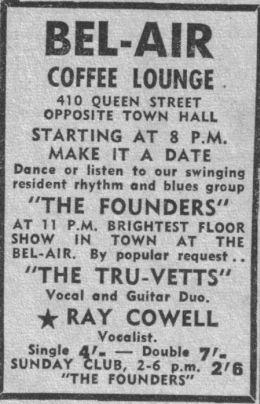 Lee had been playing rhythm guitar for the Ramblers, a teenage group in Scotland, and after the Tru-Vetts disbanded, was keen to find another group to perform with in New Zealand, but after meeting Mick, the idea of doing some traditional kind of music and also entertaining by way of regular twenty minute night spots became of interest. Although Mick had never sung any Scottish or Irish songs before, it didn't take him long to master them, and for an Englishman, he very ably presented a convincingly authentic, Scottish and Irish accent. When Lee and Mick got together they asked Eddie and Elaine Hegan to be their managers, and they enjoyed a good relationship with the Hegan Entertainment Bureau from 1966 to 1972. During this time period, Lee & Mick performed at all the popular venues around Auckland, such as Pinesong, The Flamingo, The Toby Jug, The Dutch Kiwi, The Sorrento, The Ranch House, The Mon Desir, and many others.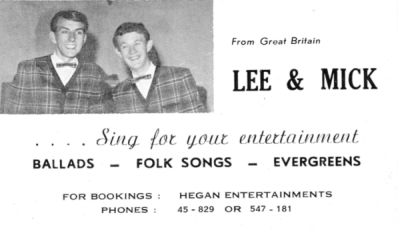 They also did guest spots at most of the Auckland night clubs, such as, The Monaco, The Oriental Ballroom, The Montmartre, The Galaxie, and others, and performed on the famous summer "Sound Shell Tours" at Rotorua, Mount Maunganui and Whakatane, along with various other artists, including the Kini Quartet, Sylvia Sylvana, and George Tumahai. For their nightclub performances they would usually include an Irish and Scottish number along with a selection of rhythm and blues, folk songs and ballads. On any Thursday or Friday evening during 1966, you could experience Lee & Mick performing an eclectic selection of folk music at the Henry IV Coffee Lounge in Queen St, Auckland, where they had a resident spot.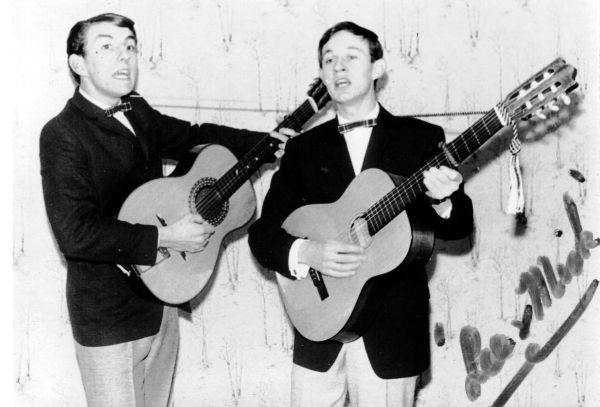 At one point, they decided to experiment as a trio, and Otto Wendt joined the duo for a few months during which time a number of different genres of music was attempted, but unfortunately, it didn't work out, and through the guidance of Eddie Hegan, Lee & Mick continued as a duo and concentrated on developing their Scottish and Irish music repertoire. Eventually, they became recognised as accomplished Celtic folk music performers, and got the top billing at the1967, St Patrick's Day Concert, at the Hibernian Society Hall, Great North Road, Ponsonby, in Auckland.
During 1966 and 1967, they often performed at the same Celtic oriented functions as the Quare Fellows, another folk duo from Auckland who specialised in Irish folk music and who were also on the concert bill. Both duos often performed at charity functions organised by the Clifford Concert Party for whom the Tru-Vetts had also performed.
Lee & Mick progressively became regular and popular performers for a number of Caledonian Society Clubs, and entertained their members at the numerous events they held throughout Auckland. New Year's Eve and Robbie Burns Day on the 25th of January were the most demanding, with up to four venues around Auckland being attended on these nights. The Scottish and Irish music presented by Lee & Mick was very well received by those in attendance at the many, and varied venues, where they performed.
With both of them now being married with two children each, the entertainer's life-style became rather impractical for them, and Lee & Mick gave their last performance together at a private function in Auckland, in December 1972. Lee went on to run a successful mobile disco, and managed a number of break dance groups during the 1980's and received bookings through Lew Pryme, at Fuller's Entertainment Bureau. Sadly, Mick passed away in 1983.