Neville Barry
Neville Barry's earliest musical memories are of singing his heart out as a youngster at Sunday Scholl in his home town of Dunedin. At the age of 15 he was in a comedy duo with his mate Ivan Hannah and they toured extensively, including shows with the Howard Morrison Quartet.
Shortly after he formed the Deltas. They consisted of Gary Partridge on piano, Ken Anderson and Peter Light on guitars, Bevan Rix on saxophone and Noel Aitken on drums. Together they recorded four songs, "Christchurch Rock", "Shakin' All Over", "Messed Up Blues" and "Your Cheatin' Heart". These four songs only exist on an acetate and are included on the compilation, "Early Rock & Roll From New Zealand - Volumes 11 & 12".
In 1960, at the age of 17, Neville established the Commodores. They consisted of Keith Harper on vocals, Kevin Bell on guitar, Graeme Fairburn on bass and Ian Gourley on drums. They went into the Broadway Recording Studio in Dunedin to record two songs. The studio normally only recorded radio commercials, but decided to release the two songs as a single. It was released in 1960 on their Broadway label, and is probably the only release on that label. The songs were "You've Stolen My heart"/"Keep Walkin'".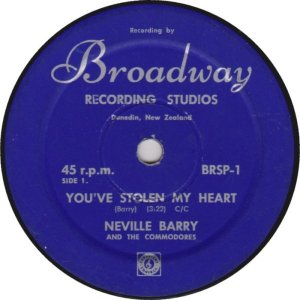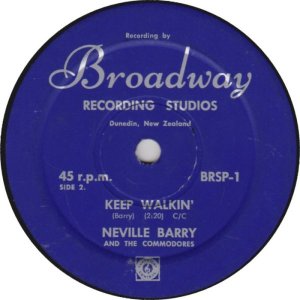 Neville moved to Christchurch in 1970 and continued to perform as a guest vocalist before forming the Footsteps.
Neville Barry can also be found on the following compilations.