Terry Dean and the Nitebeats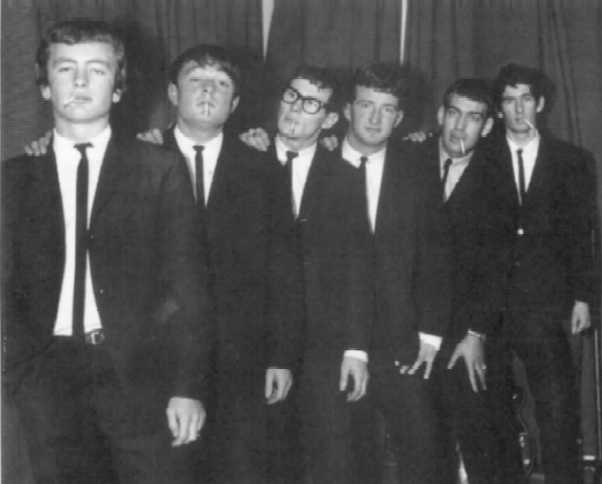 Andrew Quayle, Alex Behrens, Leo Sleeman, Peter Jones, Terry Dean and Errol Timbers.
Line-Up:
Terry Fidow (Vocals)
Gary Hollis (Piano)
Errol Timbers (Lead Guitar)
Allan Hodgson (Drums)
Peter Cox (Bass Guitar)
Peter Pop (Rhythm Guitar)
Terry Dean's real name was actually Terry Fidow. He was born in Western Samoa and arrived in Auckland with his family when he was eight. The family settled in Ponsonby and Terry attended Marist Brothers Primary School and St Paul's College, where he got his first taste of singing in the school choir.
His love of rock'n'roll lead to Fidow's short-lived first band, the Rebeltones. Soon after he took a few vocal spots with the Zodiacs, when leader Freddie Keil returned temporarily to Samoa. When Keil rejoined, Fidow moved to Wellington, singing at the Capital's Club Cabana, before returning to Auckland.
He soon picked up his first residency as a solo act at the Shiralee nightclub in Customs Street West. It was there that he first heard the Nitebeats, who were a young instrumental group. At that stage they consisted of Billy Peters on guitar, Allan Hodgson on drums, Peter Cox on bass, Ray Peters on guitar and Gary Hollis on piano. Even though the group had just won the club's talent quest, they were finding it hard to attract a solo artist to sing with them. In stepped Fidow, changing his name from Fidow to Dean, they became known as Terry Dean and the Nitebeats. Errol Timbers took over from Billy Peters, and when Billy left, his place was taken by ex-Buccaneer, Johnny Willetts, who had just left the Embers. When Peter Pop left his place was taken over by Ray Peters.
The band began playing at most of the clubs and dance venues around town, including the Civic Wintergarden, the Treble Clef, the Jive Centre and the Ellen Melville Hall. They also started playing around the upper half of the North Island at beaches, small towns and dances. Orewa, a popular summer holiday spot north of Auckland, proved a stronghold for the band.
There were numerous changes to the line-up and it wasn't long before the make-up of the band was totally different. The new look was Alex Behrens on drums, Peter Jones on rhythm guitar, he was later replaced by Buddy Wilson, Gary Hollis on piano, and Errol Timbers on lead guitar. How this line-up evolved is quite complicated, but the events following try to put it into perspective.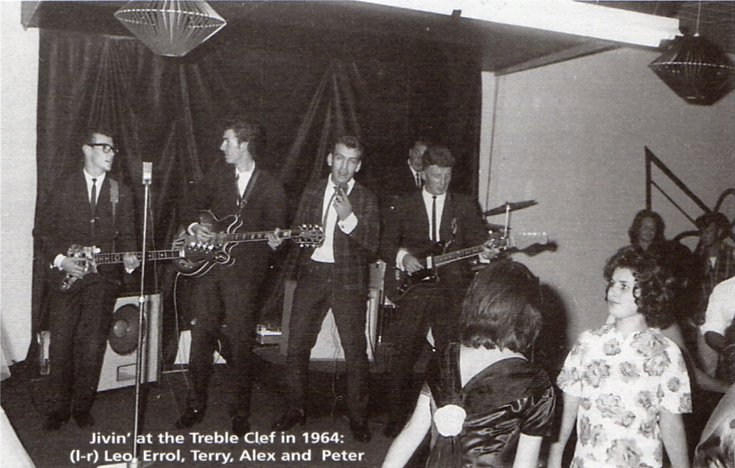 Errol Timbers had played with Ian Lowe and the Tornadoes in 1960 and then Cliff Williams and the Dualtones. The Dualtones included Alphonse Keil on drums, Wally Martin on rhythm guitar, Peter Skerrett on bass. They used Ian Lowe on bass and Bruce Mowatt on drums for recording sessions. Timbers then formed the Dorados, along with Leo Sleeman from the Futures on bass, Lindsay Wainhouse on rhythm guitar, Andrew Quayle on piano, and a number of different drummers, including Graeme 'Trixie' Willoughby, Paul Linklater and 'Tiger' Purdy. The Dorados moved up to Whangarei in 1962 for nearly a year, before moving back to Auckland. A new drummer Clive Cavanagh was added and they went by the name Chevronaires. Timbers then joined the Impacts with Sleeman, Willoughby and Pat Harrison, brother of John 'Yuk' Harrison, on vocals. Meanwhile in early 1964, the ever changing Terry Dean and the Nitebeats were playing around Auckland at the Beatle Inn, Shiralee and Orange Ballroom. At the same time Sleeman had moved to the Colorados, which included Peter Jones, ex Futures, on rhythm guitar, Lindsay Wainhouse on guitar, Alex Behrens on drums, Pat Harrison on vocals, Andrew Quayle on piano and a blind saxophone player. They also played around Whangarei and Auckland. At times Terry Dean would occasionally sing with the Colorados. From all of this the basic original line-up of the Nitebeats was formed.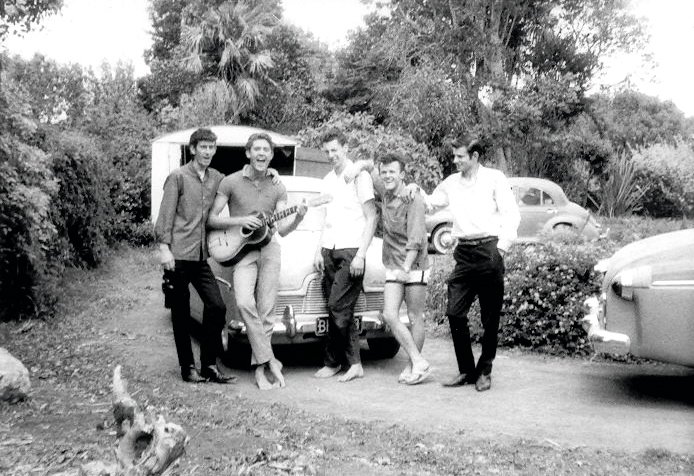 Nitebeats 1964, Errol Timbers, Dave Ball, Warren McMillan, Allan Hodgson and roadie Tony Rawnsley (later of the Underdogs).
1964 was a busy time on the recording front. They worked with Bruce Barton from Mascot Records and recorded their first demo "Act Naturally"/"Little Girl Of Mine". This was not released, but "Little Girl Of Mine" did later turn up as the b-side of their forth single. The first released single was "Your Momma's Outta Town"/"Always On My Mind". Terry Dean wrote both songs on the second single "I'll Keep Walking"/"Because She Loves You" and when released in August 1964, proved to be a reasonable hit in the Auckland area. Their next two singles, both also written by Dean, were recorded at Viking Studios but still released on Mascot. The third single, "Do The Dance"/"I'll Follow Her", released in October 1964 was a prime piece of infectious dance music. The fourth "If I Can"/"This Little Girl Of Mine" is reported to feature Red McKelvie on rhythm guitar, but Errol Timbers tells me that Red recently told him that he 'never' recorded with the Nitebeats. It would therefore appear that Kevin Jobbitt was probably the guitarist on that track.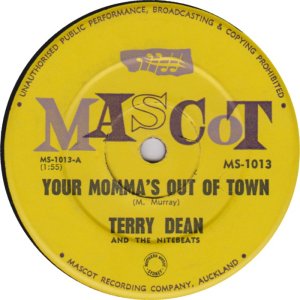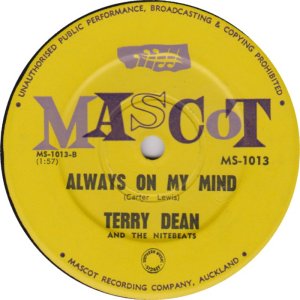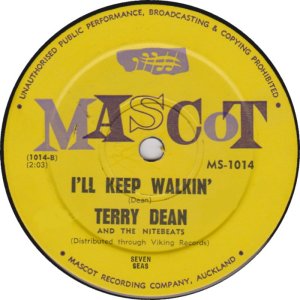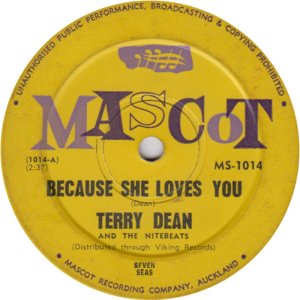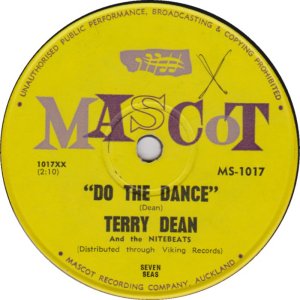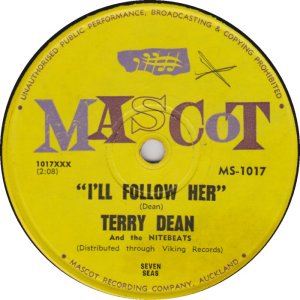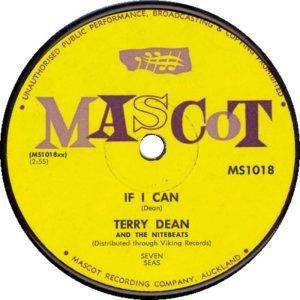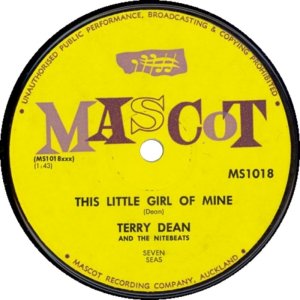 In early 1965, two more Terry Dean originals were recorded for a single. They were "Lonely Man"/"Someone Is Going To Die", both country flavoured ballads, but the single was never issued. Shortly after, Timbers and Sleeman moved to Sydney, playing in various combinations, even forming new versions of the Nitebeats. Terry joined them on occasions, but by the end of 1965 Terry Dean and the Nitebeats had called it a day.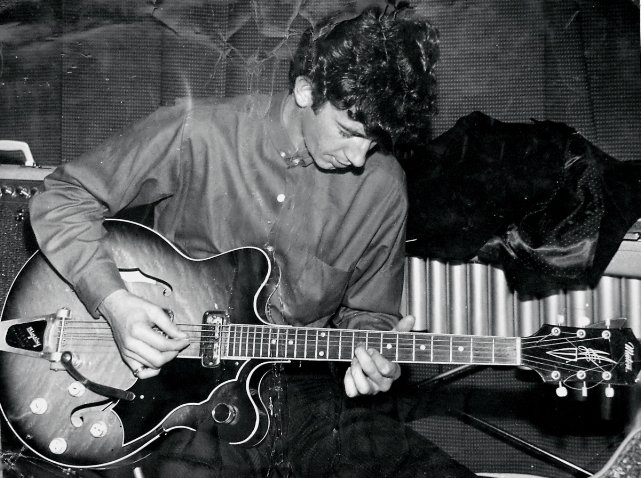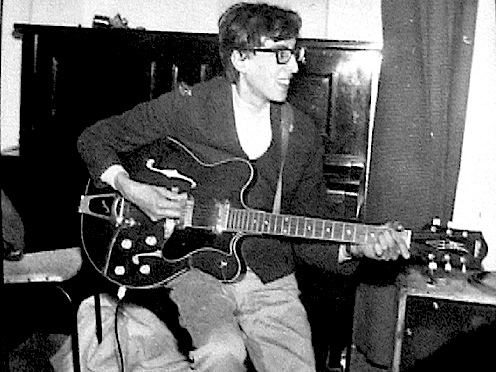 Errol Timbers (left) and Kevin Jobbitt (right) recording at Mascot Studios 1964.