Waves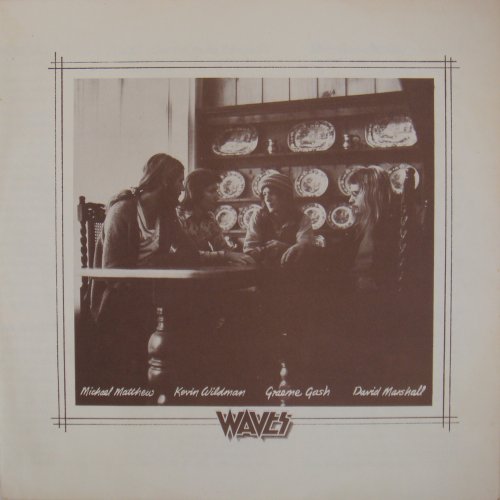 From left : Michael Matthew, Kevin Wildman, Graeme Gash and David Marshall.
Line-Up:
Graeme Gash (Guitar)
David Marshall (Guitar)
Kevin Wildman (Guitar)
Michael Matthew (Bass Guitar)
Auckland based group, Waves, were one of the more successful concert groups of the mid seventies. They were built around the three composer-guitarists, Graeme Gash, David Marshall and Kevin Wildman. Michael Matthew completed the line-up on bass guitar. They gigged only sparingly, remaining somewhat anonymous, although their sporadic 'Buck-A-Head' concerts were always well attended. Waves didn't venture outside of New Zealand, and rarely outside Auckland. They also stayed away from the licensed venues, because being an acoustic band, their songs wouldn't be heard above the noise of the patrons.
Gash and Wildman had previously played together with Geoff Chunn as an acoustic trio called Rosewood. They gigged regularly at Levi's Saloon on folk nights and also appeared at the Ngaruawahia festival. Rosewood split up when Chunn joined Split Enz. Gash and Wildman continued building up an impressive repertoire of original compositions, and in 1974 they teamed up with Marshall and Matthew to form Waves.
Despite their low profile, Waves quickly built up an avid following for their soft rock and four part harmonies. The group was fortunate enough to have a big fan in Kerry Thomas, co-owner of Hot Licks and the Direction record store chain. Thomas formed the Direction record label, flew producer Peter Dawkins over from Sydney, and sent producer and group into Stebbing Studios to record an album.
1975 was their peak year, with the release of their self-titled album. It was released in October 1975 and was one of the best selling local albums of the mid seventies. It reached number 7 on the National Album Charts, yet they still remained virtually unknown outside of their local area.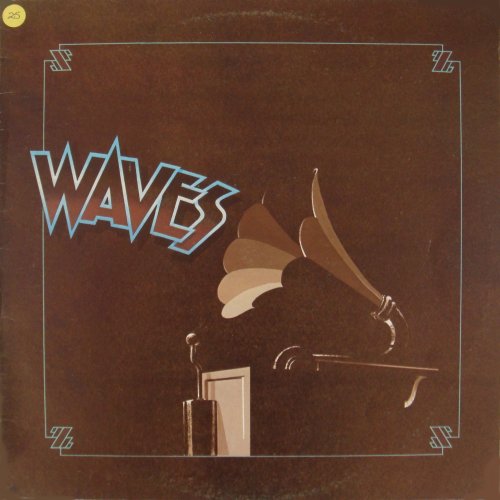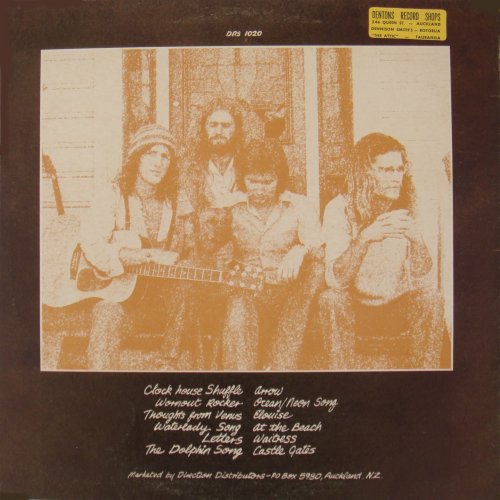 Three singles were also released from the album. They were "The Dolphin Song/Letters", "Arrow/Clockhouse Shuffle" and "At The Beach/Waitress".
The album should have been an introduction to a successful career, but Thomas was unable to finance a follow-up album, and none of the major labels showed any interest. By the end of 1976, there was a decline in acoustic music, so Waves were obliged to beef up their sound with electric instrumentation, and following the departure of Matthew in mid 1977, they recruited a new bassist, Mike Mason and also included a drummer, Rex Carter. But it was too late, and by September 1977 they had disbanded.
Only Gash and Marshall went on to anything further. Graeme Gash released a well received solo album in 1981 called "After The Carnival". David Marshall went on to become a member of Lip Service in 1980 and also Martial Law in 1984.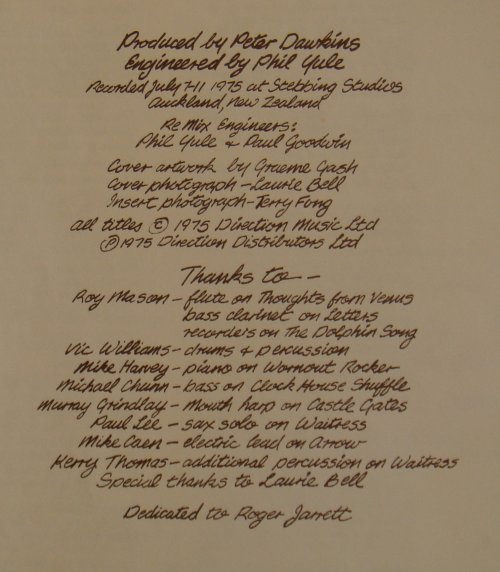 Inner Sleeve details from their album.