Famous Australians
Duigan's, Macquarie, Gordon & Eyre
$1.20
November 1970
Contains: 5 x 6c John Duigan &
Reginald Duigan
5 x 6c Lachlan Macquarie
5 x 6c Adam Lindsay Gordon
5 x 6c Edward John Eyre
Booklet Measures: 40mm x 79mm
B135 (No Edition Number)
B136 (Edition Numbers)
There were versions with No Edition Number on the back cover and others with Edition Numbers on the back cover.
N for NSW
V for VIC
G for everywhere else.
The following Edition Numbers were produced.
No Edition Number
N70/3
V70/3
G70/3
V70/4 (maybe doesn't exist)
N71/1
V71/1
G71/1
N71/2
V71/2
G71/2
Some of the G Editions had Wax Interleaving, which is also known as Tropical Editions.
Some of the no Edition Number also have Wax.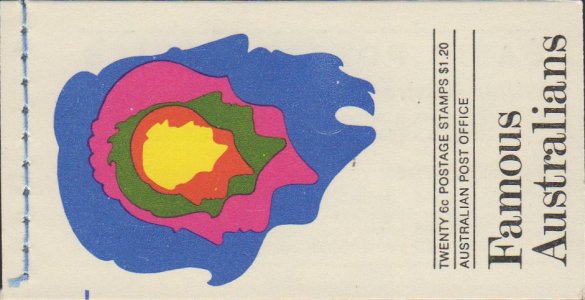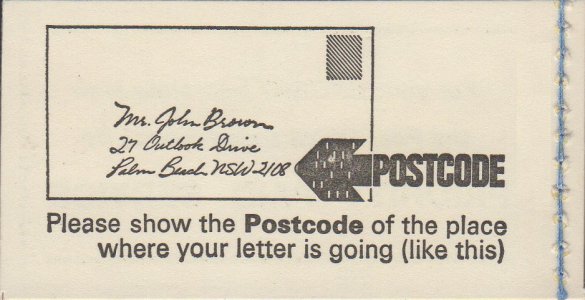 Only the No Edition Number Version used this back cover.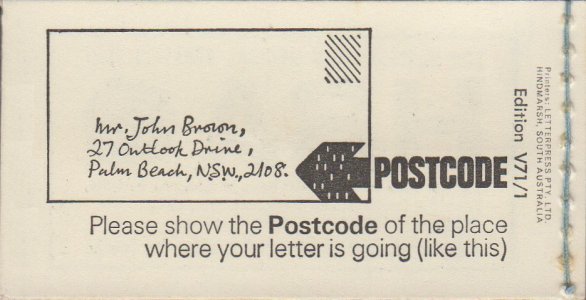 All Edition Number versions used this back cover. (Note the Font difference in the address).