Dead Things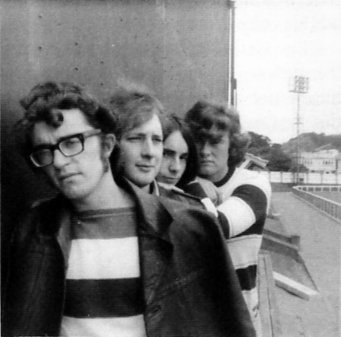 L to R: Rick Squires, Jim Pullen, Jim Davidson and Charlie Horsham.
Line-Up:
Jim Hussey (Lead Guitar)
Charlie Horsham (Bass Guitar / Vocals)
Jim Pullen (Drums)
The Dead Things started out in 1966 as a trio, but Jim Hussey left almost immediately and was replaced by Rick Squires, playing a Bo Diddley style guitar. Charlie Horsham was having difficulty playing bass and singing at the same time, so he took over as lead singer and harmonica player and they recruited Jim Davidson to play bass. With these four, Wellington saw one of the cult bands of the era.
Audiences had never seen anything quite like this band. With Rick's outrageous clothes and stage antics, and the sweat-house stage presence and hard-edged covers of material by the likes of the Pretty Things, the guys delivered the goods at brain-numbing, filling-rattling volume.
George Barris joined the band, from the City Derelicts, on normal lead guitar, to augment Rick's peculiar style of playing, but the band called it a day in 1967 when Charlie got married.
George Barris joined the Bitter End, while Rick Squires, Jim Pullen and Jim Davidson reformed as the Psychedelic Train.