Tom Thumb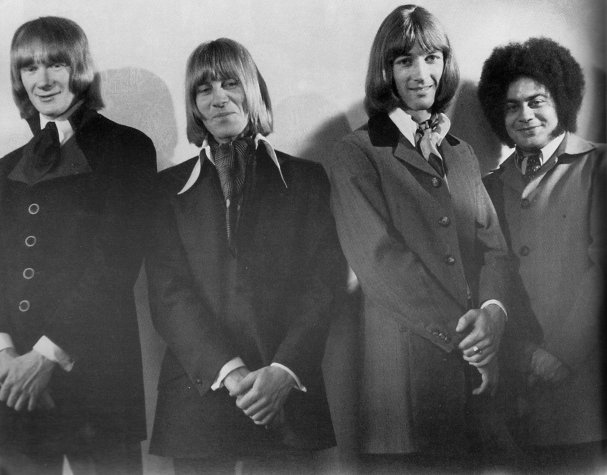 Best known line-up L to R: Rick White, Bruce Sontgen, Mike Farrell, Tom Swainson
Original Line-Up:
Rick White (Rhythm Guitar / Vocals)
Warren Willis (Organ / Vocals)
Graeme Thompson (Lead Guitar / Vocals)
Sammy Shaw (Drums)
David Chappell (Bass Guitar / Vocals)
In 1968, the music scene in Wellington was starting to change. Pop was beginning to fragment and rock music began to emerge as a distinct form, and right in the middle of it all was Tom Thumb, a band who could be found on stage at two of Wellington's top clubs, The Place and Ali Baba's, pounding out their own brand of music to packed audiences. They were the first real rock band that Wellington produced. Why they were never able to achieve national stardom is a mystery, their music was good enough, but perhaps it was to do with the "bad boy" image they were trying to portray.
The Tom Thumb story began in 1964 with a school band called the Electrons. This group included Rick White on rhythm guitar and also Onny Parun, later to find fame as one of New Zealand's better tennis players, on bass guitar. After a number of personnel changes, this group evolved into the Relics.
The Relics went their separate ways in 1966, but Rick was determined to stick with rock music and set about forming a new band. He recruited Graeme Thompson as lead guitarist, Warren Willis as organist and Sammy Shaw on drums. David Chappell was the first bass player, but within a few months he had left the line-up and was replaced by Paul Newton. Rick called the group Tom Thumb Music, but soon shortened it to just Tom Thumb. Both Shaw and Newton had musical experience from Great Britain, before relocating to Wellington.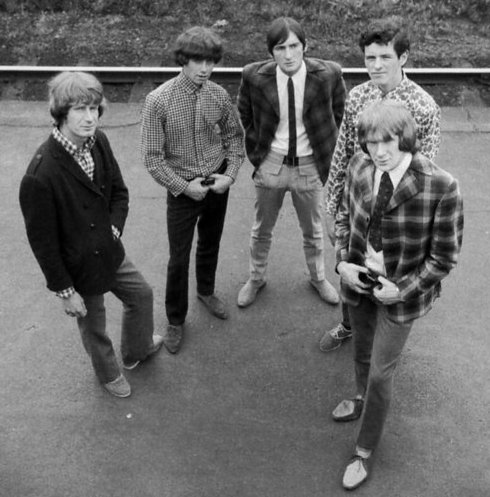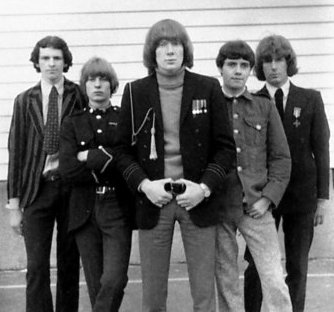 Original Line-up With Mark Tretheway (2nd from left)
Late 1966, word of Tom Thumb's crowd pleasing performances reached the ear of record producer Howard Gable, and he offered them a contract with La Gloria Records. The first single released was "Respect", an Otis Redding classic, backed with "Midnight Snack". The record saw very little chart action, but was an acceptable first outing for the band.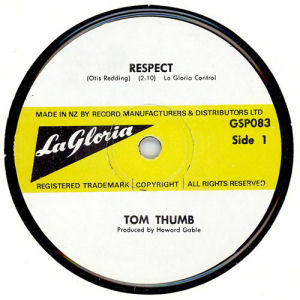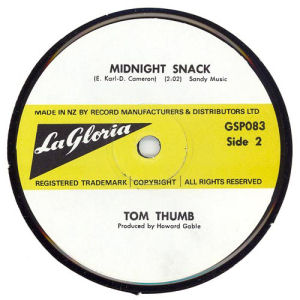 Undaunted by the lack of an immediate hit, Tom Thumb continued to work the club scene, steadily gathering new fans and toughening up their sound.
In 1967 they released their second single, "Whatcha Gonna Do About It", a cover of the Small Faces song, backed with "You're Gonna Miss Me". Again, local radio stations chose to ignore the single. It was the third single, also in 1967, that got all the attention, but for all the wrong reasons. The A-Side featured their first original composition, "I Need You", but it was the B-Side "Got Love" that was banned by the New Zealand Broadcasting Corporation because of its "unsuitable lyric content".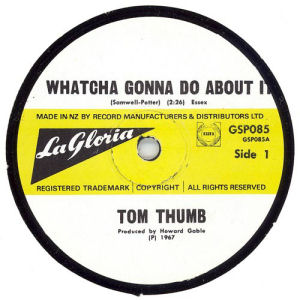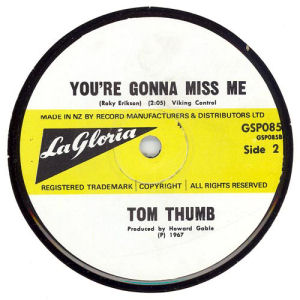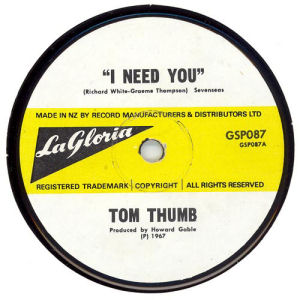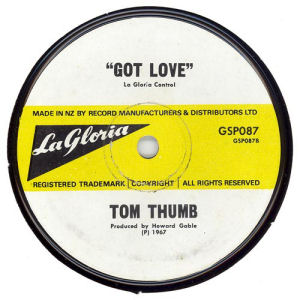 From around this time there was a constant flow of different bass players in the group. Dave Orams took over from Paul Newton, and then Dave left, to be replaced by the late Mark Tretheway, then Paul Reid, followed by Noel Koskello. After Noel left, out of sheer frustration, Rick took over the bass duties himself, and the group ran as a four piece for several months before stopping. The other members went their own ways, and Rick kept the Tom Thumb name and set about recruiting a new line-up.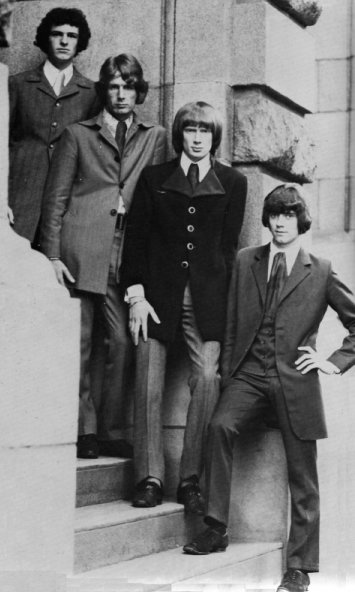 Early 1968 L to R: Graeme Thompson, Warren Willis, Rick White and Sammy Shaw.

In came Bruce Sontgen in July 1968, from Auckland's Layabouts, Boddys and Apple, as lead singer. Lead guitarist was Mike Farrell and drummer Tom Swainson, both previous members of Spyce Of Life. This was the most stable line-up, lasting almost right through to the end.
They retained their residencies at The Place and Ali Baba's, and before long they had gained a new legion of fans with their full-on performances. They favoured shoulder length hair and regency style clothes. There were no "pop" cover versions for these guys, they took album tracks from British bands like The Move, Traffic and The Faces and turned them into their own.
In late 1968, HMV producer Peter Dawkins offered them a recording deal, and their first release came as a complete surprise to their live audience, it was nothing like anything from their live act. "Witchi Tai To", a North American Indian love chant, is a strange choice for a heavy outfit such as Tom Thumb were, but it became one of their biggest selling singles. It was backed with "Meet On The Ledge".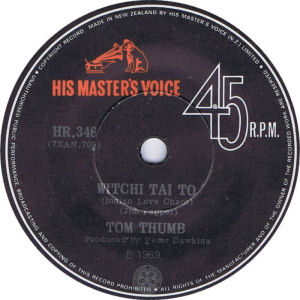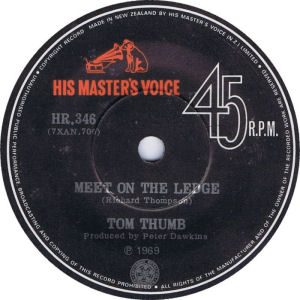 Next up was a solid cover of the Beatles "Hey Bull Dog", much closer to what you would expect if you saw them live. It was backed with "Everybody Sing A Song". It charted locally, but didn't make much of a dent in the National charts.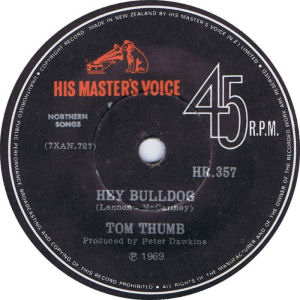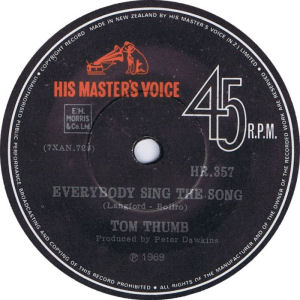 In an effort to gain better recognition, the band toured further afield and appeared on the top TV shows of the day, "C'mon" and "Happen Inn". Heartened by the rave reviews their act got from the critics and fans alike, they lost no time in getting back into the studio to record their follow-up single, "If I Were A Carpenter" / "Stoney". Once again they only managed to score on the local charts.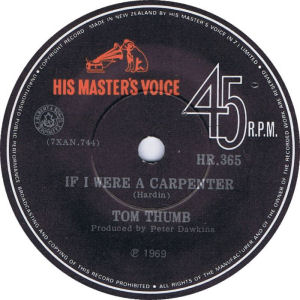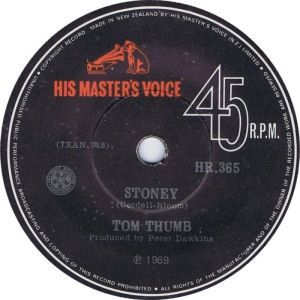 In an effort to make the band more commercially acceptable, Dawkins had them record a ballad next, complete with string section. The single was "When The First Tear Shows" / "Still As Stone".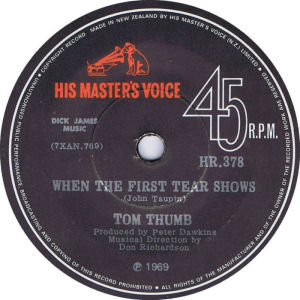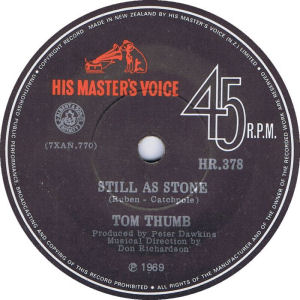 These recorded songs were nothing like the image they portrayed on stage. On stage they thundered out their music and assumed the mantle of being the bad boys of the Wellington scene. They revelled in this image, playing up to their audiences all the time. Maybe it was because of this image and having a different recorded sound that stopped them gaining National recognition.
Frustrations began to emerge within the group and in late 1969, Mike Farrell left to form his own group, the Rebirth, and later he would join Red Hot Peppers. Mike was replaced by two musicians, both from Christchurch band Retaliation. They were Brian Mason on lead guitar and Kevin Frewer on organ.
With this new line-up, the sound began to drift toward the psychedelic and they began to attract a more underground following who dug being able to trip out on the mind numbing loud and interminably long explorations of musical themes the band was now favouring. Yet their next record release was back to more of the same unsuccessful stuff, a cover of Buddy Holly's "Heartbeat" backed with an old Cliff Richard song "It'll Be Me". Sometime you have to question the wisdom of the record producers who think that record buyers are only those who like syrupy pop hits.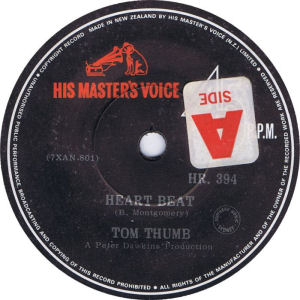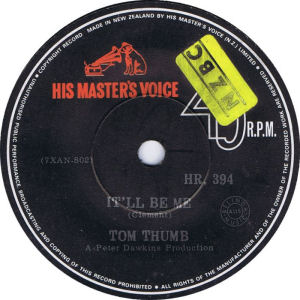 Their swan song is the Ludgate Hill EP. The Deep Purple influence on the band had been apparent to audiences for some time now, and on this session the guys threw caution to the wind and went all out for the biggest, most overpowering sounds that they could cram onto magnetic tape. Inspired, apparently, by the Great Fire Of London, the EP was presented as a concert pop concerto. At the time, it was probably ahead of its time, 10 minutes of screaming Hammond organ and wailing, searing guitars with Sontgen's husky vocals, was too much for most DJ's to cope with. It stands as one of the best local efforts by a band to catch up with what was happening overseas, and is today much sought after by collectors. Sadly, its failure to sell signalled the demise of a great rock band.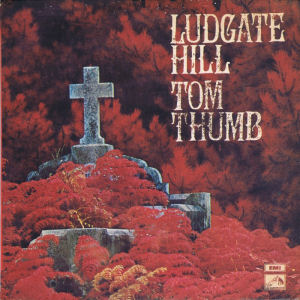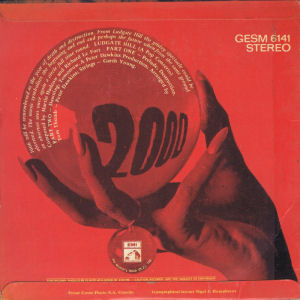 Tom Swainson went on to join Quincy Conserve in 1970, and Bruce Sontgen joined Highway. Rick White joined Farmyard for a short time before becoming part of Taylor.
In 1992 Jayrem Records, through Festival, released a CD which contained all eight of their singles (both A & B sides) as well as the Ludgate Hill EP, and as a bonus, it contains five previously unreleased tracks which were discovered in the vaults of Viking Records.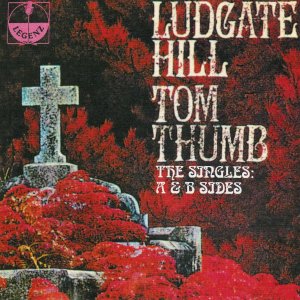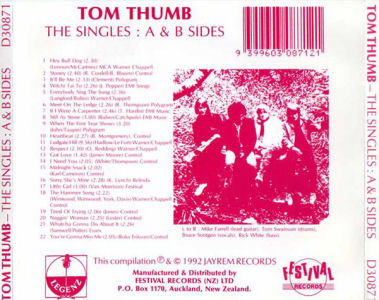 Tom Thumb can also be found on the following compilations.