Ray Woolf and the Avengers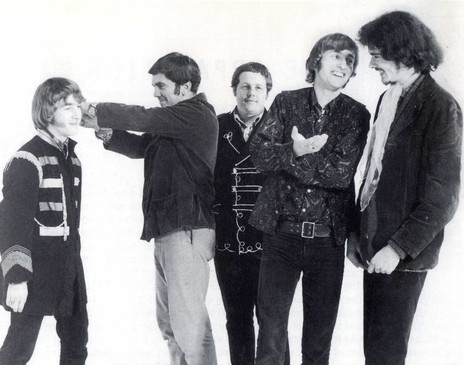 Norris Nutsford, Tony Blomfield, Billy Belton, Ray Woolf and Danny Stradwick.
Line-Up:
Tony Blomfield (Lead Guitar / Vocals)
Red McKelvie (Guitar / Vocals)
Bob Pattenson (Organ)
Billy Belton (Bass Guitar)
Andy Shackleton (Drums)
Tommy Ferguson (Vocals)
Billy Belton played with Freddie Keil and the Kavaliers, and when they disbanded he joined a group called the Wanderers where he played bass guitar. Renaming themselves the Bob D Five they included Tony Blomfield on guitar and Ian Laird on drums. When that band ended, Billy spent a short time with the Newsounds, to which Ian Laird also went, before deciding to create his own band. Called the Avengers, he recruited Tommy Ferguson, Tony Blomfield, Andy Shackleton, Bob Pattenson and Red McKelvie.
Tommy Ferguson arrived in New Zealand at the same time as Tommy Adderley. He had previously played with Tommy Adderley on shore visits during his seaman days as the Hound Dogs. After settling from the UK he began singing in Auckland with the Astro Beats. They recorded one single on Allied International called "Jenka Rock"/"Bugle Call Jenka" in 1965.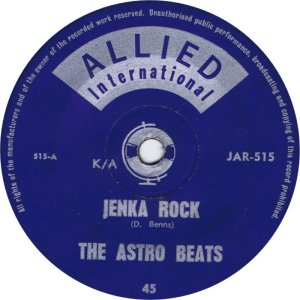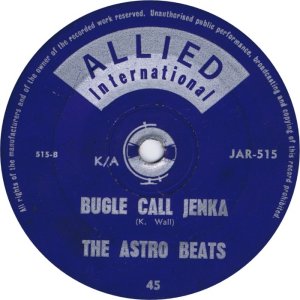 From there Tommy joined the Jaywalkers before becoming an Avenger. Andy Shackleton had played drums for the Premiers in 1964. Red McKelvie had spent his earlier days with the Dark Ages and Chelsea Beats.
The new group had hardly got going when Red went to Australia. At the same time, the Brew took Tommy Ferguson and Andy moved back to Wellington. Billy recruited Norris Nutsford to replace Shackleton and Ray Woolf to replace Ferguson. Bob Patterson also left and he was replaced by Danny Stradwick as second guitarist. Ray had come from Auckland pop group, the Newsounds.
Now with a settled line-up, the group began to record. The reality was that the Avengers became Ray Woolf's backing group. Their first single was a cover of a Beatles song, backed with a cover of the Who. "I'll Follow The Sun"/"La La Lies" was released on RCA in 1967. The second single "Crystal Ball"/"Same Old Song", also from 1967, was a finalist in the Loxene Golden Disc Award. The third and final single was "You"/"Blueberry Hill".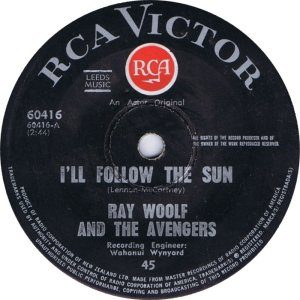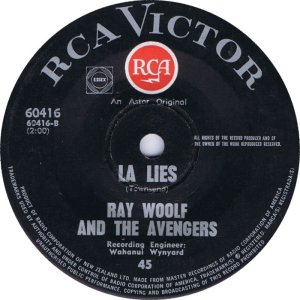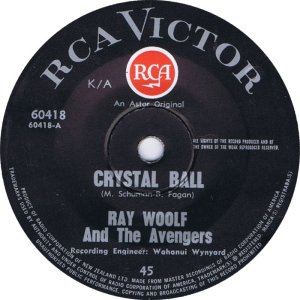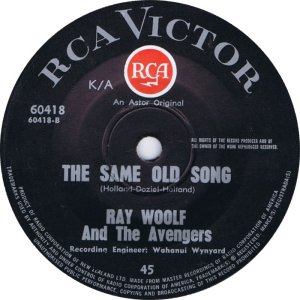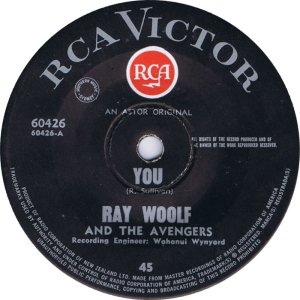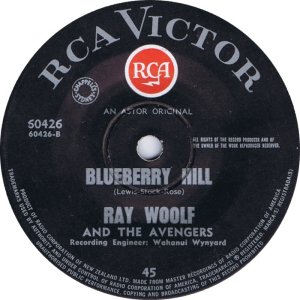 Blomfield left the group at that point, later to appear in the Medicine Show, and Nutsford was diagnosed with having cancer. Following a tour of the beach resorts over the Christmas of 1967 with Mr Lee Grant and Sandy Edmonds, Ray Woolf separated from his backers and went solo. Nutsford took over as lead vocalist, but when Danny Stradwick left, Blomfield rejoined and the band changed their name to Concrete Lamb. They released one single in 1968 called "Take What You Need"/"Turn To Stone".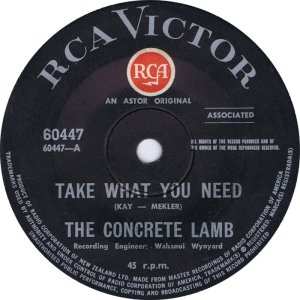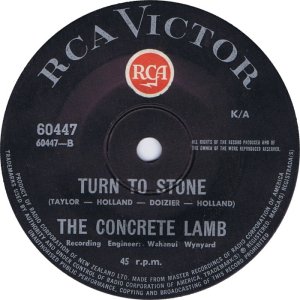 1968 saw the end of Concrete Lamb. After that, Billy Belton teamed up with Mike Walker and Vic Williams, from the Kavaliers, to form Trinity which later evolved into Salty Dogg.
Nutsford had a turn with a later version of Roger Skinner's Motivation before he sadly died of cancer in 1972.
An unreleased recording from 1967, "Little Things That Happen" was finally released in 2012 with "La La Lies" on the flipside.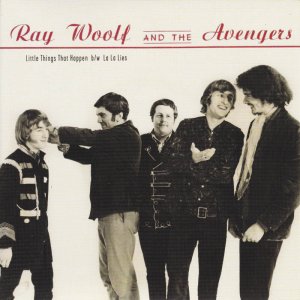 Ray Woolf & the Avengers can also be found on the following compilations:
The Astro Beats can also be found on the following compilation.