Disraeli Gears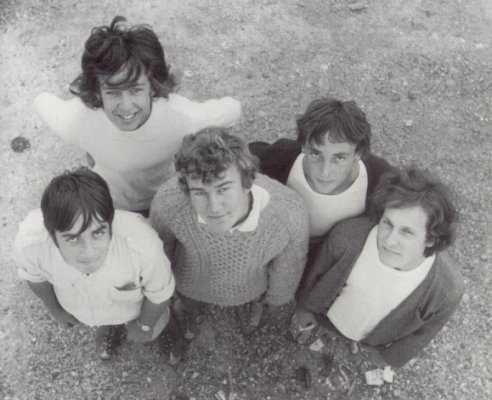 Tony Smith, Kevin Sheehan, Emmett Sheehan, Peter Maire and Steve Noad.
Line-Up:
Tony Smith (Lead Guitar)
Peter Maire (Bass Guitar)
Kevin Sheehan (Drums)
Emmett Sheehan (Vocals)
Four young students at Rosmini College on Auckland's North Shore formed a band and named themselves Disraeli Gears, after Cream's second great album. They entered the 1968 Battle of The Bands competition and were good enough to make it through to the finals, which were won by the Hi-Revving Tongues.
In early 1969, a keyboard player was added to the ranks. His name was Steve Noad, brother of Rob Noad of the Hi-Revving Tongues. Work was steady for them around the Auckland area. Rob Noad joined Disraeli Gears late in 1969, replacing Kevin Sheehan. With this line-up, they played regularly at the Forum in Takapuna until early 1970. Their last appearance was at the Redwood '70 Festival, after which they broke up. Unfortunately like many good groups around at the time, Disraeli Gears did not record.
Rob Noad and his brother Steve joined the Apparition. Another member of the Hi-Revving Tongues, Chris Parfitt, joined up with Peter Maire in a band called the Medicine Show. That group also included at various times, Brett Neilsen from the La De Da's and Tony Blomfield from Ray Woolf and the Avengers.