Apparition
Line-Up:
Bob Reardon (Lead Guitar)
Alex Rogers (Organ)
Craig Murray (Bass Guitar)
Mike Mangakahia (Drums)
Rob Guest (Vocals)
In 1968, the Shore Thing was formed on the North Shore of Auckland. Bob Reardon and Rob Guest were immigrants and Guest had been in a band in Canada called the Apparition before moving to New Zealand. He joined the Shore Thing after seeing an advertisement for a singer in the newspapers. Under that name, the band was popular on Auckland's north shore and won second place in both the North Shore Battle of the Bands and the Four Square Easter Show Talent Quest in 1968.
In 1969, they decided to adopt Guest's Canadian band's name and relaunched themselves as the Apparition. They recorded two singles on the Pye label, "It Must Be Love"/"So Strange" and "Justine"/"Dr Robert" in 1970 and 1971, without much success and they disbanded soon after. By that stage Alex Rogers had left and was replaced by Steve Noad from Disraeli Gears. Mike Mangakahia had left also and was replaced by Steve Noad's brother Rob, who had been with the Hi-Revving Tongues as well as Disraeli Gears.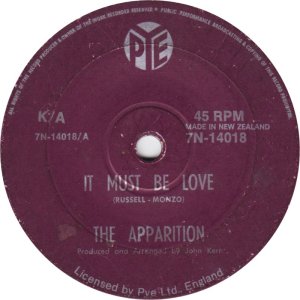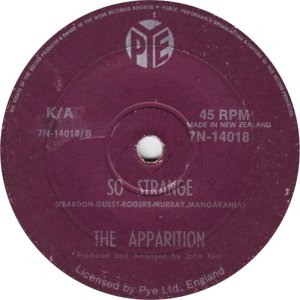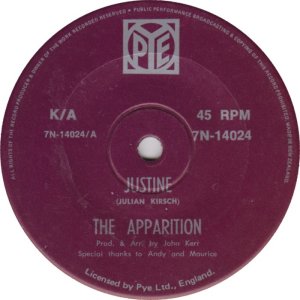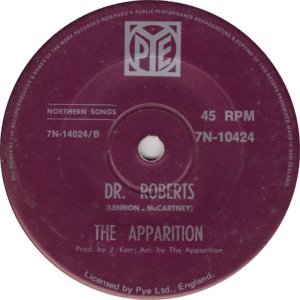 Rob Guest joined the Inbetweens in 1970 as their vocalist and went on to work as a solo act before starring in the Phantom of the Opera and Les Miserables in Australia. His solo career began in 1972 when he signed with Polydor. The first single was "House Of Cards"/"Poor Little Fool" and was followed by "All The Time In The World"/"I Am A Clown". In 1973 he had "Mr Blue"/"Half Way To Paradise" and then shared one side of a single with the Footsteps. His side was "Oh What A Day". A one off single on the Family label came in 1974 called "I Can't Make You Love Me"/"Help Me Make It Through The Night".
Rob started doing stage work and his recordings slowed for a while with only occasional releases happening, like "Sing"/"Any Dream Will Do" in 1977. He joined Festival in 1978 releasing a single "Hangin' On"/"Holiday Romance", both written by Mike Harvey, and then an album in 1979 called "Dedication". Another single was released from the album "Dedication"/"It's So Easy".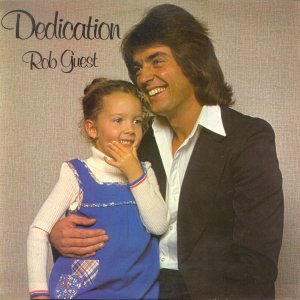 Also in 1979 a single on the Key label came out, "There'll Never Be Another For Me"/"Winter In America". During the eighties Rob only released three solo singles. On Festival in 1980, "Can't Play With You"/"Loose Lucy On The Loose" and then RCA in 1984 "Show Me How To Be Like You" and 1987 "Celebration (Rugby World Cup Song)".
Apparaition can also been found on the following compilation.