Max Merritt and the Meteors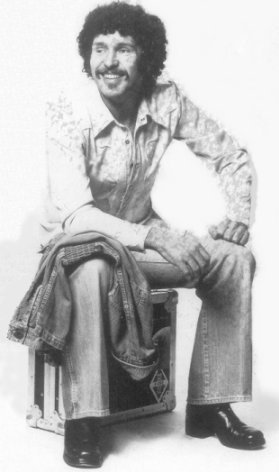 Max Merritt
Line-Up:
Max Merritt (Guitar / Vocals)

1956 Line-Up:
Ross Clancy (Saxophone)
Ian Glass (Bass)
Peter Patene (Piano)
Pete Sowden (Drums)
Max Merritt was born in Christchurch on 30th April 1941 and by his early teenage years was engrossed in music, beginning guitar lessons at the age of twelve. By the mid-fifties, rock and roll had exploded around the world and Max was quite taken by the styles and sounds of Elvis Presley and Bill Haley. Max left school in 1956 to serve an apprenticeship under his brick-laying father. Buying himself an electric guitar, he formed his first group, the Meteors, in 1956. The group was made up of friends Ross Clancy on saxophone, Ian Glass on bass, Peter Patene on piano and Pete Sowden on drums.
His mother Ilene became concerned seeing young people sitting around Cathedral Square on winter Sunday afternoons with nothing to do, so with the help of her family decided to hold Sunday dances. Also with the help of Kerridge-Odeon theatre manager Trevor King, a venue was set up. The Christchurch Teenagers Club held in the Railway Hall in Sydenham, became so popular that up to 900 youngsters attended the dances held between 1pm and 6pm. For a charge of two shillings and sixpence, dance-goers were treated to music provided by a teenage Max Merritt and the Meteors, while a buffet tea of scones, sandwiches and hot saveloys was served by Mrs Merritt and her daughter Pam.
Along with gigs at the Teenage Club, Max and the boys played many shows and charity concerts organised by Trevor King, and raised thousands of dollars for the charities over the next few years. By 1957 the Teenage Club was the only regular rock and roll venue. During 1958, the original saxophone player Ross Clancy left and he was replaced by Will Schneider.
Meanwhile up in Auckland there was another rocker who was creating a storm. He was Johnny Devlin and by the end of 1958, he had conquered the North Island, but was still relatively unknown in the South Island. A tour down there was going to be a challenge for him as Max was already there and was attracting much attention. Max's fans were fiercely loyal and the bookings for Devlin's Christchurch show were light, as Max had a show booked for the same night. Devlin's manager, Graham Dent, was going to cancel the show, but came up with an idea. He invited MP and Cabinet Minister Mabel Howard to a champagne party followed by the Devlin show, after which the pair would be driven off to meet up with Max Merritt, who was playing at a 'Rock'n'Roll Jamboree' charity concert. A pink convertible was used and of course the press were there, along with the usual mob of screaming fans. It was stroke of genius on the part of Dent and after watching Max perform, he enthusiastically sang their praises to Auckland promoter Harry M Miller.
By 1959 the Teenage Club had added Wednesday nights to its schedule. Max was becoming very busy, bricklaying by day, performing by night, he soon became the hottest attraction in the Garden City.
In 1959 New Zealand signed the Antarctic Treaty with the USA and Operation Deepfreeze was set up at Christchurch Airport. This meant that there were a large number of American servicemen constantly in the area. They had to rely on their own base jukebox or their personal record collections for a taste of their style of music. That is of course until some of the guys came across the goings on at the Teenage Club. The club had changed somewhat from its original days, but was still based entirely around Max Merritt and the Meteors. Pretty soon the young servicemen at Operation Deepfreeze were turning up at the club armed with imported copies of recently released US recordings, which they would lend to Max and a week later he and his band would be playing these tunes. With the help of these recordings, Max's band moved away from their original influence of Haley and Presley, and used these obscure R&B records to develop a much rougher sound.
Another youngster, also from Christchurch, who was putting together a band and providing some good music, was Ray Columbus. His first group was put together when he was 17. On drums was his friend Peter Ward, along with Billy Karaitiana (also known as Billy Kristian) on bass. Someone else played guitar, until they found a more competent guitarist in Andy Joines. As a quartet they tried playing to anyone who would listen around the Christchurch area. They didn't last long as a group and shortly afterwards, Billy and Peter left to join Saki and the Jive Five. They began playing around Christchurch and became stiff opposition for Max Merritt and the Meteors, who had the local scene well to their liking. Max checked them out and it wouldn't be long before Billy would move into a permanent position with Max Merritt and the Meteors.
Ray Columbus put together another group called the Invaders and very soon, along with Max's band, these were the two most up to date groups in the country. Through their American connections from the base, both groups were able to equip themselves with the latest and best Fender guitars and basses, that no-one else in the country had.
In April 1959, Harry M Miller organised a New Zealand tour for Australian rocker Johnny O'Keefe, and added Max Merritt and the Meteors as the support act for the Christchurch concerts. Once again they proved very popular, even upstaging O'Keefe at most of the shows.
In mid 1959 the first of some major line-up changes in the Meteors occurred. Will Schneider and Peter Patene left to try their luck in Auckland. Not long after that Pete Sowden also went, so Max ended up putting a new group together, Ian Glass being the only original member.
1959 Line-Up:
Rod Gibson (Saxophone)
Ian Glass (Bass Guitar)
Bernie Jones (Drums)
Billy Kristian (Piano)
With this new line-up they began a series of recording sessions in Wellington for HMV. Towards the end of 1959, HMV released their first single "Get A Haircut"/"Dixieland Rock". It was a huge hit in the Christchurch area, as was the follow-up single "Kiss Curl"/"You Made Me Love You". Both singles had been composed by Max, the first with the help of Dick Letussier, a regular from the Teenage Club.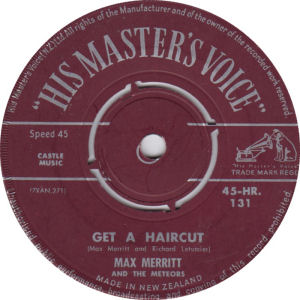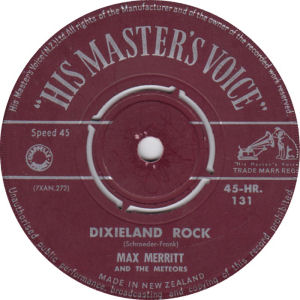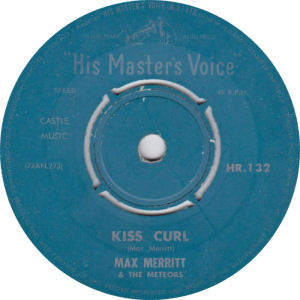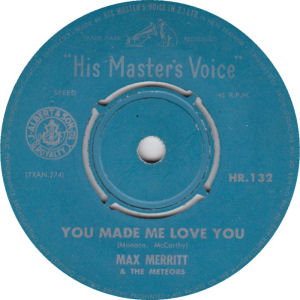 These singles were followed by the release of their debut album "C'mon Let's Go" at the beginning of 1960.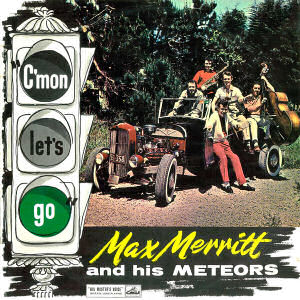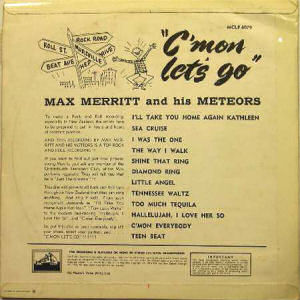 In November 1959, Harry M Miller flew Max to Auckland for a solo spot on the 'Summertime Spectacular'. On his return to Christchurch, and also because he was now a recording star, his popularity soared even higher. The group started doing lunchtime performances at record stores, with crowds spilling out onto the footpath, and audiences at the Teenage Club increased.
There were more personnel changes in 1960, with Bernie Jones, Rod Gibson and original member Ian Glass all leaving. Pete Sowden returned to the group on drums and Billy Kristian switched to his favourite instrument, the bass, and new-comer Maurice Cook joined on lead guitar.
1960 Line-Up:
Pete Sowden (Drums)
Maurice Cook (Lead Guitar)
Billy Kristian (Bass Guitar)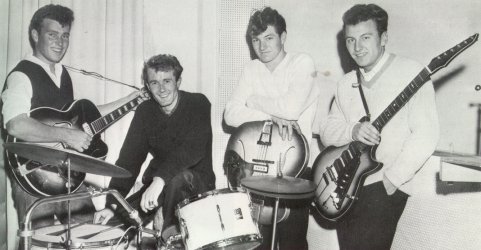 Meteors 1960, Max Merritt, Peter Sowden, Billy Kristian, and Maurice Cook.
This twin guitar, bass and drums combination was to be the standard Meteors format over the next few years. In 1961 they started playing a third venue to their schedule by also playing at the Hibernian Hall. This place had a reputation as being a rather rough joint and often fights would break out. When Maurice Cook left the band, Max replaced him with Geoff Cox, who was also a South Island boxing champion, and this came in handy when fights broke out. Cox didn't stay too long with the group and he was replaced by Peter Williams on rhythm guitar.
The group continued to cement their status as the most popular group in the South Island and in 1961 had another successful local hit with "Mr Loneliness"/"If You Want My Lovin' ", but outside their local area they remained relatively unknown. 1962 saw two more singles, "Weekend"/"Easy To Dream" and "Cossack"/"The Slow One".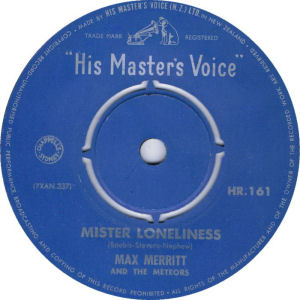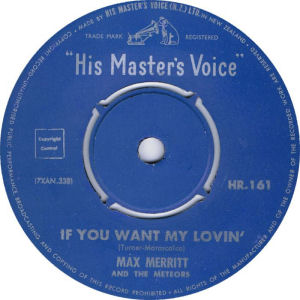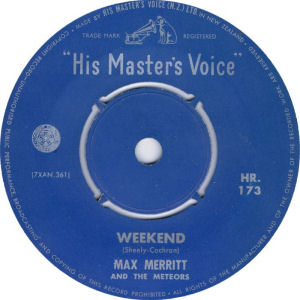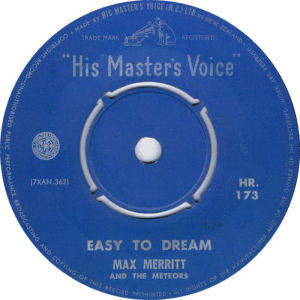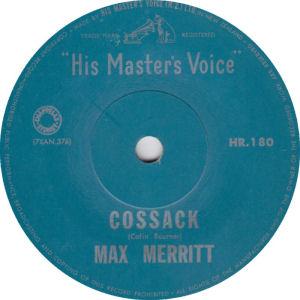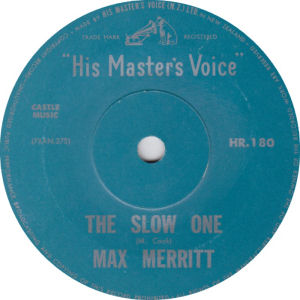 By the end of 1962, Max came to the conclusion that if he was to be more successful, he would have to venture further afield, a view also shared by Ray Columbus and the Invaders. The two groups gave a farewell concert to Christchurch in November 1962 and headed north. Max and the boys gigged their way up the North Island during December and arrived in Auckland just before Christmas, to find that Ray and his group had gone straight there and had already taken the town by storm. Max Merritt and the Meteors started to find that they were always playing bridesmaid to Ray Columbus and the Invaders. Everything they decided to do, Ray was already there.
After a few gigs at the Oriental Ballroom, Max Merritt and the Meteors took up residence at a newly opened club called the Top 20. Word spread fast around Auckland and every rock musician in town was checking out these two new groups to hit town. With their Fender gear, fancy routines, matching outfits, Auckland audiences just stared in disbelief. They were way ahead of anything that was performing in Auckland at the time.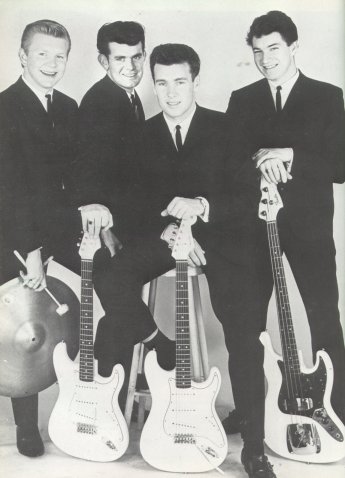 Meteors 1963, Johnny Dick, Peter Williams, Max Merritt and Billy Kristian.
During 1963, Max retained the residency at the Top 20 club and also did some tours. When Max was offered a month long tour around the North Island, he needed a replacement band to mind his spot at the Top 20. He did not want to allow a local opposition Auckland group the opportunity, so he called another Christchurch group called the Playboys and offered them the gig. They jumped at the opportunity and headed north. The Playboys contained a female singer by the name of Diane Jacobs. She made the most of the groups time playing every night for the month. When Max finished the tour, the Playboys returned to Christchurch. Diane now had a taste for the big smoke and when the Playboys folded, she moved back to Auckland as Dinah Lee. Work as a singer was not easy to find, but she did manage to get a few spots with Max Merritt and Ray Columbus, and guest spots with a number of other established groups, before becoming famous as New Zealand's top female singer.
Meanwhile HMV released the last single they had from their earlier recording sessions, "Valley Of The Sioux"/"Laughing Girl" in 1963.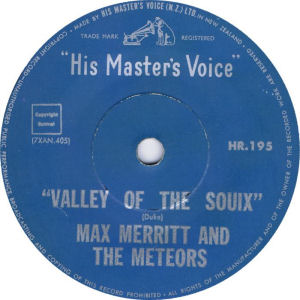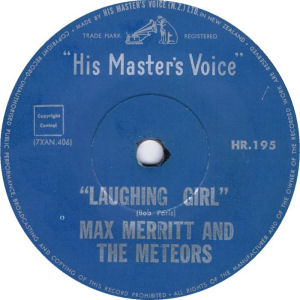 There were also some more line-up changes, with Billy Kristian leaving to try his hand on the Pacific Islands Resort circuit, before soon joining up with Ray Columbus and the Invaders, and Pete Sowden deciding to head back to Christchurch. Their places were taken by two musicians from Hastings, John Dick on drums and Mike Angland on bass. Both John and Mike had been members of the Contacts.
Their only other release in 1963 was a one-off recording on the Zodiac label called "Soft Surfie"/"She's Everything I Want You To Be". This single was also released in Australia on Zodiac.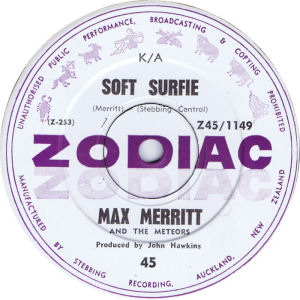 On November 23rd 1963 Max took the group across the Tasman for the first time and visited Sydney. When he got there he found that the local scene was being dominated by Billy Thorpe and the Aztecs and Ray Brown and the Whispers, as well as a new group that had arrived from New Zealand, you guessed it, the Invaders. Max stayed there for six months playing in a lot of the Sydney dives and making absolutely no money. They had to beg for work and in the end decided it was no good and came back to Auckland.
A record deal was struck with Viking Records in 1964 and their first release on that label was an EP called "Giddy Up Max", containing "Giddy Up A Ding Dong", "Almost Grown", "Little Bitty Pretty One" and "Sweet and Tender Romance". A single with "Giddy Up A Ding Dong" and "Sweet and Tender Romance" also came out. The releases didn't sell very well, but the band's musicianship so impressed Viking, that the Meteors became the label's house band. They provided backing for the label's solo artists, Tommy Adderley, Dinah Lee and Peter Posa.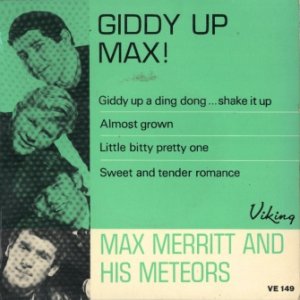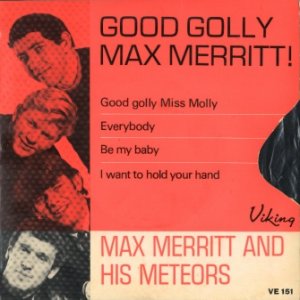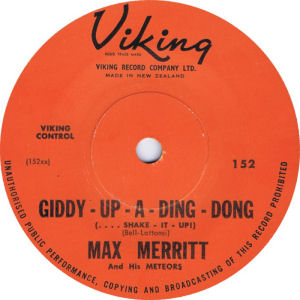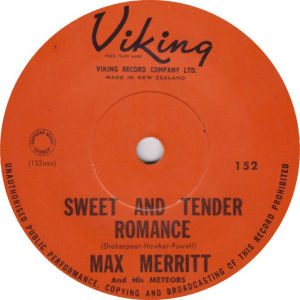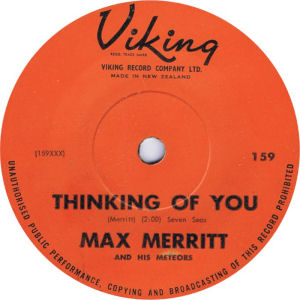 Viking released a second EP called "Good Golly Max Merritt", also in 1964. Its contents were "Good Golly Miss Molly", "Everybody", "Be My Baby", and "I Want To Hold Your Hand". Peter Posa did a number of live shows in 1964 and 1965, and these were captured on vinyl on two occasions. Max Merritt and the Meteors contributed one track to each of the "Live On the Peter Posa Show" albums in 1964 and 1965. "Everybody" on the first and "Shake It Up A Ding Dong" on the second.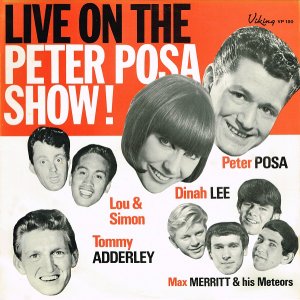 Another line-up change occurred towards the end of 1964. Mike Angland left and was replaced by Teddy Toi, who had previously been a member of the Sundowners. At the same time, the group came under the management of Graham Dent, who had previously seen the group while managing Johnny Devlin.
In late 1964 there was also a switch to RCA and they went into the studio and recorded a number of songs with Eldred Stebbing. In December 1964 Dent took the group back to Australia. It was a more professional approach this time and Dent organised a month long season at the Rex Hotel. While they were there, they also made their first Australian television appearance on Johnny O'Keefe's "Sing Sing Sing" series.
In April 1965, the second Meteor's album was finally released. Called "Max Merritt's Meteors", it contained a wide range of styles, in keeping with the versatility of the band. From it came the single "So Long Babe"/"You're Treatin' Me Bad". This single was also released in Australia.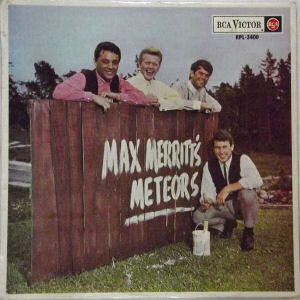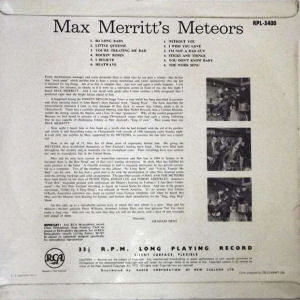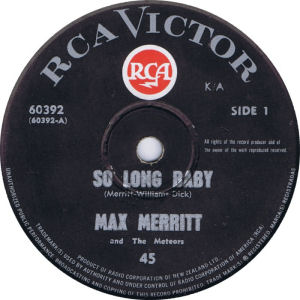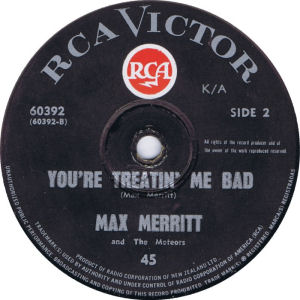 With a bit more success behind them, they started living more comfortably in Sydney, but were still not rating with the teenagers in Australia. The top groups around at the time were still Billy Thorpe and the Aztecs, the Invaders and a new group called the Easybeats. In September 1965, when Billy Thorpe lost some of his band, he approached Teddy Toi and Johnny Dick to join him. They accepted and Max had to find replacements. A short-lived line-up featuring bassist John Blake and drummer Bill Fleming didn't work out, so Max got Jimmy Hill and Billy Kristian (back for a second go) from the Invaders, as they were in the process of breaking up.
Moving into 1966, the group had signed a new deal with the Parlophone label and released one single called "Zip-A-Dee-Doo-Dah"/"I've Been Trying".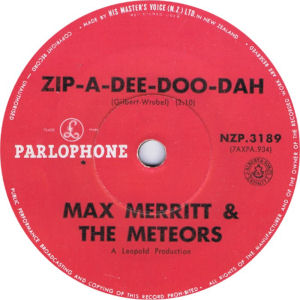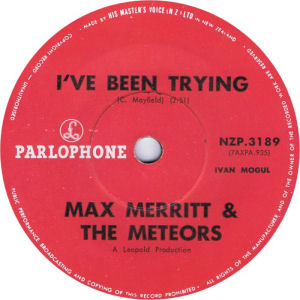 After only six months with the group, Jimmy Hill left after reportedly having a fist fight with Max. The group had been signed to support the Rolling Stones / Searchers tour in February 1966, so Bill Fleming was called back temporarily for them to be able to fulfill their obligation.
The next person to fill the drummer's seat was Bruno Lawrence. He had been lured to Sydney by Ricky May to join his resident band at the Latin Quarter in King's Cross, a combo that also included Claude Papesch, from the Devils, and rising jazz saxophonist Bob Bertles. Ricky had also begun his own series on television, and brought Bruno in occasionally to play drums with his resident television band. One session in the series featured Max Merritt and the Meteors. Because they were without a drummer, Ricky suggested Bruno fill in for the video clip. Liking what they saw, they signed him up for the group.
1966 Line-Up:
Peter Williams (Lead Guitar)
Billy Kristian (Bass Guitar)
Bruno Lawrence (Drums)
Bruno soon influenced the group and it wasn't long before he changed their musical style. They recorded a couple of singles on Parlophone, the first, "You Deserve What You've Got"/"I Want So Much To Know You" didn't cause too much reaction, but in July the single "Shake"/"I Can't Help Myself" provided Max with his biggest New Zealand hit to date and also cracked the lower rungs of the Sydney charts.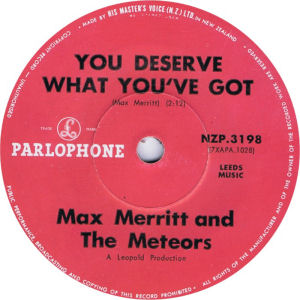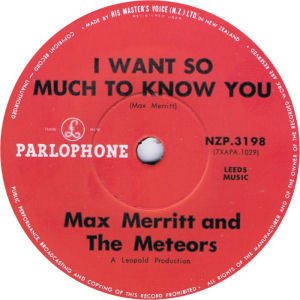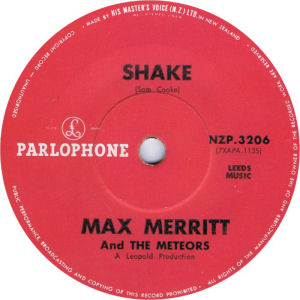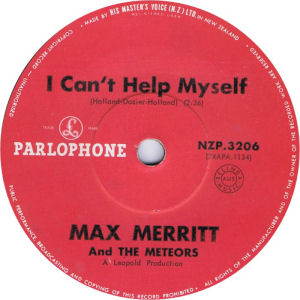 An EP called "Shake" was also released. It contained "I Can't Help Myself", "I Want So Much To Know You", "Zip-A-Dee-Doo-Dah" and "Shake".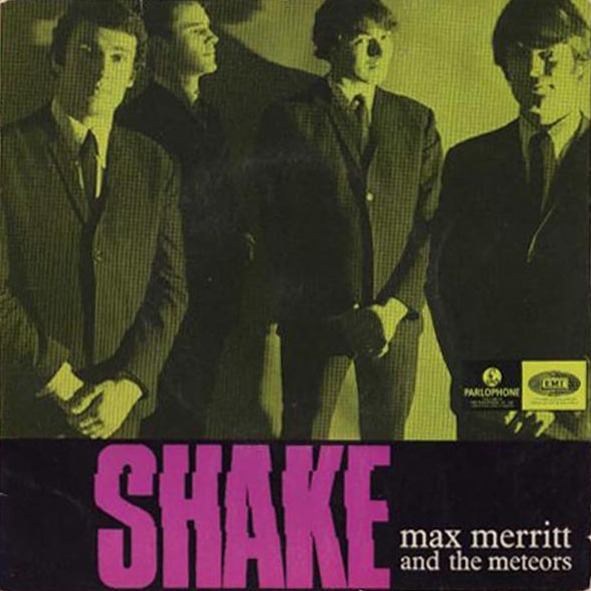 In August 1966 they returned to New Zealand for a national tour. They hadn't done one for two years, and with the airplay that "Shake" was receiving, they were welcomed in both the North and South Islands. While they were there, they appeared on television's "Let's Go", and also visited HMV studios in Wellington, where they recorded the single "Fannie Mae"/"Baby Come Home". The last release on Parlophone, it became one of their best and enduring hits over the years.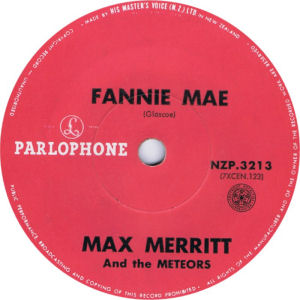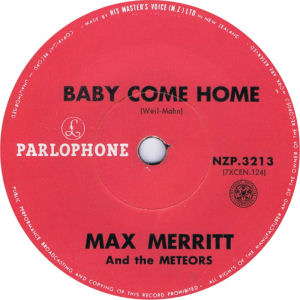 Back in Sydney, they continued to live well, were never short of a gig and appeared regularly on television. Graham Dent ensured that they also got good press coverage. Problems were starting to arise in the direction the group was taking. Dent had always tried to steer Max into the cabaret and club circuit, but Max was beginning to feel uncomfortable with the suit and tie routine. In the early part of 1967, there were still hassles. "Fannie Mae" hadn't set the world on fire. They were becoming frustrated by the lack of a major commercial breakthrough and finding themselves labouriously working in a residency at the Hawaiian Eye disco, the Meteors didn't seem to be going anywhere. Dent convinced the boys that they should try a cruise ship, and organised for them to provide on-board cabaret entertainment on a Pacific cruise liner.
Just before the cruise ship departed, both Billy Kristian and Peter Williams announced that they would be leaving the band after the voyage. Rather than try and find another guitarist for the band on their return, Bruno suggested bringing in his mate from earlier times, Bob Bertles the saxophonist. Max agreed to try it out, so Bob joined them for the cruise, making a temporary five-piece line-up. Once underway, Bruno, who had a reputation for being a wild-man, lived up to it during the cruise. When the liner arrived in Auckland, Bruno jumped ship and after gracing a number of other bands, he went on to his illustrious career in Blerta, and beyond as a movie star. Also there to meet the boat in Auckland was Graham Dent, who had decided that he could no longer attempt to mould the group into what Max didn't want to be, so they parted company on an amicable note. Max was left to play the drums himself on the final leg of the voyage back to Sydney.
While Max was in Auckland, he did visit a friend of his, Jimmy Sloggett. Jimmy played Max a copy of Otis Redding's new "Dictionary Of Soul" album. One track in particular stood out with Max. It was "Try A Little Tenderness". This was the sound and style Max was looking for. After hearing this track, Max had decided he had found his niche and was transformed forever.
When they got back to Sydney, Billy and Peter left, as they had previously announced. Peter Williams went on to form the Groove along with Rod Stone from the Librettos. After several Australian chart hits, the group headed to the UK, but broke up in 1971. Whilst in the UK, Peter recorded a single for Philips. Later on in the seventies Peter was also a member of the Mixtures. Billy went on to have stints with the Keil Isles, the Mojomen and Headband.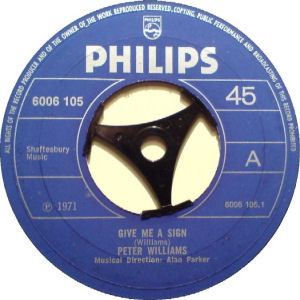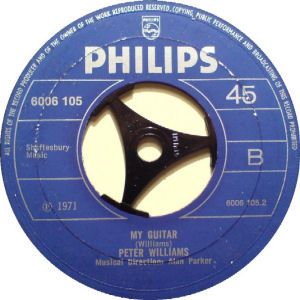 Meanwhile Max was left to ponder his future. All at once he had lost three members of his band and also his manager. With his new ideas in mind, he set about rebuilding the band once again. Max decided to keep Bob Bertles on saxophone. On bass he recruited John 'Yuk' Harrison, who was fresh from Levi Smith's Clefs. John had previously played with many groups, some of whom were the Embers, the Invaders, the Keil Isles and the Brew. On drums was Stewie Speer, who had previously played with Bertles at the Latin Quarter, replacing Bruno Lawrence. Stewie had been around the Australian music scene since the late 40's and had a wealth of experience on the jazz arena.
1967 Line-Up:
Bob Bertles (Saxophone)
Stewie Speer (Drums)
John 'Yuk' Harrison (Bass Guitar)
This new line-up debuted at the Martin Plaza Disco in May 1967 and only played one other Sydney gig before deciding to relocate to Melbourne, which had now become Australia's rock music capital. It was hard for them to fit into this scene as they were the only group who presented a combination of guitar, bass, saxophone and drums. They left audiences confused and finding it difficult to get work, started having to take whatever gigs were offered.
They even had to accept gigs miles away from Melbourne. That's where Max Merritt and the Meteors was heading on the afternoon of Saturday June 24, 1967, destination Morwell, 90 miles south-east of Melbourne. They were halfway there, on the outskirts on Bunyip. Max was driving the Commer van, Stewie was seated next to the passenger door with Bertles between them. 'Yuk' was squeezed into the back with the equipment. As they were approaching an on-coming truck, a car pulled out from behind it to overtake it, and the vehicles collided head-on. The left side of the van crunched in around Stewie like an aluminium can, crushing both his legs, breaking both arms and taking the tops off several fingers. Bertles' right leg snapped, Max was thrown forward, hitting his head hard against the hand-grip above the door. Only 'Yuk', cushioned by the equipment, escaped injury. Max's face was left badly scarred and he'd lost his right eye. Bob Bertles was left with a permanent limp and Stewie, who remained hospitalised for four months, never regained full mobility. They were all lucky to be alive.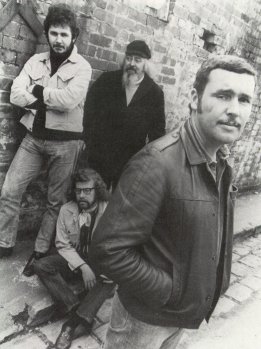 After the accident 1968, at back Bob Bertles and Stewie Speer, seated John 'Yuk' Harrison, at front Max.
Benefit concerts were organised with two weeks in Melbourne and Sydney to raise funds to help them through their convalescence period. Such was Max's reputation in the industry, and along with the long-time colleagues of Stewie, every name band in the city took part. After nearly six months since the accident, Max Merritt and the Meteors started the come-back trail. On December 2nd 1967, they played a one-off gig at Berties in Melbourne to a sell-out audience. Stewie wasn't quite ready for regular work, so they held off from doing any more work for a little while.
During 1968, Max Merritt and the Meteors were to become one of the most popular bands in Australia. Around mid-year they made regular appearances on the television show 'Uptight'. There was a touch of sympathy for the group and it seemed everyone was talking about them. Before long the journalists picked up on it and there always seemed to be articles on the group in all the trade magazines. Now hard-working and hard-living, they had a reputation of being live crowd pleasers. Max continued with the soul music and was now recognised as the 'soul king' of Australia.
That year they entered the Hoadley's Battle Of The Sounds and after winning the Victorian section of the event, placed third in the National finals. Second was Master's Apprentices, with the winner being the Groove, the group that included Max's former guitarist, Peter Williams.
After five years trying to crack Australia, Max had finally made it. The Max of five years ago was in a suit and tie, a far cry from today's appearance. The Meteors looked like a bunch of unlikely candidates for success. They were a lot older than their contemporaries, and in the appearance stakes, Max had close cropped hair in a time when everyone else had long hair. Stewie was over-weight, over-40 and greying. He kept his lack of hair hidden with a cap. 'Yuk' looked like a rough long-haired version of Rolf Harris, while Bob Bertles looked more like a beatnik than someone who should have been portraying the flower image of the 'love' generation.
1969 saw the group reach their peak. They were now firmly based in Melbourne and Max even had his own club called Max's Place, a reminder of the earlier days when he had the Teenage Club in Christchurch. With the escalation of the Vietnam war, there were a lot more American troops passing through Australia, and Max gained the same level of respect now, that he had previously had with the Deep Freeze servicemen.
The guys started writing some songs and with quite a few under their belts, they started hassling the record companies again. RCA signed them up and in 1969 they released their first single for nearly two and a half years, a cover of a Jerry Butler song "Hey Western Union Man", backed with Max's own "Home Is Where The Heart Is". The single reached number 17 on the Australian National charts in November.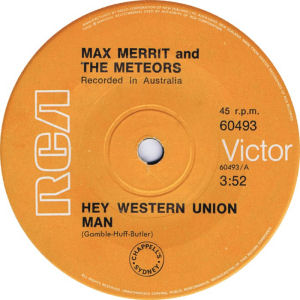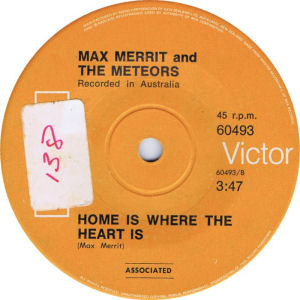 In early 1970 there long awaited third album was released. Simply called "Max Merritt and the Meteors", it contained six originals along with some superb covers. It was most definitely Max's finest work and fans bought up the album in large enough quantities to send it to number 8 on the National albums chart.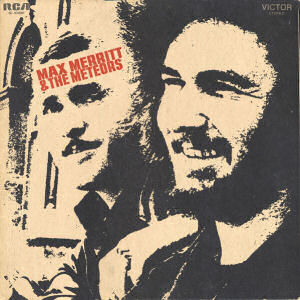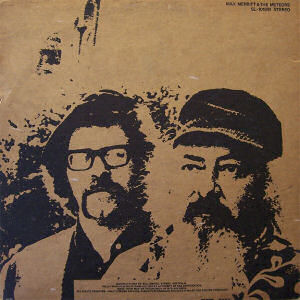 In January 1970, the Meteors were the headlining act at the Ourimbah Festival. They gave a drunken sub-standard performance and as a result, 'Yuk' was removed from the group. At a very opportune time, Dave Russell was talking to Max and asked if he knew of anyone who needed a guitar player. Max said he needed a bass player, so Dave joined the band. Since the Invaders had disbanded, Dave had kept with Ray until he went to the US in mid-66. After that he spent some time with Ray Brown and the Whispers in Australia, before joining the Layabouts, and the Mojomen.
The Meteors continued to be popular during 1970, but were no longer the dominant rock band in the country. They did however receive a nod of approval when the ABC contracted them to do a four-part television series titled "Max Merritt and the Meteors In Concert". It was the first time an Australian pop series had been performed live in front of a studio audience. The first two shows were just the regular line-up, the third was augmented with a three-piece brass section and the last show had them backed with an entire big band.
Late in 1970, they recorded another album called "Stray Cats". Compared to the previous album, it was quite a dismal effort. From it RCA released two singles in 1971, "Good Feelin' "/"I Can't Wait" and "Hello LA Bye Bye Birmingham"/"Live Levis". With the failure of these two singles, RCA did not renew their contract. They did release one final single in 1972 called "Let It Slide"/"Dedicated To A Friend".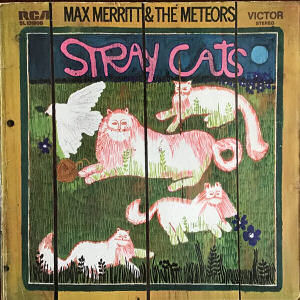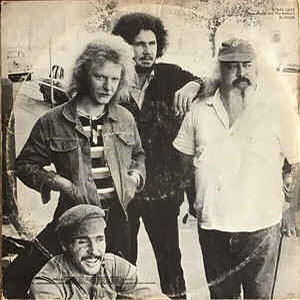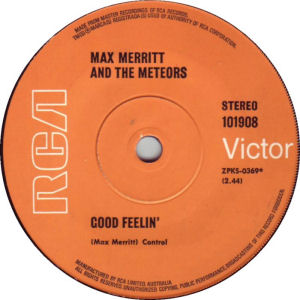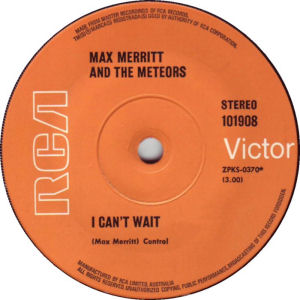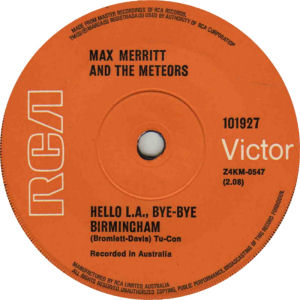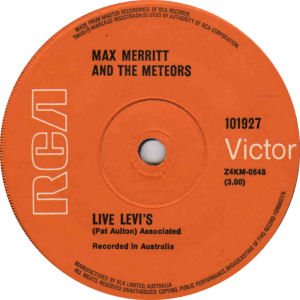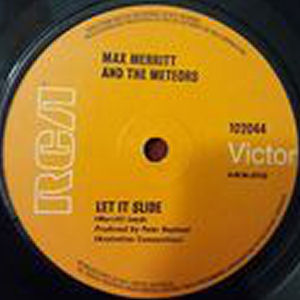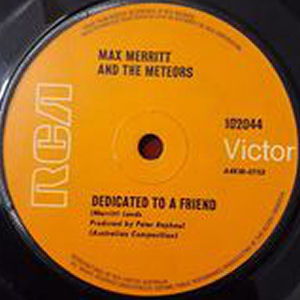 In January 1971, deciding that they had now probably done their dash in Australia, Max decided to make the trip to England that he had always wanted to do, but had been delayed by the accident. So he added two saxophone players and a trumpet player to the line-up and did a National farewell tour, taking in theatres only. The group stopped over for a few gigs in Singapore and then flew on to London.
In England, the group played the British pub circuit, slowly building up a solid following. As their popularity grew, they secured support roles for leading British bands, including Slade and the Moody Blues. Max Merritt and the Meteors returned to Australia in January 1972 to headline the first Sunbury Festival, after which they went on a national pub tour. They came back again in 1973 to do the Sunbury Festival again and then returned to England to concentrate on the British market.
Once again by 1974 it looked like Max was starting to make headway in England when another major problem occurred. His then manager, Peter Raphael, departed, leaving the group with no money and a pile of debts. They were forced to sell their transport to survive, and as a result the band basically fell apart. Dave Russell returned to New Zealand, Bob Bertles accepted a position with top UK jazz band Nucleus and Stewie Speer toured Europe with Alexis Korner. Max was forced to go back to his original trade of laying bricks for a while.
Max, always the determined fighter, never gave up and by the end of 1974 had put together another five-piece band. After Stewie finished the tour he joined back up with Max and together they added Barry Dugan on saxophone, John Gourd on guitar and piano, and Howard 'Fuzz' Deniz on bass guitar. Max also found a new manager, Bill Utley.
Throughout 1975 they continued to build on the pub rock reputation they had developed over the previous couple of years. Later in the year Barry was replaced by Lance Dixon, who was a keyboard player as well as a saxophonist. With his keyboards and Gourd's slide guitar, the new sound emanating from the Meteors was a long way removed from the sounds they were best remembered for in Australia. The soul had gone and they were far less jazz orientated.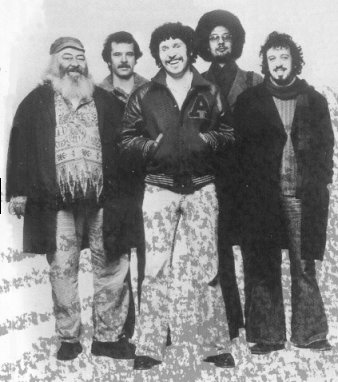 In May 1975 Clive Davis, head of Arista Records arrived in London to establish a British branch of the US-based company. Following a recommendation to check out the Meteors on their pub circuit, he liked what he saw and contracted them as his first 'British' signing. A single was recorded and released in July called "A Little Easier"/"Long Time Gone".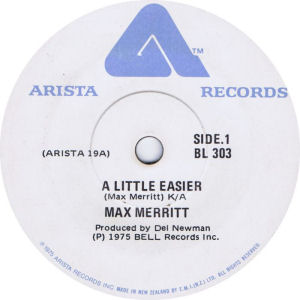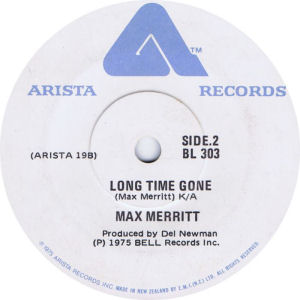 The single was ignored by most people, but Arista pressed on releasing an album also called "A Little Easier" in September.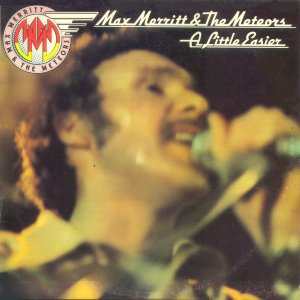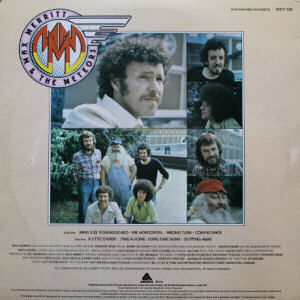 Released at the same time was another single from the album called "Slippin' Away"/"I Keep Forgetting". "Slippin' Away" caught the attention of radio programme directors in both Australia and New Zealand and with constant playing over the summer of 1975/76 it climbed to number 2 on the Australian national charts becoming their biggest Australian hit ever. The song was also well received in New Zealand where it climbed to number 5 and stayed on the charts for 6 months. The song should have been an international hit, but Arista were still in their set-up stages in England and that made distribution difficult. As a result interested people couldn't get a copy so sales soon tapered off. Meanwhile the album, buoyed by the success of the single in Australia, peaked at number 4 on the Australian charts, but interestingly failed to chart in New Zealand.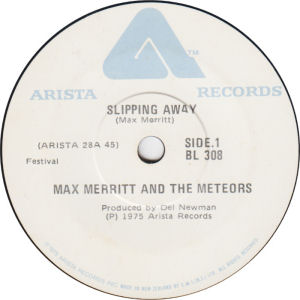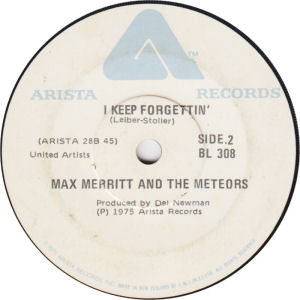 The Meteors returned to Australia in June 1976 for a triumphant tour, coinciding with the release of their second Arista album "Out Of The Blue". From it came a re-recorded version of "Let It Slide" and this followed "Slippin' Away" into the charts in Australia. The single was released with "Whisper In My Ear" and "Coming Back" on the B-side, while in New Zealand it had "Gotta Have Your Love" as the flip-side.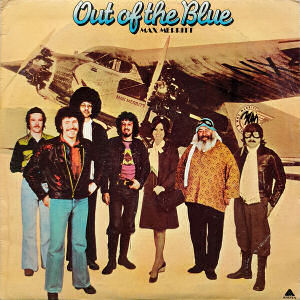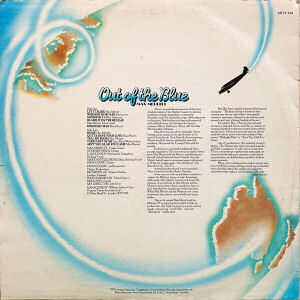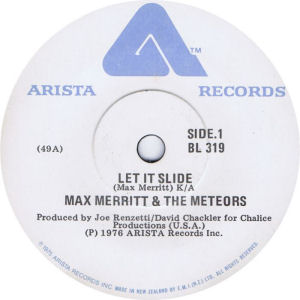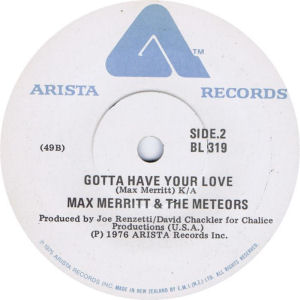 Their tour over three weeks was once again performed at only larger theatres and was seen by more than 30,000 people. The first concerts at Melbourne's Dallas Brooks Hall were recorded and later released as an album in 1977 as "Back Home Live", their third and final Arista album. A final single for Arista also came in 1976 called "Blame It On The Reggae". Once again differing B-sides, "Whisper In My Ear" in New Zealand and "Take Part Of Me" in Australia.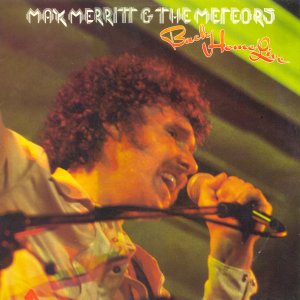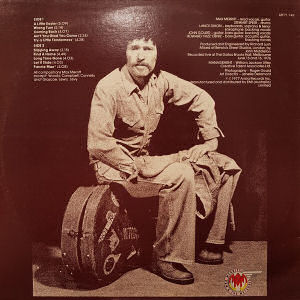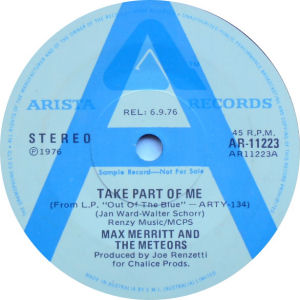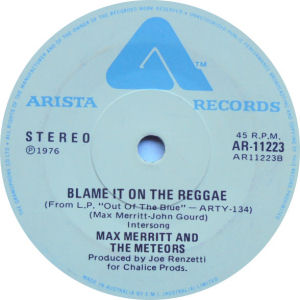 If was hard for Max, because he was once again receiving superstar status in Australia, but in England, where he wanted to be, it was still tough going, trying to make it on the pub scene. But it wasn't Max's inability that failed him there, it was the onslaught of punk music that killed the pub rock scene in Britain.
At the end of 1976, Max Merritt and the Meteors broke up as a working band. In 1977 Max relocated to America and signed a solo deal with Polydor Records. His first album release for Polydor was in 1978 called "Keeping In Touch". From it came the single "Wish You'd Never Come Into My Life"/"Draggin' Chains". Another two singles were also released in 1979 from the album, called "Dirty Work"/"Fat Man" and "It's Over"/"Keeping In Touch".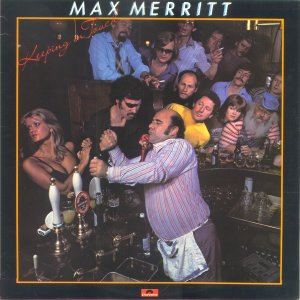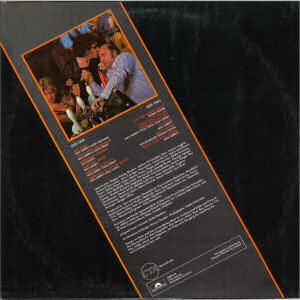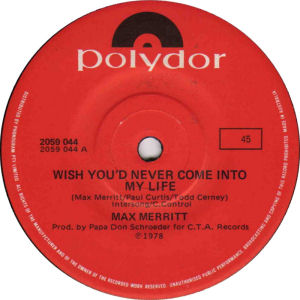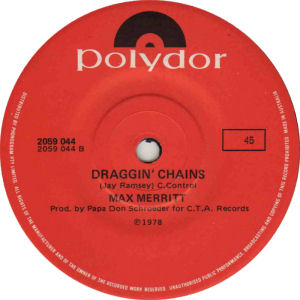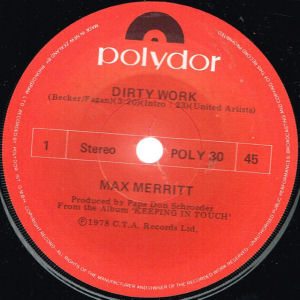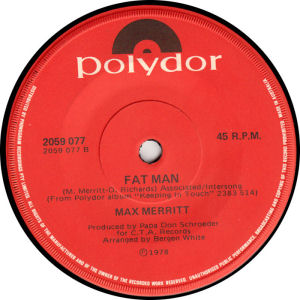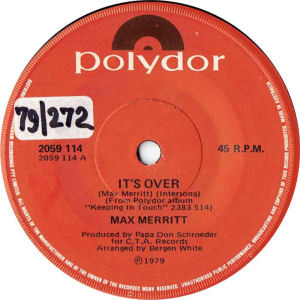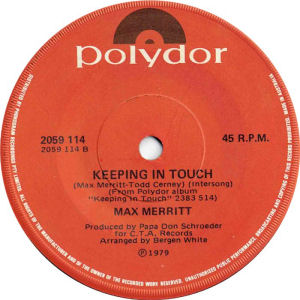 In 1979 came a new single, "Trying Too Hard"/"Rock 'n Roll Mole", released from the second Polydor album called "Black Plastic Max" which came out in 1980.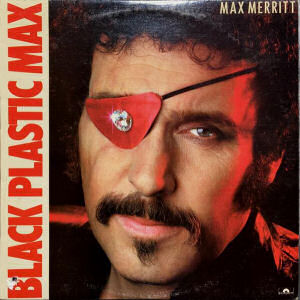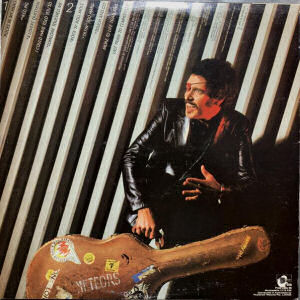 Max returned to Australia for a couple of tours in 1979 and 1980, on the second occasion he put together a band for the tour with comprised Stewie, Paul Grant on guitar, John Williams on keyboards, Martin Jenner on guitar and Phil Lawson on bass. This was Max and Stewie's last major tour together.
Stewie had settled back in Sydney, but suffered increasingly from the injuries sustained in the 1967 road accident and, in between periods of hospitalisation, gigged only sparingly. He died of a heart attack on September 16 1986. Bob Bertles became a highly respected jazzman in Britain before returning to Australia where he remains active on the local music scene.
Max released only two more singles in his career, "Growing Pains"/"Prove It" in 1982 and "Mean Green Fighting Machine"/"My Best Friend" in 1986, the second a promotional single for the Australia's 1987 defence of the America's Cup.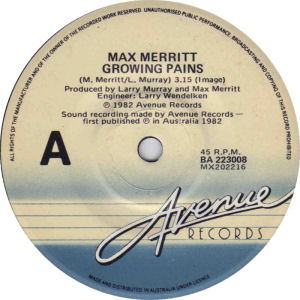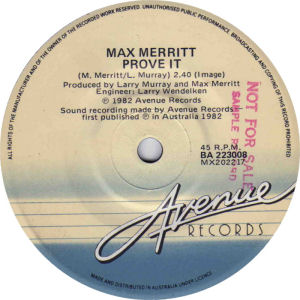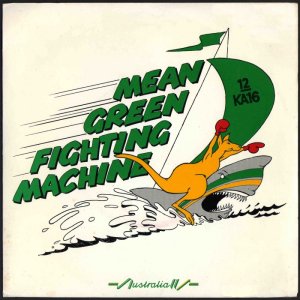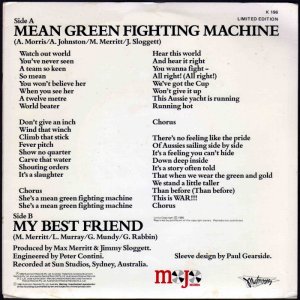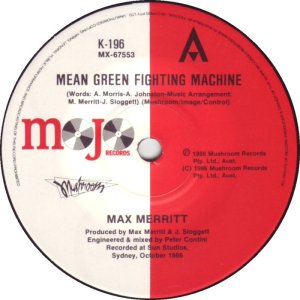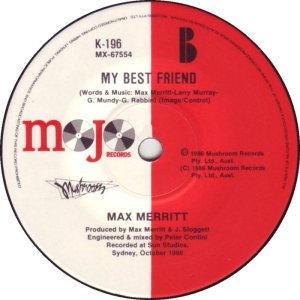 In 1986 Raven released a best of album called "17 Trax Of Max". It contained mainly his Australian releases and was re-released on CD as "23 Trax Of Max" in 1991, adding six extra songs.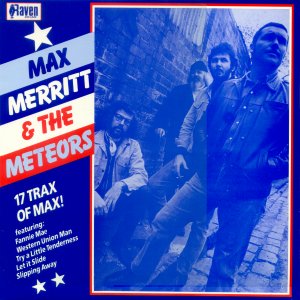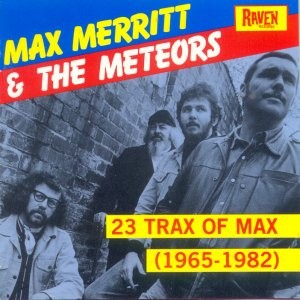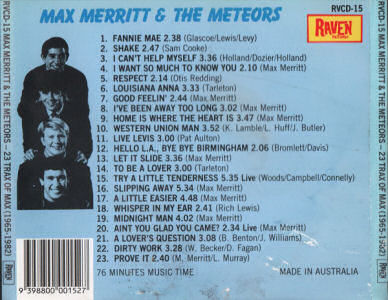 In 2001 EMI released the CD that everyone had been waiting for. "The Very Best Of Max Merritt and the Meteors" contains some of the early New Zealand singles and tracks from his first album, re-mastered from the best possible sources available.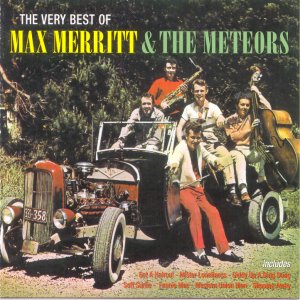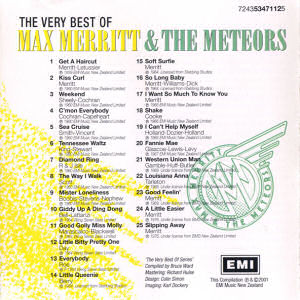 Max still did the occasional tour, even doing a short club tour in 2001, teaming up with his old friend Jimmy Sloggett and Doug Parkinson.
After 45 years in the music industry, Max Merritt is a true legend of Australasian music. It is a tragic aspect of Max's career that he was so chronically under-recorded during his prime years. For someone who may have played bridesmaid so many times in his early years, he certainly proved he had the ability and his longevity shows that in the end he certainly came out the winner.
Addendum:
The year 2002 heralds a new era for the 61 year old Max Merritt. Touring in April and May under the banner "The Heart & Soul of Rock & Roll" with Doug Parkinson, Max witnessed what could be described as a re-birth for Australian rock pioneers, a rejuvenation that may largely be attributed to the highly successful ABC TV series "Long Way To The Top".
Doug Parkinson and Max Merritt together with a revamped Meteors line-up, comprising John Dallimore (Guitar and Vocals), Jimmy Sloggett (Sax), David Hicks (Drums and Vocals), Glenn Suckling (Bass and Vocals) and Norman Falvo (Keyboards and Vocals), played to standing room only crowds that included Kedron-Wavell in Brisbane, Canterbury-Hurlestone Park in Sydney, Tilley's in Canberra and The Crown Showroom in Melbourne.
Throughout the 2002 tour, events mounted at breakneck speed for Max, including an offer from Michael Chugg and Kevin Jacobson, inviting Max to perform as part of "Long Way To The Top ­ The Concert" arena spectacular touring throughout Australia's major markets in August and September. At the same time came confirmation that the pairing of Doug Parkinson with Max Merritt and the Meteors would re-unite in October for a 20-show date "Heart & Soul of Rock & Roll" tour of Victoria's Tatts Pokies venues.
During his time in Melbourne, Max Merritt together with the Meteors entered the recording studio for the first time in almost a decade. Max cut four brand new tracks at the state-of-the-art Metropolis Studio in Bank Street South Melbourne for inclusion in an up-coming project.
While in Melbourne, Max took the opportunity to call in a bunch of favours, turning to every name on his use-up-a-friend list. With the show at Crown Casino full to the brim, Max expanded the Meteors line-up in spectacular fashion by including John Montesante (Trumpet), Charles MacInnis (Trombone), Gary Deleo (Alto Sax), Jamie Oehlers (Tenor Sax), Nick Lester (Baritone Sax), John Bedggood and Justin Brady (Violins), Jenny Thomas (Viola), Michelle John (Cello), and backing vocalists Alvie Johns, John "JT" Toney, Lucy Gale and Shirley Davis, the Meteors had become a one-off eighteen piece outfit. With sound, lighting and staging under the direction of the "A-Team", Noel Bennett and Alex Saad, the audible gasp from the audience when the curtain went up at Crown Showroom was testament to the efforts that had gone into making this a very special event. This performance by Max Merritt and the Meteors was recorded in 5.1 sound by supremo Ernie Rose and digitally video taped for release on DVD. The sound track was also released on CD and includes the new studio tracks as a bonus.
I am grateful to Wal Bishop, Max's manager, for the info contained in the addendum.
Max Merritt passed away on 25 September 2020 in L.A. California, following a battle with a rare disease at age 79.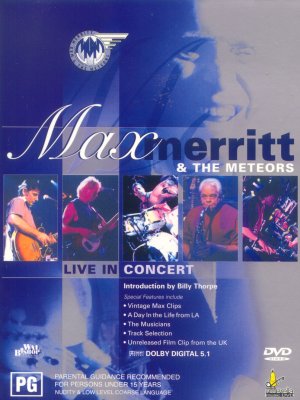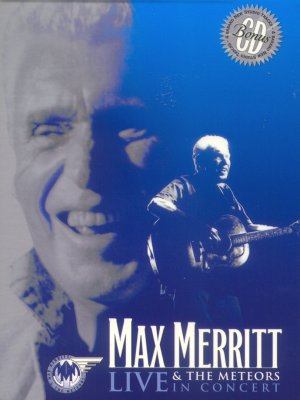 DVD CD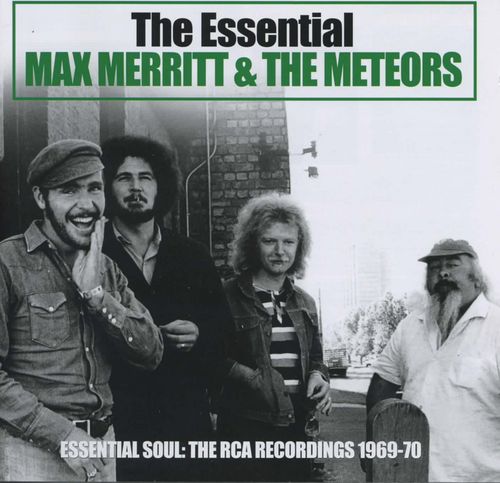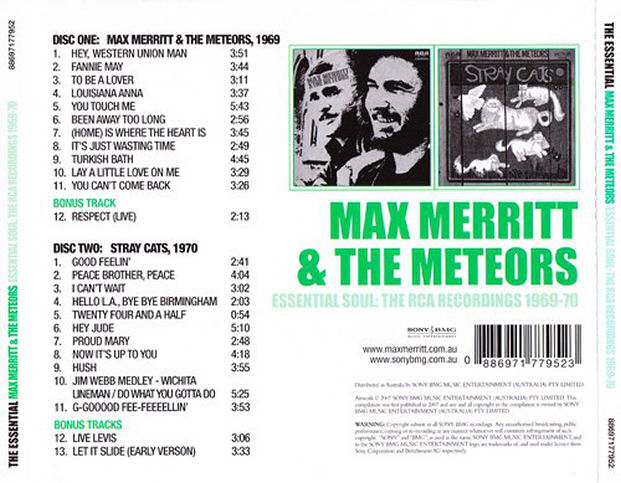 Max Merritt & the Meteors can also be found on the following compilations.