Sharon O'Neill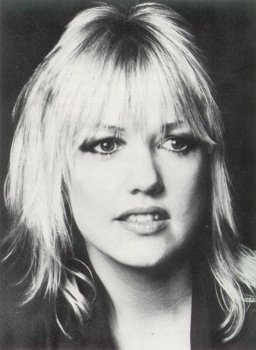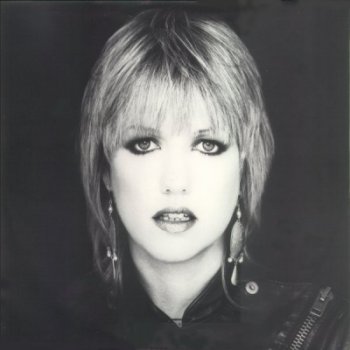 Sharon O'Neill was born on 23rd November 1952 in Nelson and started performing locally in the late 60's on acoustic guitar. She was a self taught musician who learned to play mainly by ear. Sharon started composing at an early age, mainly by putting chords to her poetry.
Sharon's first recordings were with a couple of friends from Nelson, Robin Winch and Nancy Richman. They recorded a single for Ode in 1971 as Suitewater. The songs were "Suzanne"/"Chords of Fame".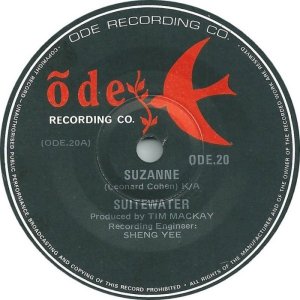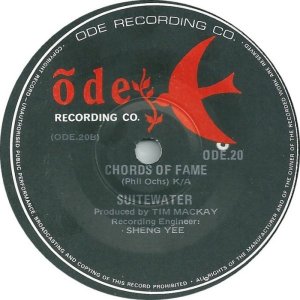 An entry into the 1970 Mobil Song Quest, saw them make the finals with a song called "Life Upon Life" written by Sharon. The song appeared on the album from the Quest under the recording name of Sharon and Nancy. The album "Mobil Song Quest 1970" was released on the Kiwi label, catalogue number MS-70.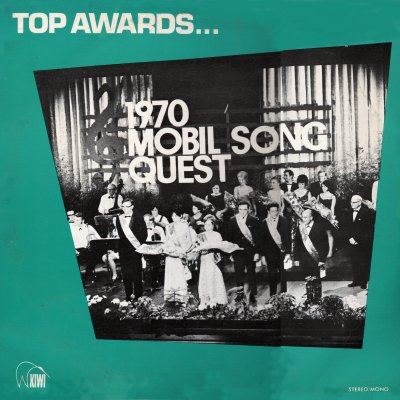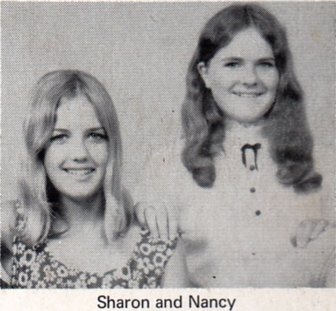 In 1972, Sharon recorded an Elton John cover under her own name. This was also recorded on Ode and was "Love Song", backed with Neil Young's "Birds". This was the only record she did at that time and it would be five more years before her solo career was launched.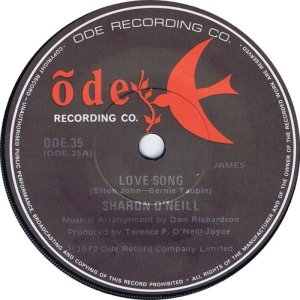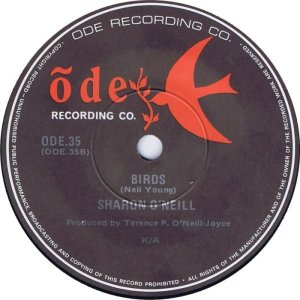 A move to Christchurch came about in 1972 and she joined up with Chapta for a short time. Another of her songs, "Nothing Makes It Easy", got her to the finals of the New Faces television talent show later that year. Another group was formed, Jessica, a covers band, and over the next four years she appeared in a number of soft rock bands as singer-pianist, most notably Wellington's Shiner, who spent eight months in South East Asia in 1976.
In 1977, encouraged by Shiner guitarist and future husband Brent Thomas, Sharon began concentrating on song writing. She was signed to a management deal by former EMI A&R man Alan Galbraith. 1978 saw her supporting Mark Williams on a national tour, before supporting other international artists on their New Zealand visits.
Television exposure on "The Entertainers" brought Sharon a national audience. She sang "Luck's On The Table" (one of her oldest songs from her Nelson days) and finished third in the contest. This success got her a signing to CBS and in September 1978 "Luck's On The Table" was released as a single, giving Sharon her first chart hit. It reached number 27 on the national chart and was included on her debut album "This Heart, This Song", which was released in February 1979.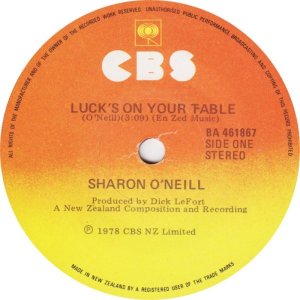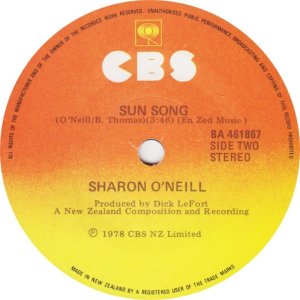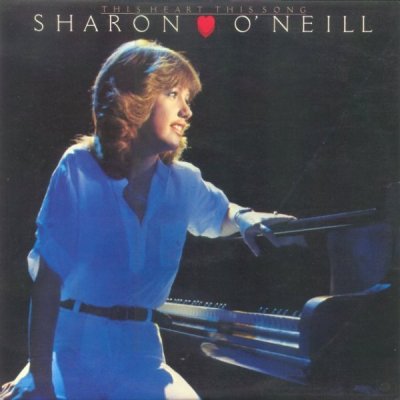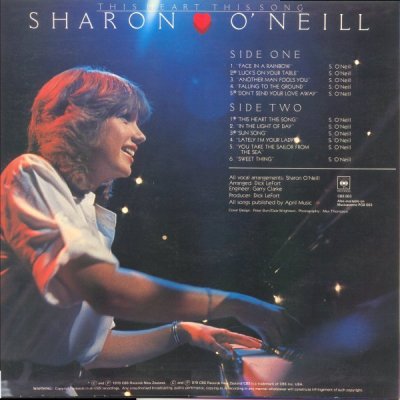 In June 1979 she released "Don't Say No To Tomorrow", which was featured on the "Telethon". It reached number 6 on the charts. That same year she received an APRA Silver Scroll Award for the song "Face In A Rainbow" from her debut album. She also received the Rising Star Award and was voted Top Female Vocalist in 1978, 1979 and 1980.
March 1980 saw the release of her second self-titled album "Sharon O'Neill". Reaching number 3 on the albums chart, it contained some of her best songs. The first single released was "Words", reaching number 22 on the charts. It's opening line of "let me out, like the new blood at the slaughter" is certainly representative of what was to come from Sharon as a talented songwriter. "Asian Paradise" reached number 24 in April 1980. Between these singles Sharon joined Jon Stevens on a duet called "Don't Let Love Go". This song reached number 5 in March 1980.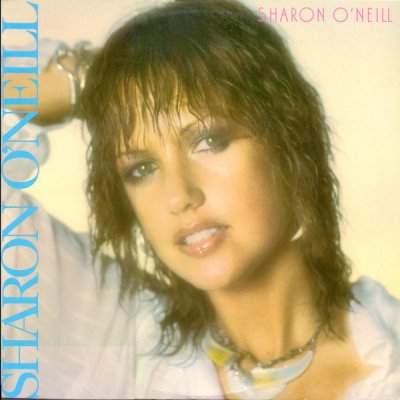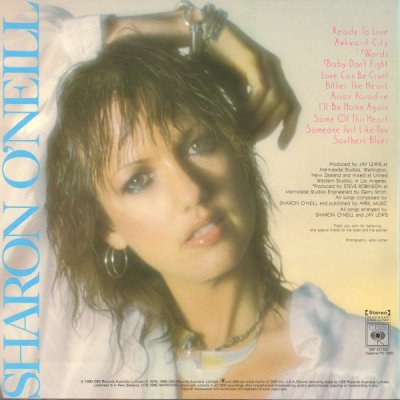 "How Do You Talk To Boys" came in September 1980. It is probably the only song during her album career that she performed, not to have been written by herself. CBS repackaged the "Sharon O'Neill" album to include this song and called it "Words". The single reached number 26 and also charted in Australia.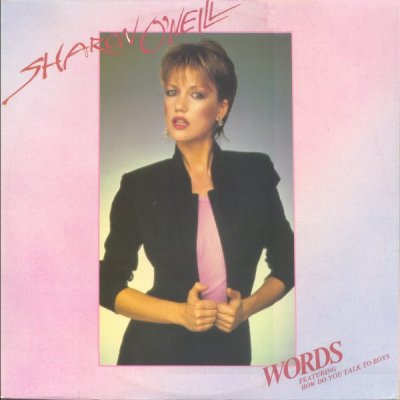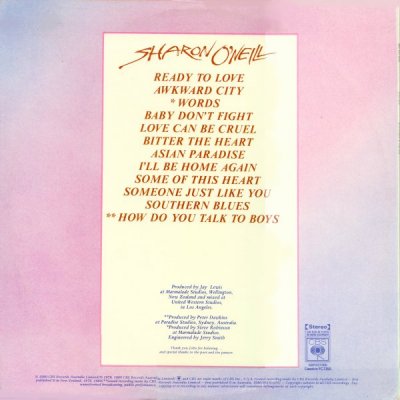 Her third new album, "Maybe" came out in 1981. Sharon had put together a band to promote the album and it included her husband on guitar. Together they toured and landed the job as support act to Boz Scaggs on his Australian tour. This exposure was what she needed to broaden her audience and with its success she moved to Australia to settle. The title track from the album "Maybe" charted in October 1981, reaching number 12.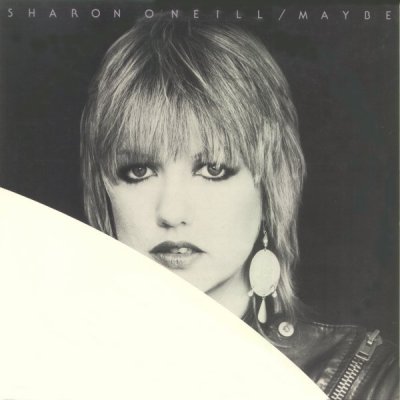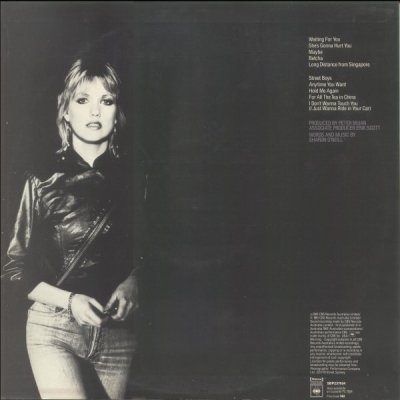 In 1982 she also provided the soundtrack to Roger Donaldson's movie "Smash Palace". It was a five track extended play album. The movie itself starred Bruno Lawrence. This vinyl only EP has become a very sought after item by collectors of her music.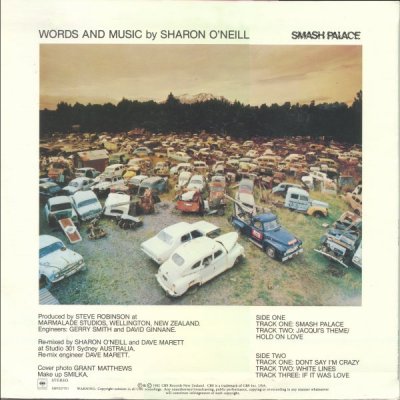 Sharon's most successful album by far, "Foreign Affairs", was released in 1983. It contained the single "Maxine". Sharon had been writing from personal experiences about people she had met on her travels. Maxine is about a prostitute who used to work the streets around Kings Cross, Sydney, where Sharon had based herself. Maxine would have to be her most well known song and it reached number 18 on the charts.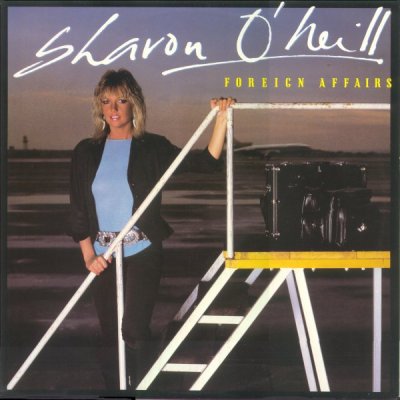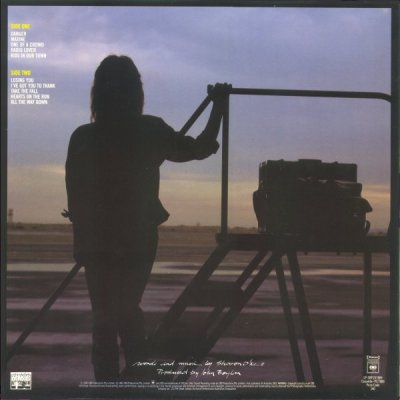 Unfortunately that was the last to be heard from Sharon for about five years. She had problems with her recording company and a number of disputes evolved. Because she was still under contract, she could not record for anyone else until it was concluded.
In the meantime, in 1984 J&B, licensed through CBS, released a best of album called "So Far The Best 14". Her last single for CBS was "Power"/"Young Blades" also released in 1984.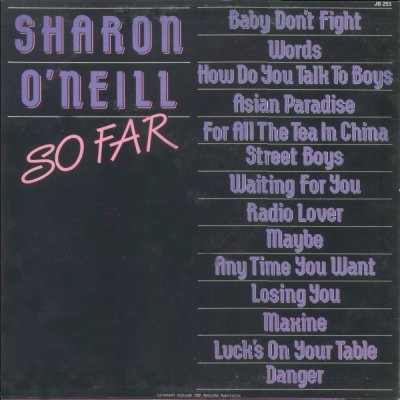 Sharon also provided a song called "Blood Red Roses" for the movie soundtrack of "Street Hero" in 1984. The only other New Zealand artist to feature on the album was Dragon. The song Dragon did was "Wilderworld".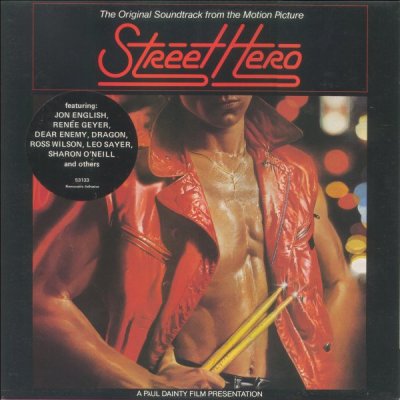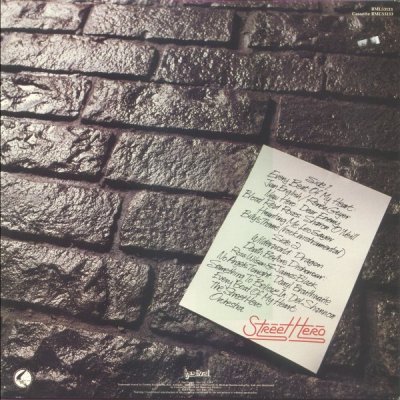 Over the next couple of years Sharon continued writing songs. She became involved with the ABC (Australian Broadcasting Corporation) and provided some songs for the television series "Sweet and Sour" in 1983 and 1984. The songs "Sweet and Sour" and "Glam To Wham", from the series, were released by a group called the Takeaways, with vocals by Deborah Conway. "Sweet and Sour" made it the number 13 on the Australian National charts in 1984. Sharon also provided music for "Dancing Daze" series in 1986 and "Just Friends".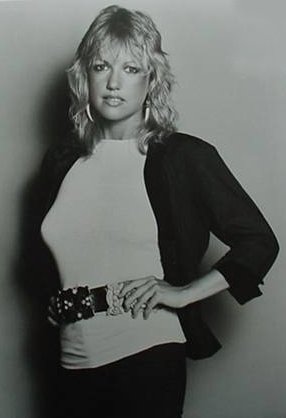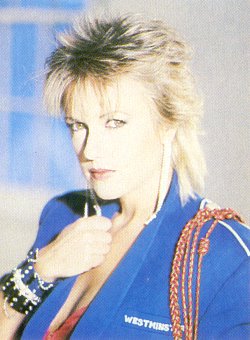 Epic promo photo for the US market. Insert from the Street Hero album.
"Four Play" is an EP released in 1988 as part of a series of EP's of different artists released by CBS. Volume 18 was Sharon, while Volume 14 was Dragon, and Volume 17 was Mi-Sex, the rest being by international artists. They were originally released as 7" vinyl 4 track EP's and some of these have subsequently been re-released in CD format. The vinyl versions have become extremely rare.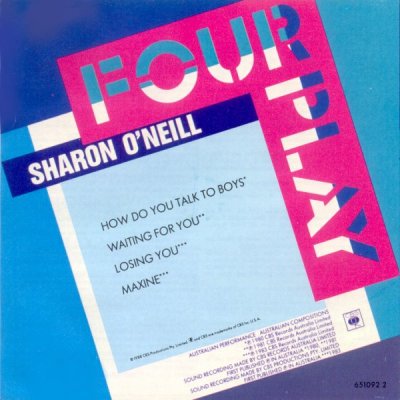 There was also an Australian compilation album released that contained 8 songs by Australian artist Collette and 8 songs by Sharon. Available in both vinyl and CD format, this album has to date become the only source of a CD version of the song "Power", originally released only as a single and not appearing on an album.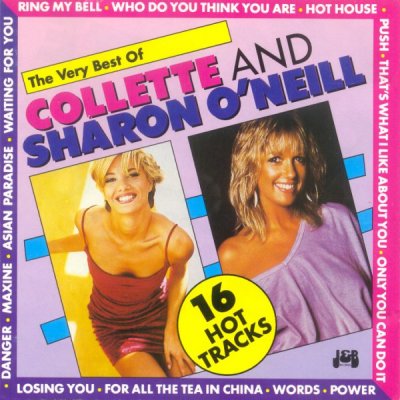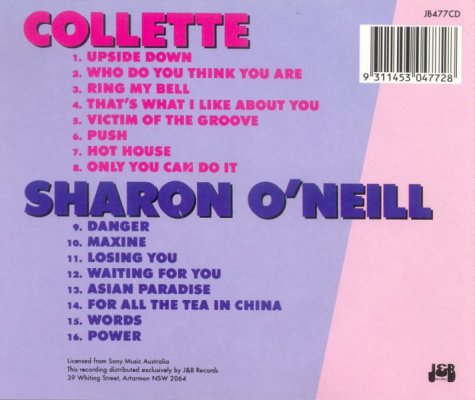 The next few years before another album was released were not wasted. There were changes in her personal life, and she was introduced to new technologies in the form of drum machines, as well as a new writing partner, Alan Mansfield. Alan was a keyboard player and guitarist, and played with Robert Palmer and Dragon. Together they wrote many songs and these can be found on a number of different artist's albums. There are four on the 1989 "Bondi Road" album by Dragon. Alan, Sharon and Robert Palmer recently got together and wrote a song called "True Love" and this was released by Robert.
After her CBS contract had expired, Polydor picked up her contract and released the "Danced In The Fire" album in 1987. If you study the lyrics of the title track, you will see exactly what happened over the previous four years. Three singles were released from the album, "Physical Favours", the title track "Danced In The Fire" and "Shock To The Heart". Sharon rates this album as her favourite.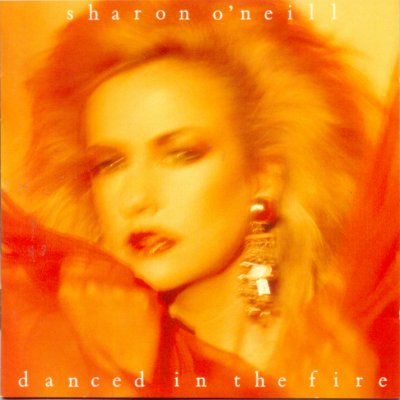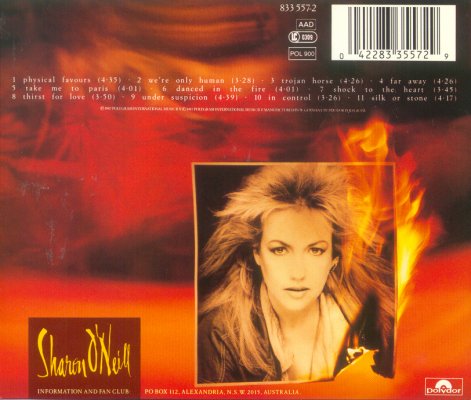 In 1989, ABC Records put together a series of albums aimed at kids. One of these albums, called "Album 9" contained a new song written and sung by Sharon. The song was called "Water For The Flowers". The rest of the album was made up of other artists, including Normie Rowe and Doug Parkinson. A single was released from the album, with Sharon only having one side of the single, with "Water For The Flowers", and the other side was also from the album, Doug Parkinson's "Jeremiah Peabody". Their was also a CD version of the album released by the ABC as part of a series of songs for children. The CD was called "More ABC For Kids".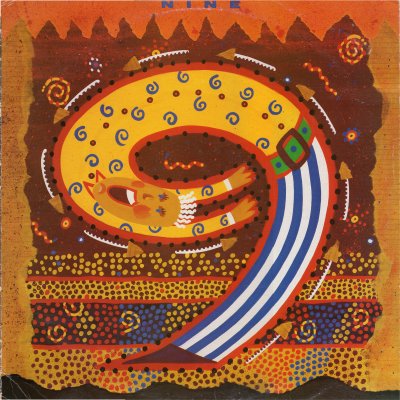 1990 saw "The Edge Of Winter", her last album, to date, released. Two singles came from it, "Satin Sheets"/"Little One" and "Poster Girl"/"Missing Person".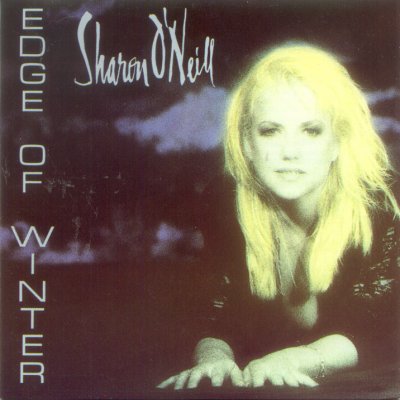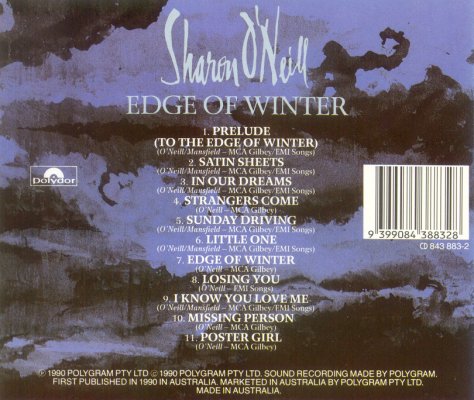 Since then she has still been writing songs and occasionally makes an appearance. She sang, along with a host of other performers, at the Marc Hunter benefit concert in 1998.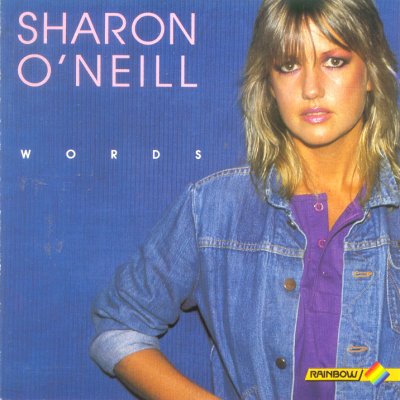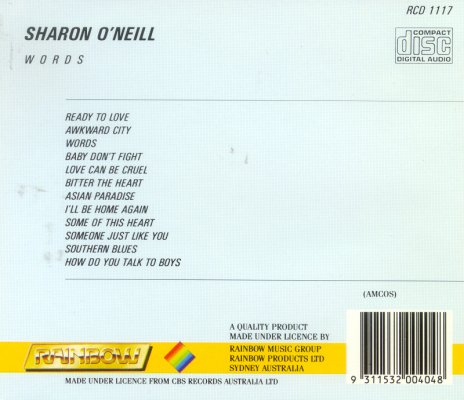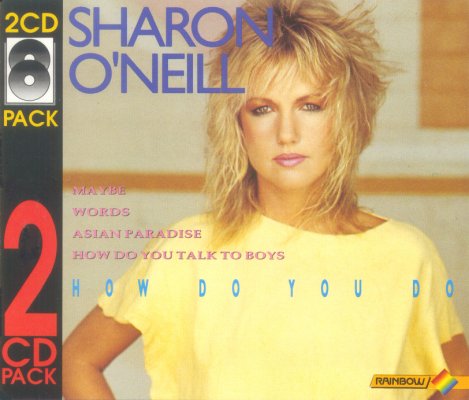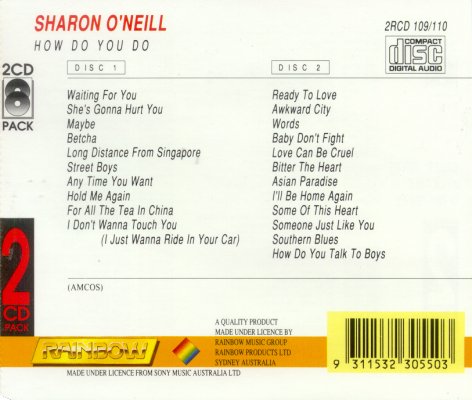 The above two compilation albums have been released by Rainbow since her last album, and I hope we haven't heard the last from what I believe to have been New Zealand's best female singer/songwriter.
During September and October 2001, Sharon got together with the girls from When The Cats Away, to do an extensive National Tour of New Zealand. The girls were Margaret Urlich, Debbie Harwood, Kim Willoughby and Anne Crummer. It was an extremely popular and successful tour and it has been preserved on the album "Live In Paradise".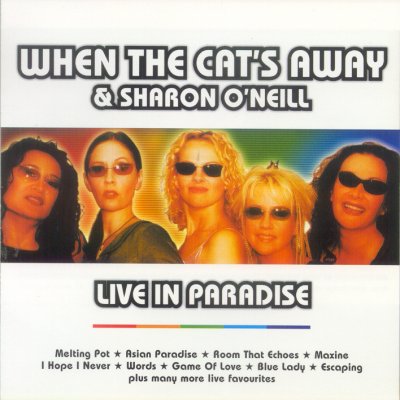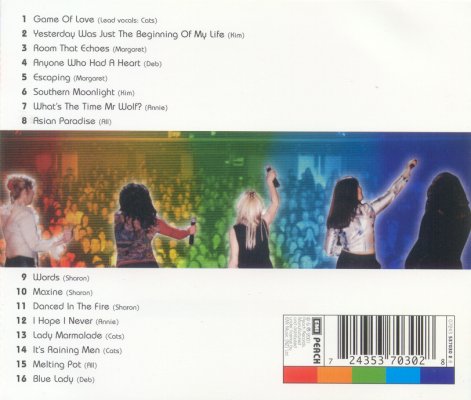 Also in 2001 there has been another repackaged double CD release of "Foreign Affairs" and "Maybe" by Sony, called "Sharon O'Neill Double Pack".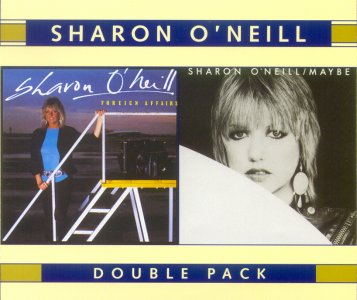 During 2005 I was approached by Sony BMG to see if I would be able to help them put together a compilation CD of Sharon's work. I was thrilled to have the opportunity and supplied many of the songs. I still have un-played copies of "Smash Palace" and the songs that were only ever released on singles. We used these for re-mastering and the result is an excellent collection of her best songs. It could easily have been a double CD, but costs prohibited this and unfortunately some of her early New Zealand songs had to be left off.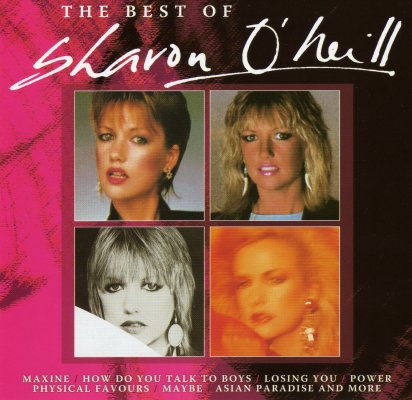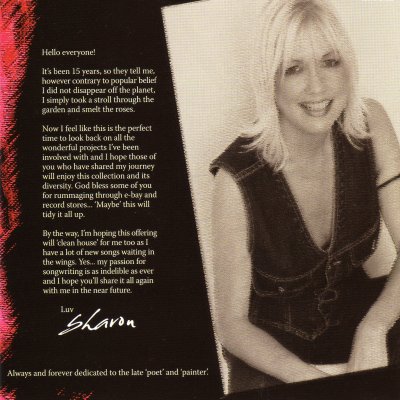 This CD was released to coincide with Sharon's support concert series with Leo Sayer. The concerts have been a huge success and it is fantastic to see Sharon back on the stage, performing as good, if not better, than she always has.
Finally in 2013, Sony New Zealand packaged Sharon's first four albums together and released them in a 4 x CD Original Album Classics collection. This is the first time that her first album "This Heart This Song" has been available on CD. The self-titled album in this package is the original release of the album without the song "How Do You Talk To Boys". It also has the original cover.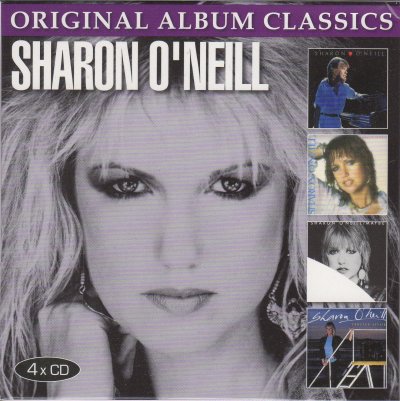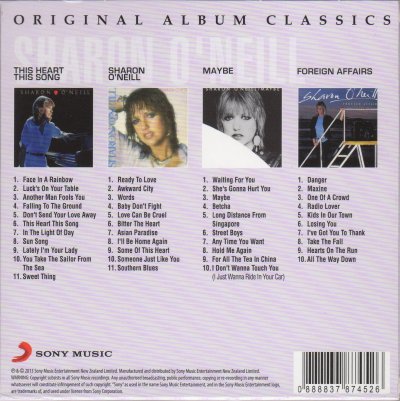 In 2014, following on from the Original Albums collection, Sony New Zealand also released a new collection of Sharon's best songs. The collection is called "Words The Very Best Of Sharon O'Neill".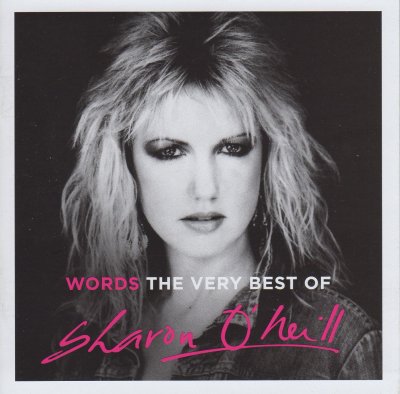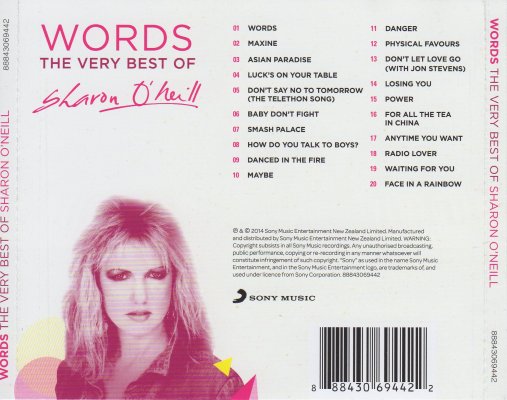 Sharon O'Neill can also be found on the following compilations.
Sharon's Complete Discography Sharon's Complete Song List