Dragon
1975 Line-Up:


Marc Hunter Robert Taylor Kerry Jacobsen Paul Hewson Todd Hunter
Original Line-Up:
Todd Hunter (Bass / Vocals)
Graeme Collins (Piano / Vocals)
Neil Reynolds (Drums)
Ray Goodwin (Guitar / Keyboards / Vocals)
The above listed original line-up were what started as Dragon in 1972, but the story begins prior to that. Todd Hunter was born in Taumaranui on 22nd June 1951. With his younger brother Marc on drums, Todd played guitar in family public performances in the late 50's, dad playing sax and mum playing piano. In 1970 Todd enrolled at Waikato Teachers College and while there he mixed with other musicians from groups like Mandrake, Movement and Jacob Manning. He formed his own trio called Zeke and another called Heavy Pork, but neither lasted very long.
Before long Todd switched to bass and teamed up with guitarist Ray Goodwin, from Jacob Manning, and drummer David "Div" Vercoe, from Molly, to form OK Dinghy. They travelled around during 1971 establishing a small following, but found the going very tough. Div Vercoe called it a day and that was the end of OK Dinghy. Ray and Todd decided to team up with guitarist Don Bedgegood and drummer Larry Abbott, both from the defunct Movement. They called themselves Anteapot, and secured a residency at an Auckland club for three months. Not proving popular, they lost that job in June 1972 and renamed themselves Staff. This combination was messy and ended up having any number of players joining in, some of note were Graeme Collins, Tommy Ferguson, Josie Rika and Corben Simpson. In November 1972 they disbanded, but with a commitment still outstanding, Ray and Todd formed a quartet with Graeme Collins on piano and vocals, and Neil Reynolds on drums. Graeme Collins had previously played with Dedikation. The quartet were booked for the forthcoming Great Ngaruawahia Music Festival and when a name change was required, Graeme consulted the I Ching and came up with Dragon.
Their performance at Ngaruawahia didn't have much reaction, so they moved into a flat in Herne Bay, Auckland and spent their days in rehearsal, landing the occasional job at the Occidental Hotel. Graeme Collins didn't fit the style of the others and was soon replaced by keyboardist Ivan Thompson, from Mandrake and Kindred Spirit, but this left them without a lead singer. This was soon resolved when Todd's brother Marc visited the flat. He had been drumming and singing with Quintessence at an Auckland restaurant. Wanting a change, he joined Dragon as lead singer. Marc was born on 7th September 1953. Neil Reynolds also left and was replaced by Neil Storey, also from Mandrake. So this line-up, with Marc on vocals, Ray on guitar, Ivan on keyboards, Todd on bass and Neil on drums, was the combination that would bring the name Dragon to the forefront of New Zealand music.
1973 saw the band earn a regular wage with residencies at Auckland's Levi's Saloon, the Tabla, Do Re Mi and Rasputin's. Each place they went to saw them bringing along their growing group of supporters. In 1974 they moved into Dante's Inferno in the heart of Auckland's red light district. and picked up first prize at the Auckland Festival's all day Rock Marathon. With this success, a record contract was achieved and in June 1974 their debut album "Universal Radio" was released. Graeme Nesbitt, former manager of Mammal, became their full-time manager. He organised their first national tour to help promote the album and gained them a residency at Granny's.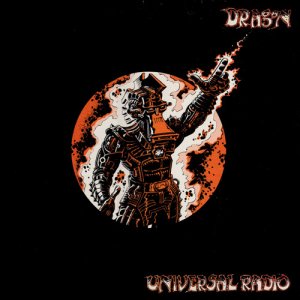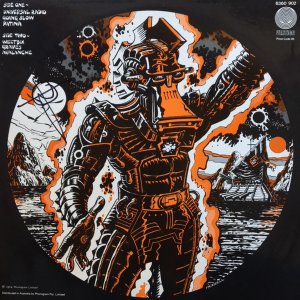 At the end of 1974 they headed off on another national tour, but while in Northland problems arose. Todd wanted to replace Neil on drums. All agreed except Ivan, so Neil and Ivan walked out. Geoff Chunn filled the drummers seat to fulfil the festive season commitments, but the foursome didn't work out and the band temporarily disbanded.
Nesbitt had commitments for the band, so he persuaded Neil Storey to return, but not Ivan. To fill his place they tried to recruit Paul Hewson to play keyboards, but he was still happy playing with Cruise Lane. So rather than a keyboard they went for a twin guitar line-up, with Robert Taylor, from Mammal, being recruited. Robert was born 27th September 1954.
March 1975 saw the release of their second album "Scented Gardens For The Blind" and their first single "Vermillion Cellars"/"Rock'n'Roll Ponsonby", both recorded before the current line-up.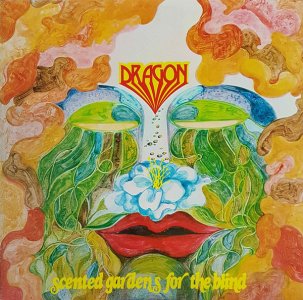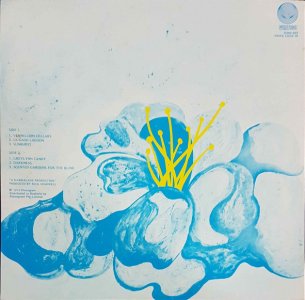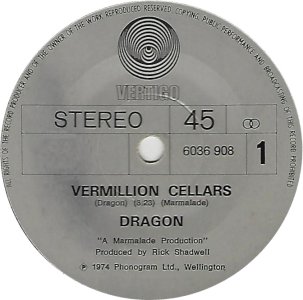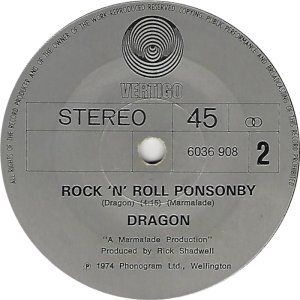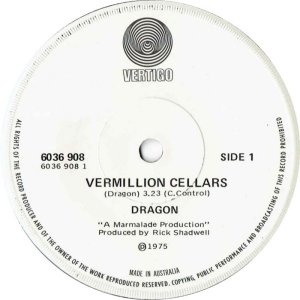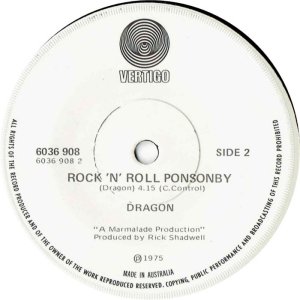 Australian Release
During the first few months of 1975 they did extensive tours of the country before heading to Australia in May. They left behind a second single "Education"/"Swell Foot Sue" and a manager in jail for drug dealing.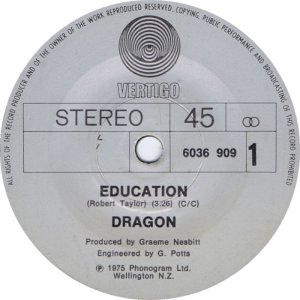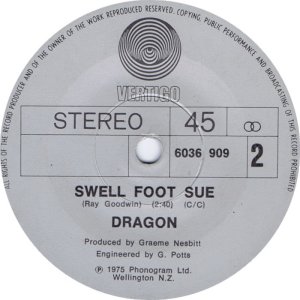 They arrived in Sydney to a new manager, Wayne De Gruchy, and Polygram record company. Wayne produced a single for release in August 1975 called "Star Kissed"/"Crystal Dove".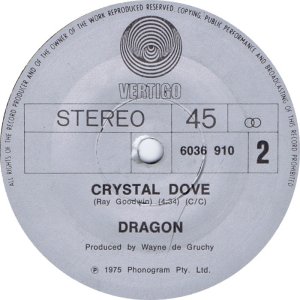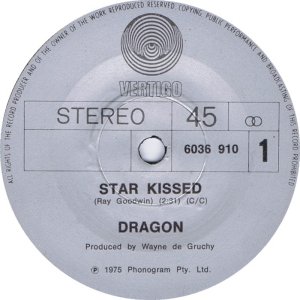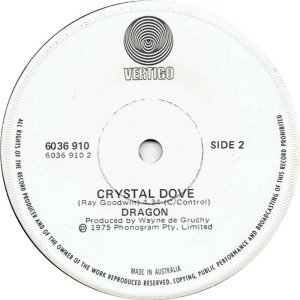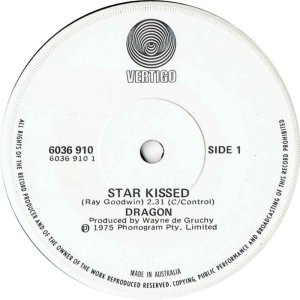 Australian Release
Dragon made its first Australian television appearance to promote the single, but the song and the band went nowhere. Of bigger concern to the group was their living standards. They could not afford anything lavish and spent their time in a grotty house in Paddington. Meanwhile Wayne's interests were with promoting John Paul Young and his All-Stars and when Ray Goodwin was offered an opportunity to play with the All-Stars, his decision didn't take long to make.
With Ray gone, it was decided to try again for a keyboard player. Again they approached Paul Hewson and this time within a week he was Sydney bound, family in tow. Paul was born on 25th October 1952 and was already established as an in demand session musician. He had played with Marble Arch and Cruise Lane. Even though the band was still in high spirits when Paul arrived, things began to get worse. They were burgled, losing all of their equipment. By December 1975 they had no work, little money and even fewer prospects.
During the first six months of 1976 they continued to gig, but the venues were poor. Paul began to write some songs and attracted the attention of Peter Dawkins from CBS. He indicated that some of the songs showed promise and that CBS might be interested. Polygram were happy to let them go and CBS offered a new contract.
The first single for CBS was released in July 1976. It was "Wait Until Tomorrow", written by Taylor. It had previously been released by Mammal under the title "Wait". The flip side was Paul's "Show Danny Across The Water" and it was this song that began to show Paul's potential.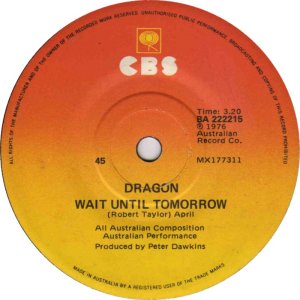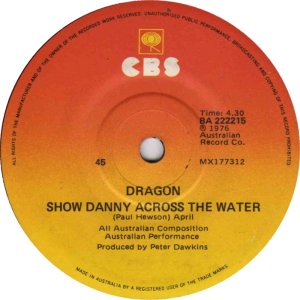 With CBS now behind the band, they started playing in the more up-market clubs around Sydney and Melbourne. Even with television exposure and articles in the rock press, the single never took off. Recognising that they would only get one more chance with the record company, they had to produce a hit. All five members put their heads together and spent a whole night writing a song. The outcome was "This Time" and the single was released in September 1976. The flip side was "Dreaded Moroczy Bind". For the first time Dragon started receiving radio airplay. Things were definitely on the up.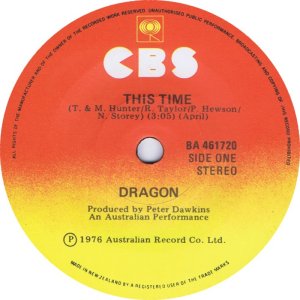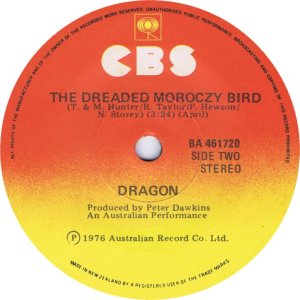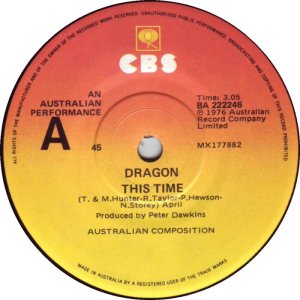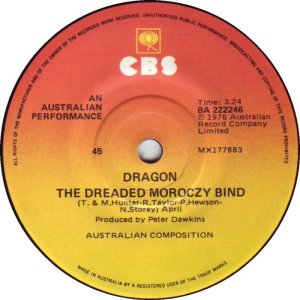 Australian Release
With prospects looking good, tragedy struck. Neil Storey was found dead, having choked on his vomit after a heroin overdose. His untimely death gave the media a field day. It was not the sort of publicity the band needed at this point in their career. Todd, unsure what to do with the band, called Graeme Nesbitt, who was still in and out of jail, and he told him to continue with a new drummer. Terry Tolhurst was tried first before Nesbitt organised just the person for them.
A 20 year old drummer from Wellington was recruited. He was Kerry Jacobsen, born 19th April 1956, and had previously played with Mammal, Tapestry and Ebony. The publicity that followed Neil's death made it hard for the group to deal with, so their new manager Sebastian Chase took them away to recover and rehearse their new drummer. Meanwhile, just one week after Neil's death, the single "This Time" was on the Sydney charts and after being picked up by other states it peaked at number 26 on the Australian national charts in November 1976. With the success of this single, Chase sent them touring around the country. They tightened up as a group and along the way began gaining fans like never before.
In March 1977 they had a short break to record an album. With this complete it was back on the road, with a new single being released while the album was being put together. The single was Paul's "Get That Jive" with Robert's "On The Beachead" on the reverse. This single peaked at number 13 on the charts. In May the album was released. Called "Sunshine" it was not long before it went gold, reaching 24 on the albums chart. Although there were songs by the others, it was the Hewson songs that generated the most interest.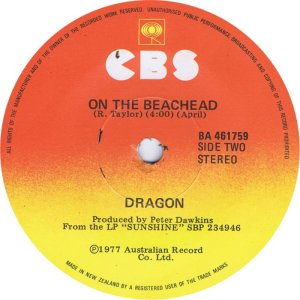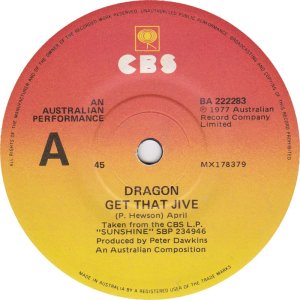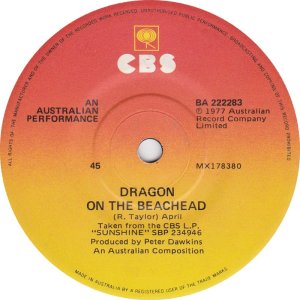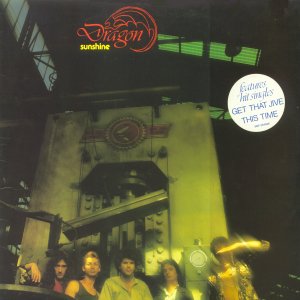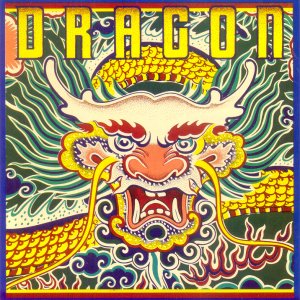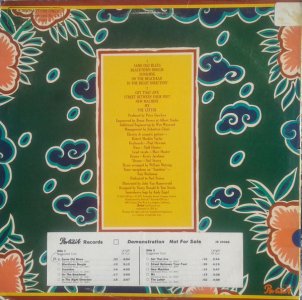 Portrait Version
A third single from the album, "Sunshine"/"New Machine", both Hewson songs, was released in August, peaking at 36 on the charts.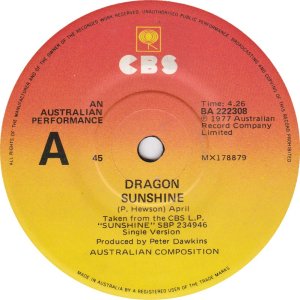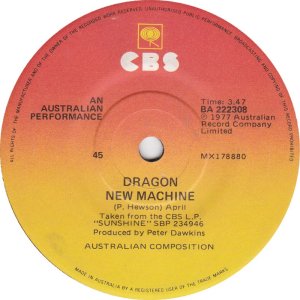 Success was now with them. They soon became Australia's number one band. The sudden move from poverty to wealth meant that they had more cash to spend. An item on top of the shopping list was drugs. Meanwhile Peter Dawkins had secured an American deal with Portrait Records. Late in the year they were back in the recording studio to record another album. Anticipation of its release saw the album go gold on pre-release sales alone.
"Running Free" was released in November 1977 and went on to exceed double platinum status with sales, reaching number 6 on the album charts. Again a mixture of songs from the four songwriters, the standout release was "April Sun In Cuba". Written by Paul and Marc, the single reached number 2 on the charts, only to be held out of the number 1 spot by Paul McCartney's "Mull Of Kintyre".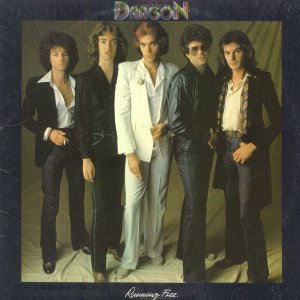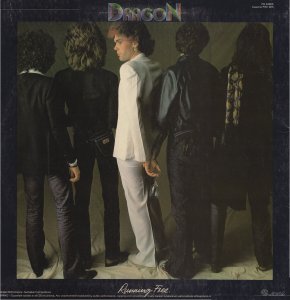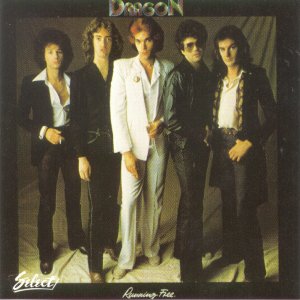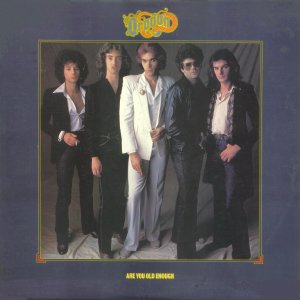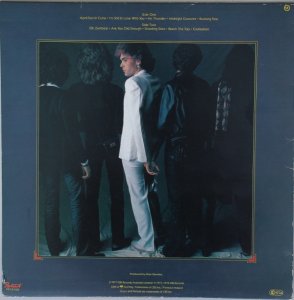 CD Version American Release "Are You Old Enough"
"April Sun In Cuba" was released in New Zealand to give them their first chart entry back home, making it to number 9 in March 1978. This was good timing as Dragon returned to New Zealand in January to headline the one-day Great Western Music Festival. Having not performed in New Zealand for nearly three years left them not as popular as some other locally based groups. They returned again in February to support Boz Scaggs at Western Springs, before returning to Australia to commence their largest national tour to date. A second single from the album "Shooting Stars"/"Some Strange Dream" barely touched the charts, rising to a poor 58. The New Zealand release was "In The Right Direction"/"Shooting Stars".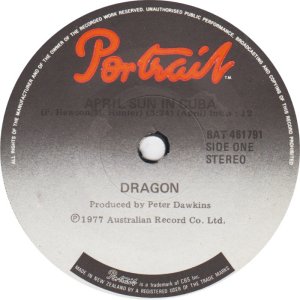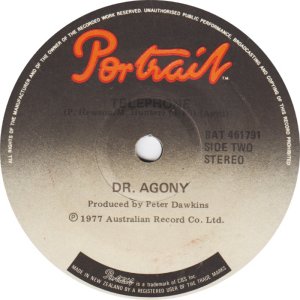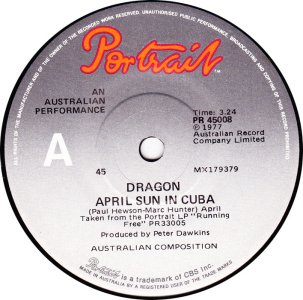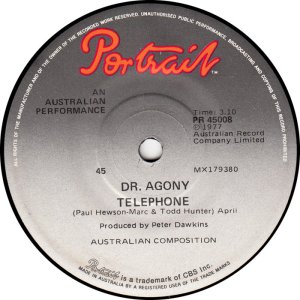 Australian Release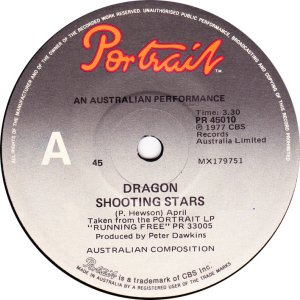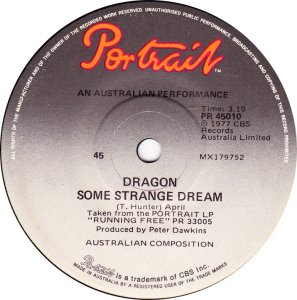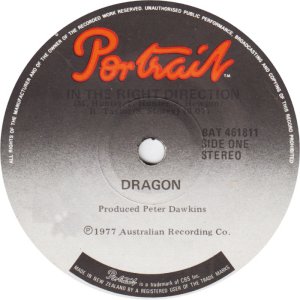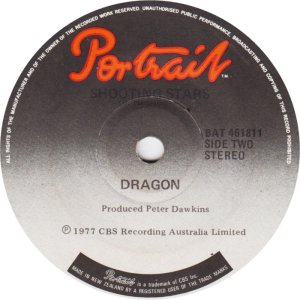 The tour was one of their most successful ventures, although controversial at times, but the overheads were enormous, with the band members really living it up. Drugs and alcohol were becoming a major ingredient. By the end of the tour, Paul and Marc were the worst for wear. Paul had developed a serious drug habit, but through it all he still managed to churn out some further great songs. Marc had joined him with the drugs, while Robert and Kerry consumed the alcohol. The only one to stay reasonably responsible was Todd. While on tour they made the headlines around the country for reasons other than their music. While having a break during the tour at Magnetic Island, they managed to destroy the place.
On completion of the tour Dawkins had them back in the studio to record their third Australian album. While this was happening, another Hewson composition was released as a single in April 1978. "Konkaroo" backed with "Mr Thunder" also struggled on the charts, only making it to number 40.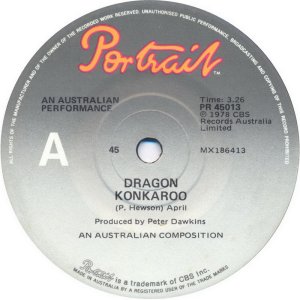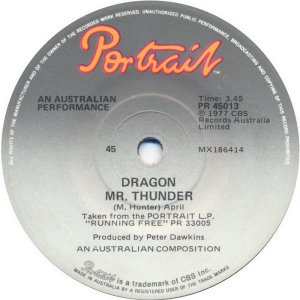 The new album "O Zambesi" was released in September 1978. It was their biggest selling album, reaching number 3 on the album charts.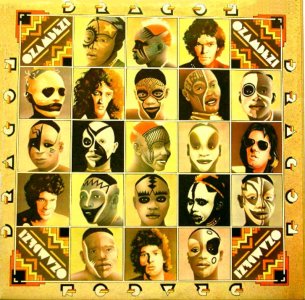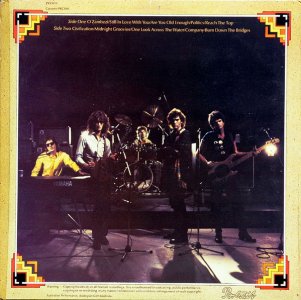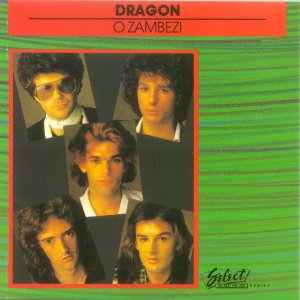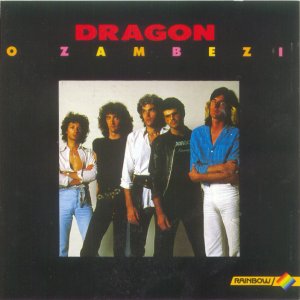 Original Vinyl and CD CD Release by Select CD Release by Rainbow
From the album came the single "Are You Old Enough" backed with "Company". It provided the group with their only number one single on the Australian charts.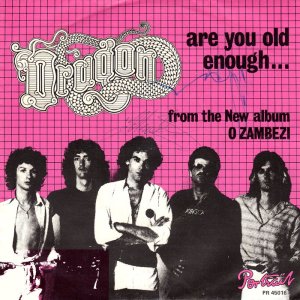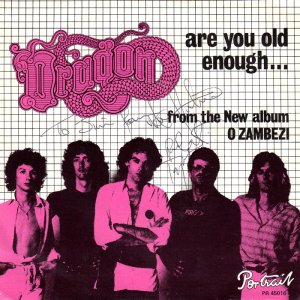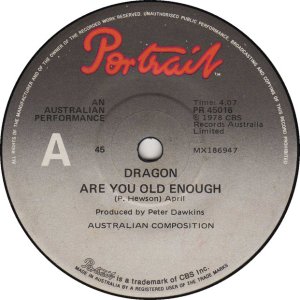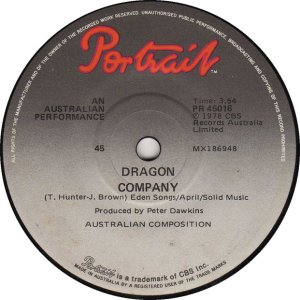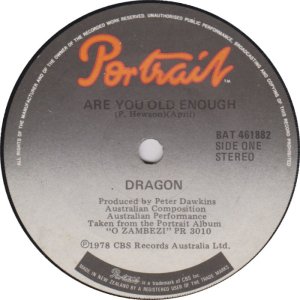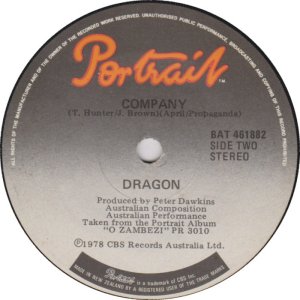 Dragon was scheduled to take their music to the USA. They left on November 11 and from the moment they arrived, they continued the antics that they had enjoyed during the tour of the previous few months. They were sent on a support tour that had them totally mismatched and their audiences were not impressed. At meetings with their American record company, they either didn't show up or when they did, they were totally off their faces. Relationships with their American record company became very cool. They had blown any chance of making it in the US.
On return to Australia, the second single from the album was released. It was "Still In Love With You"/"Politics". Dragon was still popular and the single reached 27 by the end of the year.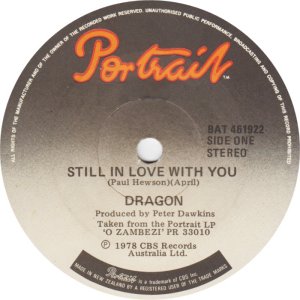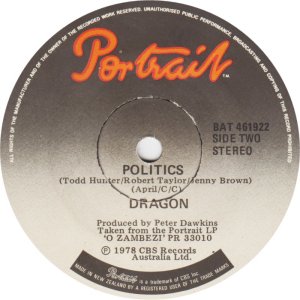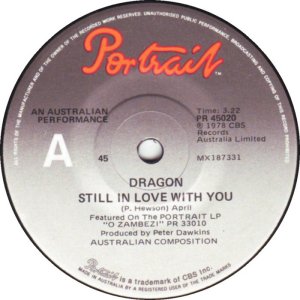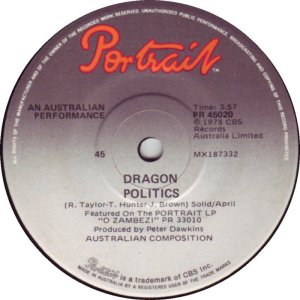 Australian Release
A few more gigs were organised up and down the country but the level of support was fading. Marc's voice was suffering from over-abuse and his on-stage antics were worse. It was time to do something about it. Marc was officially sacked from the group in March 1979. Once his health was restored, he set forth on a solo career. See Marc Hunter.
It was going to be difficult to replace the frontman, and they settled on using two friends, singer-saxophonist Billy Rogers from Perth band Hard Rock Cafe, and electric violinist Richard Lee, who had appeared on the O Zambezi album. This combination was different to what had been before. They aimed for a more sophisticated audience and even changed their musical style.
In June they undertook a tour with two other New Zealand bands, Hello Sailor and Mi-Sex, but left their former fans confused. To coincide with the tour they released another single "Love's Not Enough"/"Four Short Solos", but it was a failure, only reaching 37 on the charts.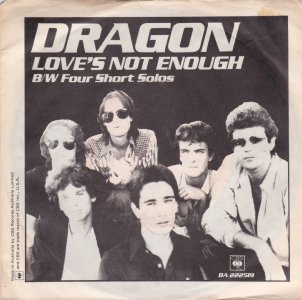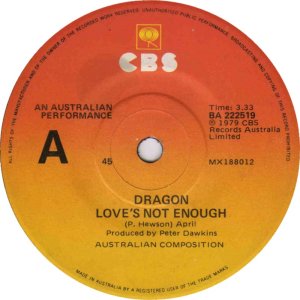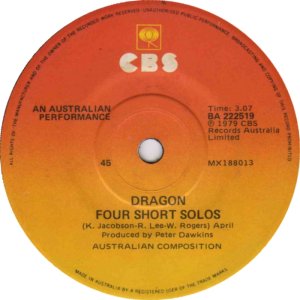 To try and re-kindle interest, CBS released "Dragon's Greatest Hits Volume 1" in July. The old fans bought it and it ended up peaking at number 8 on the albums chart. Containing seven songs from their previous three albums and three singles, it was a great selection of their music, even if it was a bit presumptuous calling it Volume 1.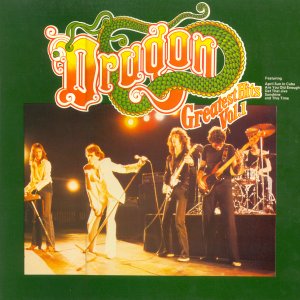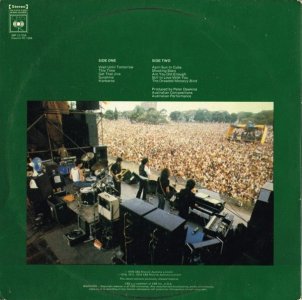 Dragon returned to New Zealand for their first national tour in September, but the trip was not successful. Back in Australia the new look Dragon entered the recording studio once more and the result was the album "Power Play".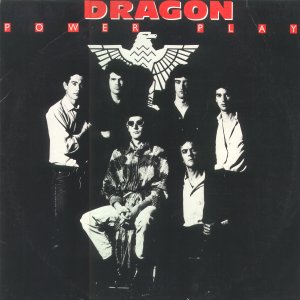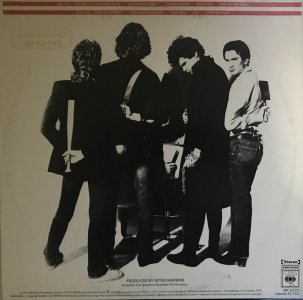 Two singles were released, "Counting Sheep"/"Now That Daddy's Home" and "Motor City Connection"/"Same Old Lies". Neither of these singles even made it to the charts. With the change in musical direction, there was not much room for Hewson's winning style. The album bombed miserably, struggling to 64 on the album charts, the worst position of any album they ever released.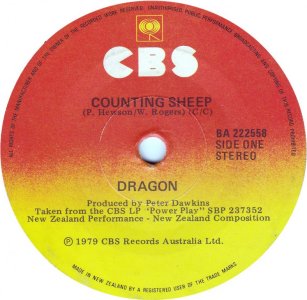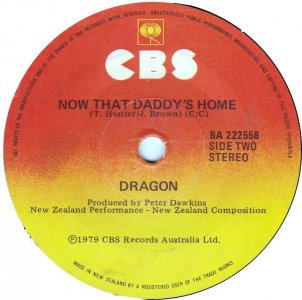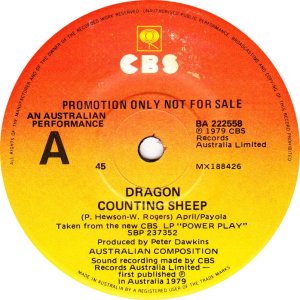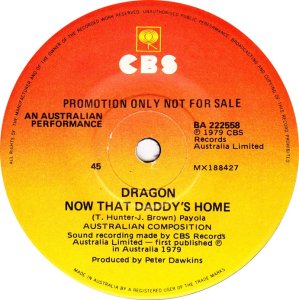 Australian Release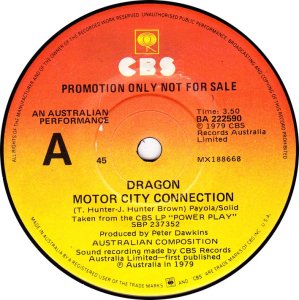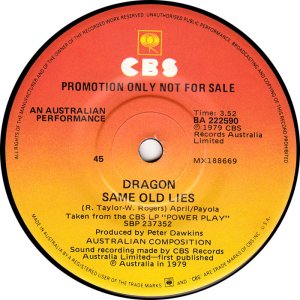 With audience numbers dropping and debts going up, Dragon decided to call it a day in December 1979, with each member going their own separate way. Marc pursued his solo career, Robert Taylor played with Sydney pub band the Magnetics. Kerry Jacobsen drummed with Mondo Rock in 1980, also Bill Miller and the Great Blokes in 1980, Kevin Borich Express in 1981 and DV8 in 1984. Todd played with the Headhunters and XL Capris in 1980. Paul had the greatest success, returning to New Zealand he joined the Pink Flamingos.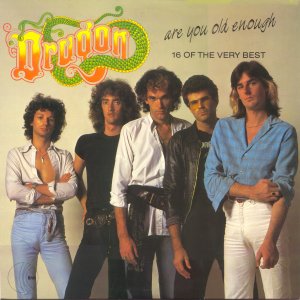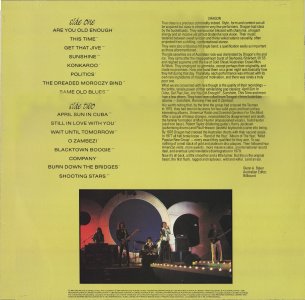 Two and a half years went by before one of the greatest comebacks by a New Zealand group took place. Dragon reformed in August 1982 with their classic line-up of the Hunter brothers, Hewson, Taylor and Jacobsen. When they disbanded in 1979, they had left some large debts behind. The main reason for the reformation was to do some gigs to pay off the debts. They did a quick tour, played all the old hits and packed in the crowds. It was obvious that there was still some magic there. With this in mind they decided to continue.
Although a single "Ramona"/"Blacktown Boogie" was released, and failing to do anything, only making it to 79 on the charts, they never gave up.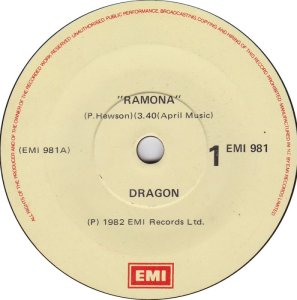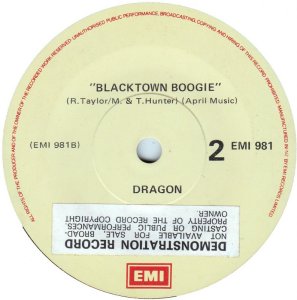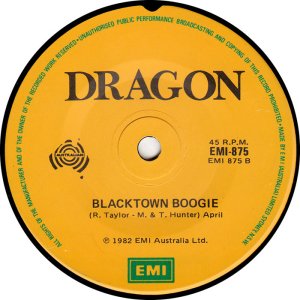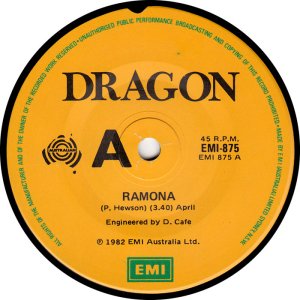 Australian Release
In July 1983 the single "Rain"/"It's Too Late" was released. This proved to be a monster hit, reaching number 2 on the charts. In November, "Magic"/"April Sun In Cuba (Live)" was the follow up single, reaching 33 on the charts. Both singles were produced by Alan Mansfield, who had worked with Robert Palmer. Alan's relationship with the group was so successful that he was invited to join the group on guitar and keyboards. Late in 1983 drummer Kerry Jacobsen fell ill with a badly infected finger. He was replaced by Terry Chambers, formerly of English band XTC.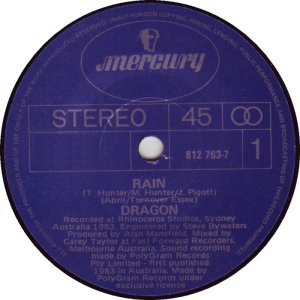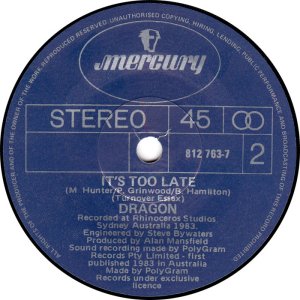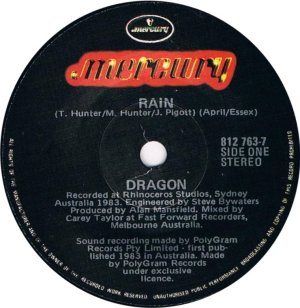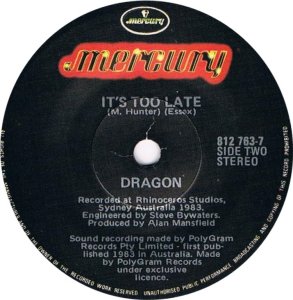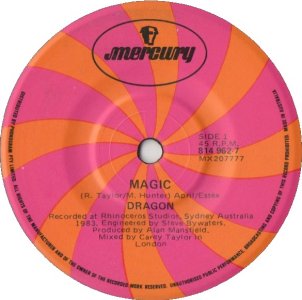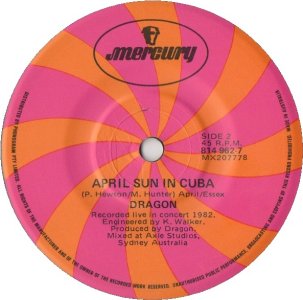 A new album was released in June 1984, called "Body and the Beat", it reached number 5 on the album charts. Although it contained no Hewson compositions (he only had one shared with all the other members), it still rates as one of their best efforts.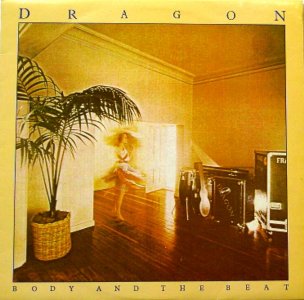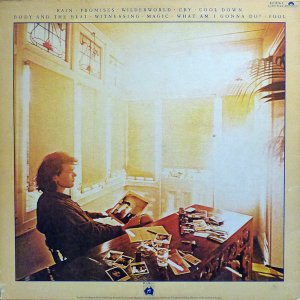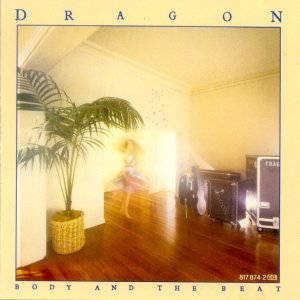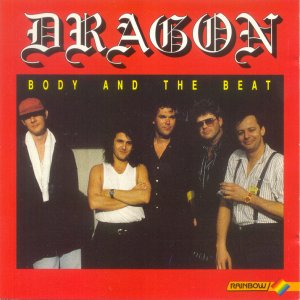 Vinyl CD Rainbow CD
Including the two already released singles, three more singles from it were released over the next four months. They were "Cry"/"What Am I Gonna Do", "Body and the Beat"/"Are You Old Enough (Live)" and "Wilderworld"/"Easy Street".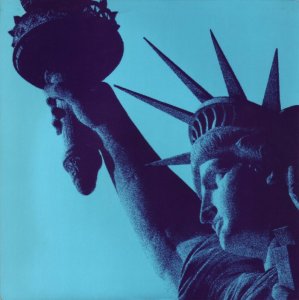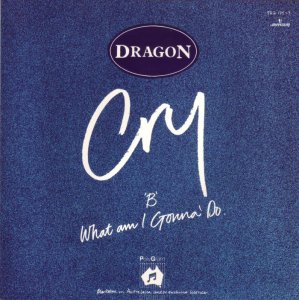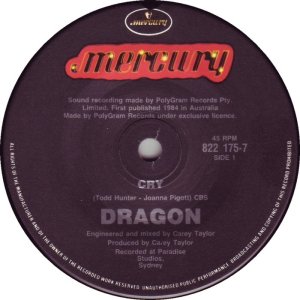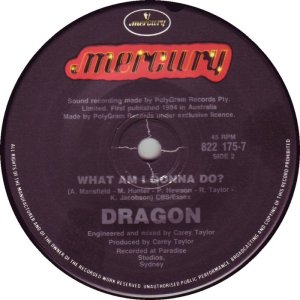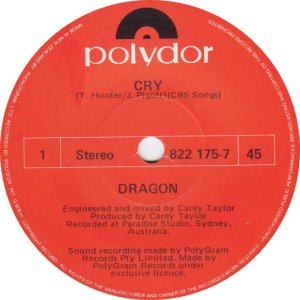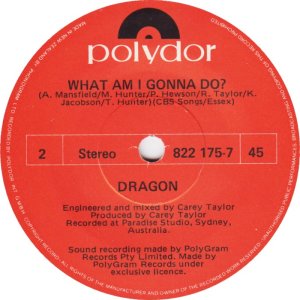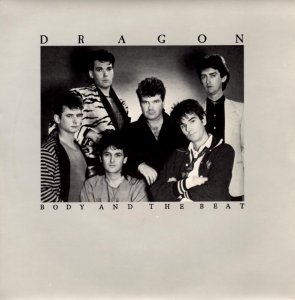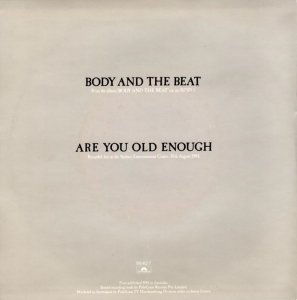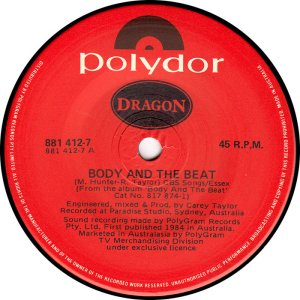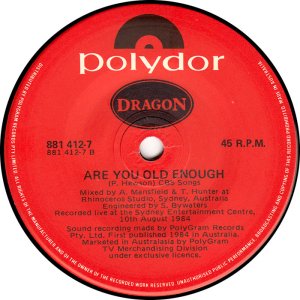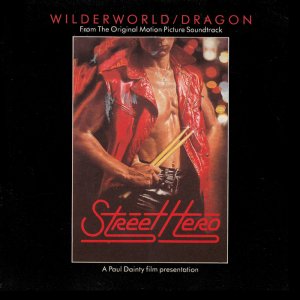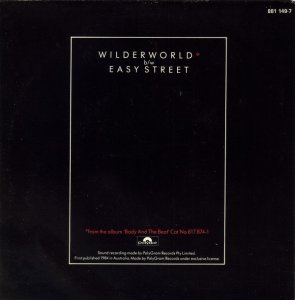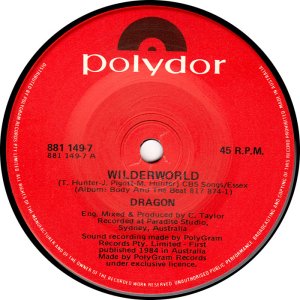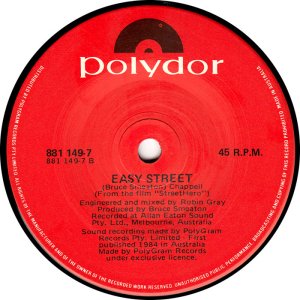 They began touring again, but it wasn't long before trouble started brewing again. Robert Taylor left and shortly after Paul Hewson decided that he needed a break as well. Their last appearances being captured on the concert album "Live One", recorded in August 1984 at the Sydney Entertainment Centre and released almost a year later.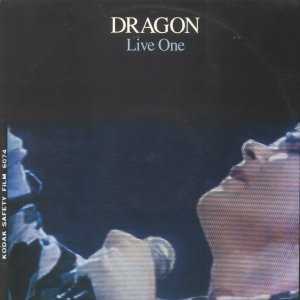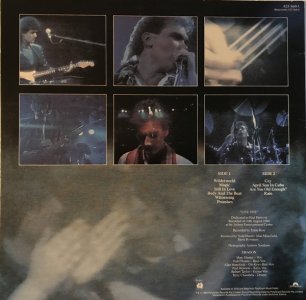 Paul Hewson returned to New Zealand for that well earned break, but instead of doing that he teamed up with the All-Stars where he enjoyed the return to less demanding performances. On the night of January 9 1985, Hewson reached a decision, phoning Todd Hunter in Sydney to inform him that he wouldn't be rejoining Dragon. Following this, he and friend Paul Hartland hit the town, ending the night asleep in Hartland's car outside All-Star Neil Edwards' Henderson home. Paul Hewson didn't wake up.
Paul was one of the greatest songwriters New Zealand has produced. An unfortunate victim of the drug world he has been sadly missed by thousands of rock fans, but his songs will lay tribute to him forever.
1985 saw the release of only one single, "Speak No Evil"/"Witnessing", which had a reasonable run on the charts, making it to number 19.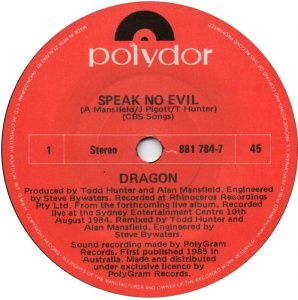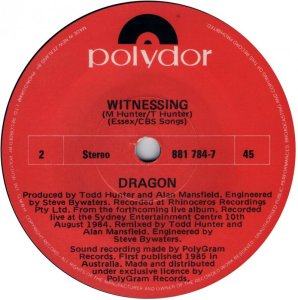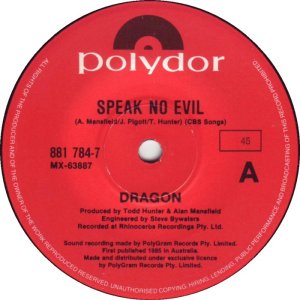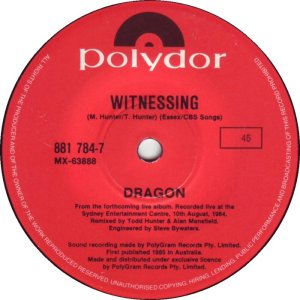 Meanwhile Terry Chambers left and he was replaced by English drummer Doane Perry from Jethro Tull. Robert was replaced by Don Miller-Robinson (from Lifesavers) and he was soon replaced by a young guitar wizard named Tommy Emmanuel. The Todd brothers were the only remaining New Zealand connection left with the group.
It was this combination who were responsible for the expensive and ambitious 1986 album "Dreams Of Ordinary Men", recorded in New York under producer Todd Rundgren. It was released in August and made it to 18 on the album charts. Three singles were released from it, "Dreams Of Ordinary Men"/"Start It Up", "Western Girls"/"When I'm Gone" and "Nothing To Lose"/"Intensive Care". Sharon O'Neill, who had now teamed up with Alan Mansfield, made her first contribution to the song writing credits on "Western Girls". Sharon and Alan were to add many more songs to the list in time.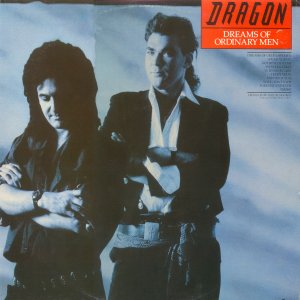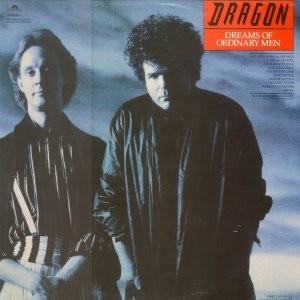 Vinyl Release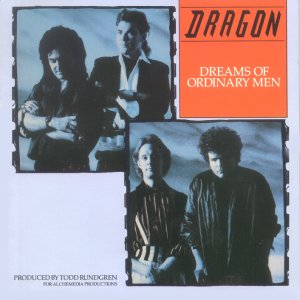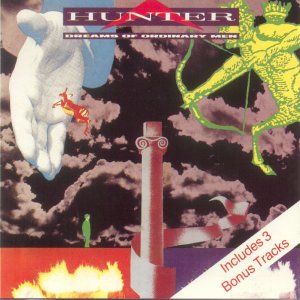 CD Release CD Release as Hunter in the US and Europe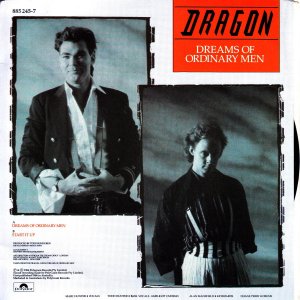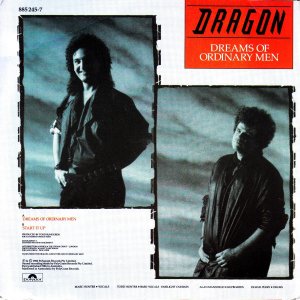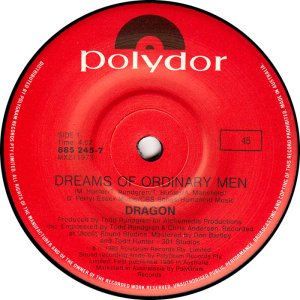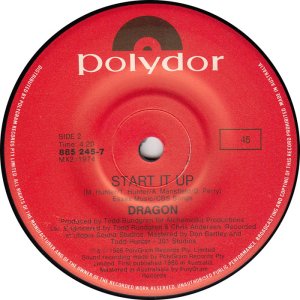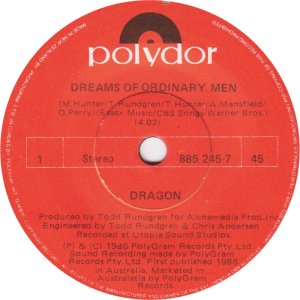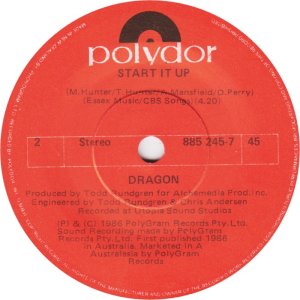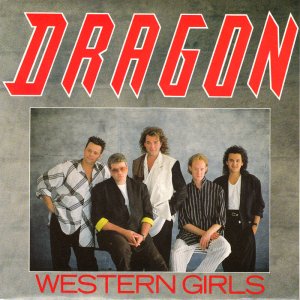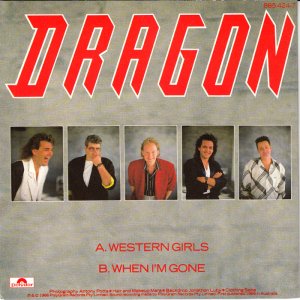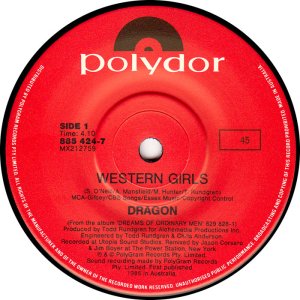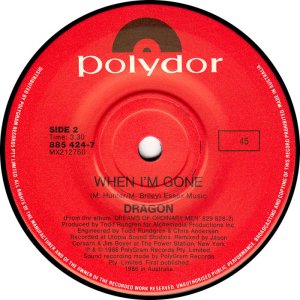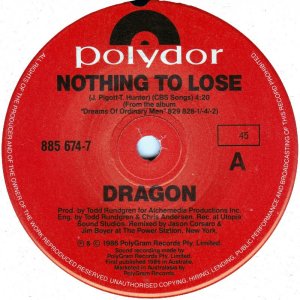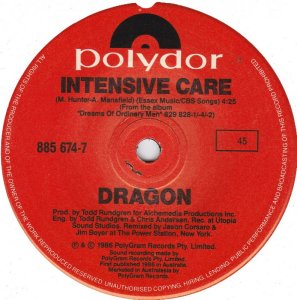 In 1987 they toured Europe as support to Tina Turner. So as to not sound like a heavy metal band, their name was changed to Hunter for the tour. The "Dreams Of Ordinary Men" CD was released in Europe and the US under the name Hunter, with a different cover. "Rain" was added to the track list, and all of the songs, except "Midnight Sun" and "Start It Up" were remixed in the US. They all sound different to the originals. During the European tour, they had been playing Kool and the Gang's "Celebration". It was so well received that they decided to record it when they got back to Sydney. Doane was no longer with them, his place was taken by David Hirschfelder. David had played keyboards in the Peter Cupples Band in 1981, before joining the Little River Band in 1983, replacing Beeb Birtles. The single was released in November 1987 and climbed to number 11 on the charts. It was an appropriate song to help celebrate the Australian bi-centenary in the new year. It was also the only non-original Dragon single ever.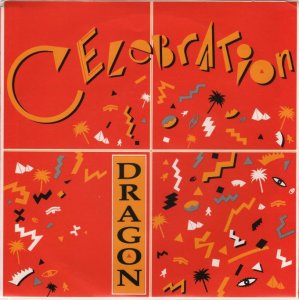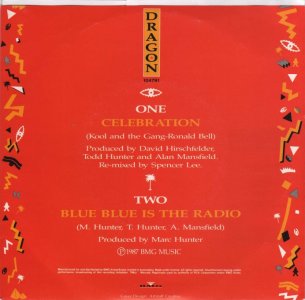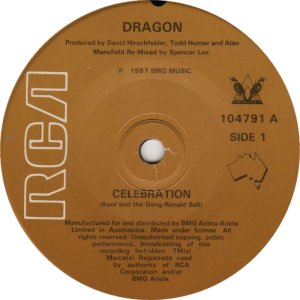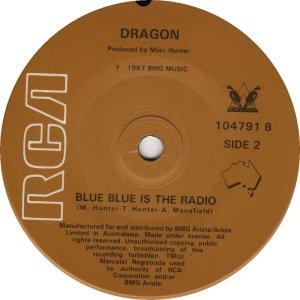 In 1988, the group reverted to just its Marc, Todd and Alan combination, adding temporarily guitarists Peter Grimwood and Randall Waller from Avion, plus drummer Barton Price from Models. A follow up single to "Celebration" was Todd's "River"/"Bottom To The Top". Although it lingered at the bottom end of the charts, it still gave them an important presence during 1988.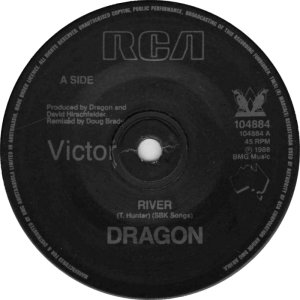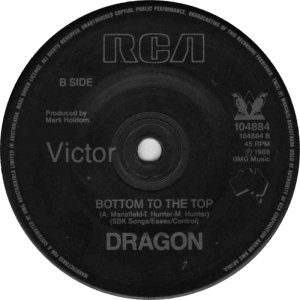 Also that year, J&B released a compilation album called "Their Classic Collection", while Portrait released a four track EP as part of their series that included Sharon O'Neill and mainly international artists.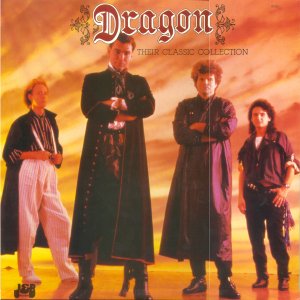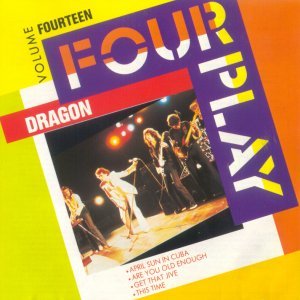 For 1989 they brought back David Hirschfelder and added New Zealander Mike Caen (from Pink Slips and Scribble) on guitar and Mitch Farmer and John Watson (from Australian Crawl) on drums. It was back to the recording studio for a new album. The result was "Bondi Road" released in May 1989 and reaching 18 on the album charts.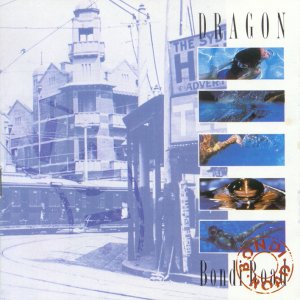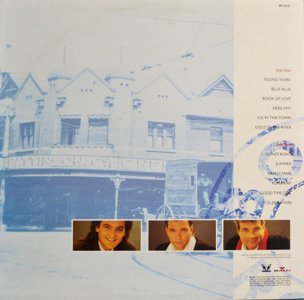 There were four songs from Sharon and Alan on the album and the first single was "Young Years"/"Runaway". This reached number 18, with the following two singles, "Here Am I"/"Good Time Girl" and "Summer"/"Heart Of Fire" not fairing quite so well. There was one more single in 1990 from the album, "Book Of Love"/"Family Man".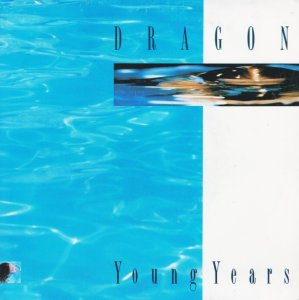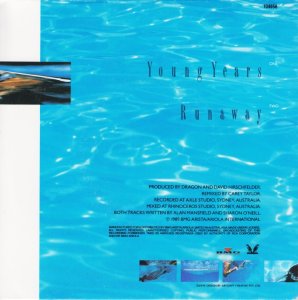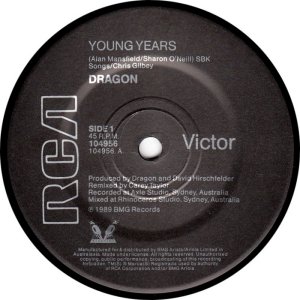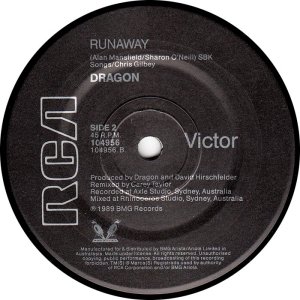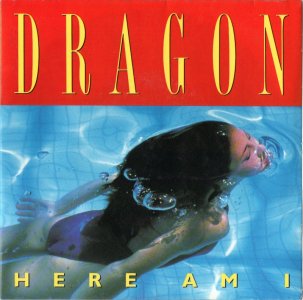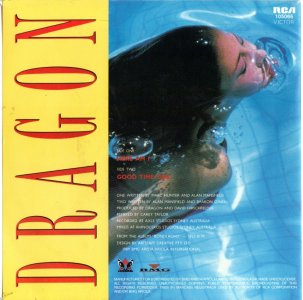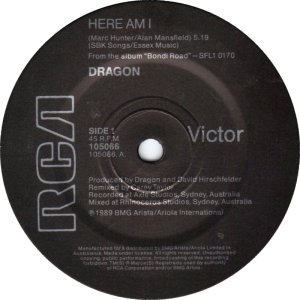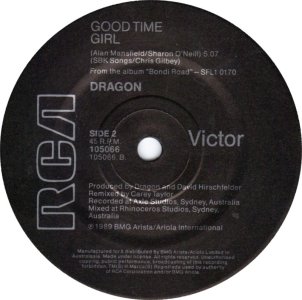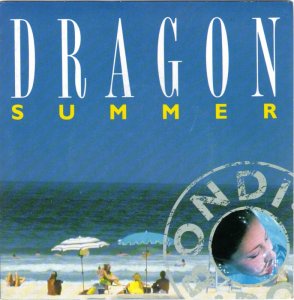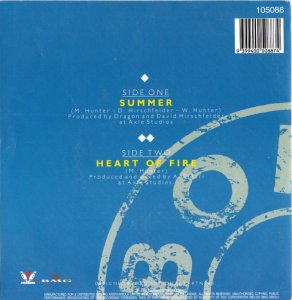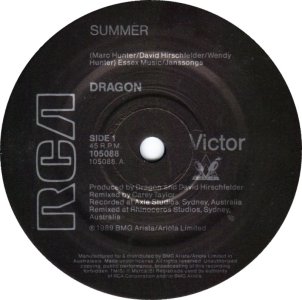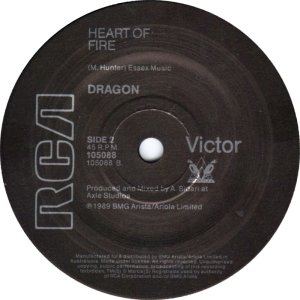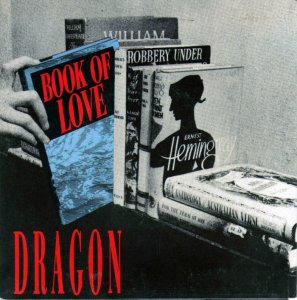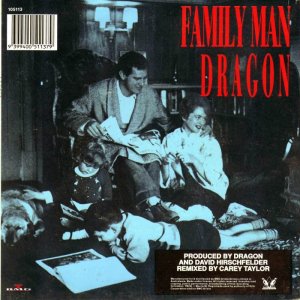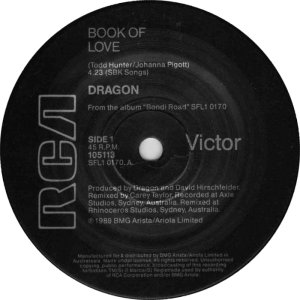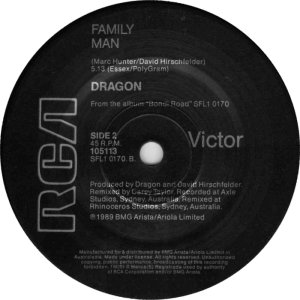 It was a great time for the three principal members, each having now linked up with creative women. Alan was with singer/songwriter Sharon O'Neill, Todd with musician/writer Johanna Pigott and Marc with clothes designer and occasional lyricist Wendy Heather. Todd had met Johanna during his stint with XL Capris and together they wrote "Age Of Reason" for John Farnham.
J&B released an updated version of their previous vinyl collection in 1989 on a CD called "Dragon - Their Classic Collection - Limited Edition".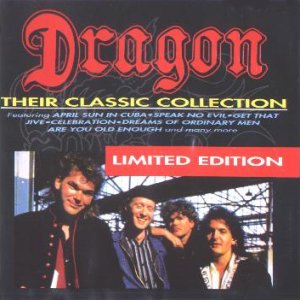 Polygram released a compilation album called "Cuts From The Tough Times" in 1990. It comprised all the tracks from "Body and the Beat" and a selection of tracks from "Dreams Of Ordinary Men".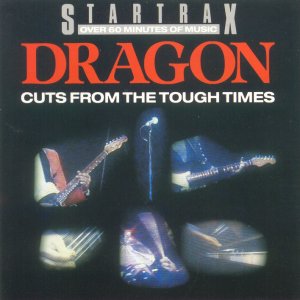 By early 1990, Dragon had effectively disbanded, but not for long. Todd, Marc and Alan were to come together only once more and that was for the album "Incarnations" in 1995. It was basically an unplugged album of their previous hits, involving a number of old friends to help put it together, plus their final single "Chains Of Love"/"Still In Love".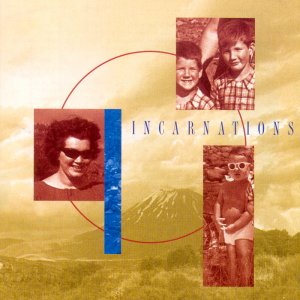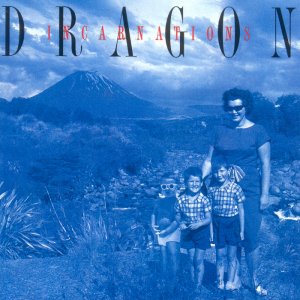 By 1997, Todd had left, and that only left Marc and Alan and a few studio musicians. In November 1997, Marc was diagnosed as having throat cancer. A benefit concert was held in Melbourne in February 1998, consisting of many artists from the Australian rock music community. On Friday March 27, 1998, a second benefit concert was held in Sydney. This was captured on "Good Vibrations".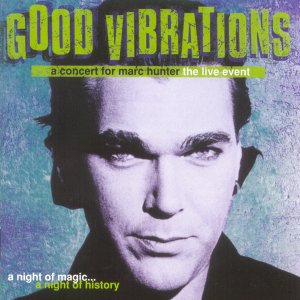 With his treatment not going very well, Marc and his wife Wendy, flew out to Daera Chun, South Korea, to try one last shot at a cure. After a few weeks, Marc returned to Sydney, where he sadly passed away on July 17th 1998.
Two albums were released in 1998 on Raven, a greatest hits and a collector's edition. These albums are a must for anybody who is remotely interested in hearing the sounds of one of New Zealand's greatest exports.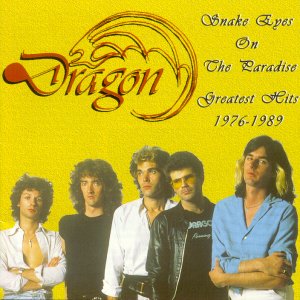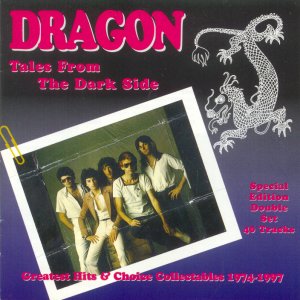 In 2006 Liberation Music started putting together some acoustic CD's of various New Zealand and Australian artists. Todd Hunter was asked if he would do one for Dragon. Utilising Todd on bass, Bruce Reid on guitars, Pete Drummond on drums and Mark Williams on vocals, an excellent CD called "Sunshine To Rain" was released. The CD also contains a demo version of "Age Of Reason", the song recorded by John Farnham, sung by Marc Hunter.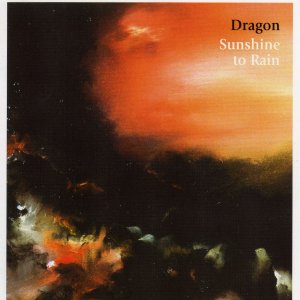 There continues to be a release of various CD's in different combinations of their songs. In 2007 Sony BMG released the Essential Dragon as a double CD.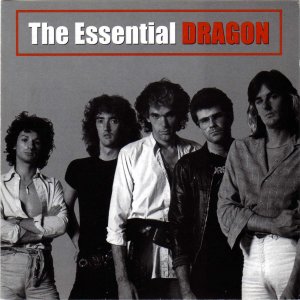 Perhaps one of the more significant releases came in 2009, when Aztec Music released a CD version of Universal Radio. There were three bonus tracks added to the CD. The first is "Black Magic Woman", and the other two are the A & B sides of Marc's first solo recording from 1973 "X-Ray Creature / Dinghy Days". This single was originally released as Mark Hunter on the Family Label FAY 1066.
Dragon can also be found on the following compilations.