Creation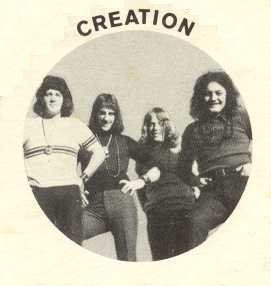 Original Line-Up:
Peter Leef (Vocals)
Peter Matthews (Lead Guitar)
John Roche (Organ)
Greg Christensen (Bass)
Tony Roche (Guitar)
Greg Christensen and Peter Leef were classmates at school in Blenheim in 1967 and they started singing together. Peter is the brother of Barry Leef from the Simple Image.
In Blenheim there was a band called The Troll, whose members were Peter Matthews on lead guitar, John Roche on organ and his brother Tony Roche on guitar. They invited Peter Leef to join them as their vocalist. He agreed and brought Greg along to be the bass player. They renamed themselves to The Creation and started playing around the local area.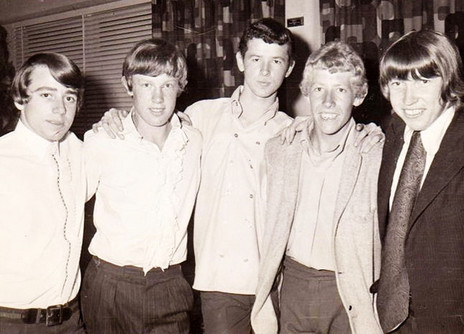 The original Creation line-up in Blenheim, circa 1968. Left to right: John Roche, Greg Christensen, Peter Leef, Peter Matthews, Tony Roche.
Greg and Peter Leef made regular visits to Wellington to see Barry Leef and to check out the other bands playing in the Wellington area. Greg wasn't happy with the direction that the Creation was going, so he left and joined another local band, Fire. This band included drummer John Rarity, organist Johnny Morris and guitarist Bill Martin.
In 1969, Peter Leef relocated to Wellington. It wasn't long before Tony Roche and Peter Matthews joined him, and also came Fire's John Rarity and Johnny Morris. Together they reformed Creation. Greg was not old enough at the time to go to Wellington as well.
Tom McDonald of Universal Booking Agency noticed them and was interested in booking them, but only if they downsized to four members. Peter Leef was selected as the member to go, and Peter Matthews decided that if he was going, then he would join him. Peter Matthews joined Next Of Kin and Peter Leef joined guitarist Kemp Tuiirangi and organist Alan Moon in Sons and Lovers.
Greg Christensen had now turned 17, and he joined the others in Wellington. Tony Roche had indicated that he was also leaving, so the others recruited guitarist Phil Rakena.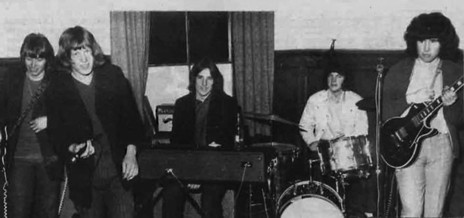 The brief Creation line-up after Greg Christensenís arrival in Wellington, 1970. Left to right: Tony Roche, Greg Christensen, Johnny Morris, John Rarity, Phil Rakena.

Creation, 1970. Clockwise from bottom left: Phil Rakena, Johnny Morris, John Rarity, Greg Christensen.
Now that they were a four piece, Tom McDonald booked them to take over the residency at the Aquarius in Lower Hutt, vacated by the Hi-Revving Tongues.
Rakena didn't stay around for long and he was replaced by Glenn Timihou, who had previously been with Spyce Of Life.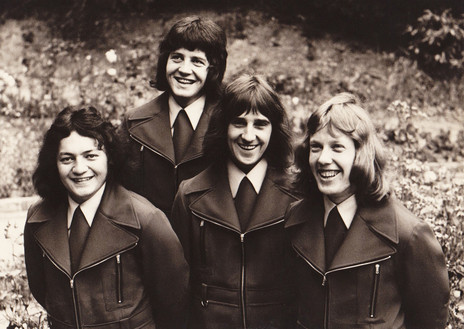 Creation in early 1972. Left to right: Glenn Timihou, John Rarity, Johnny Morris, Greg Christensen.
Tom McDonald signed the group to his own UBA Records label. Other groups and artists that Tom looked after in Wellington from 1962 to 1974, and there were many, included the Simple Image and Barry and the Breakaways, and the Dedikation. He worked them very hard and put them on a tour with The Peddlers. While on tour, Peddlers singer and organist, Roy Phillips, suggested a song for Creation to record. It was "Carolina", a song that had been recorded in the UK by James Royal. It had been written by an Italian pair, Balsamo and Testa, with English lyrics supplied by Terry Britten, guitarist with the Twilights.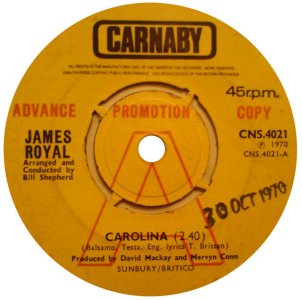 Tom McDonald got Creation an audition with HMV, but they weren't interested in the group, so Tom just booked the studio for a day, for them to record enough material for an album. The stand out song from the session was "Carolina" and Tom decided to release it as a single on his own UBA label in May 1972. By June it had peaked at number 7 on the National charts.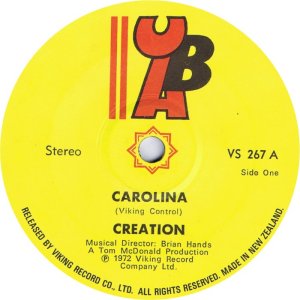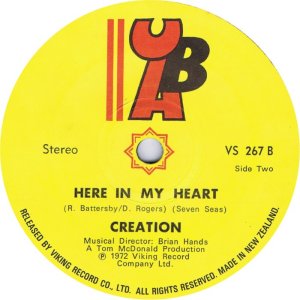 The song received extensive airplay right throughout New Zealand and it was selected as a finalist for the 1972 Loxene Golden Disc Awards. Creation found themselves doing constant touring, the full length of New Zealand. The night before the awards final, they were in Whangarei and spent all night after their show and the next day driving to Christchurch. Creation won the competition for Group Award. Taking advantage of the group's success, Tom wasted no time in putting together the recordings from their HMV session and released a self-titled album. A follow-up single "Can't Help Myself"/"Pearl" was not successful, not even getting a look at the charts.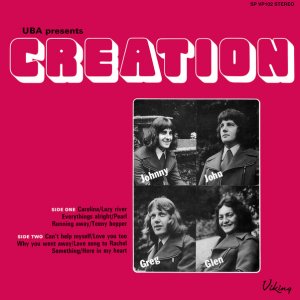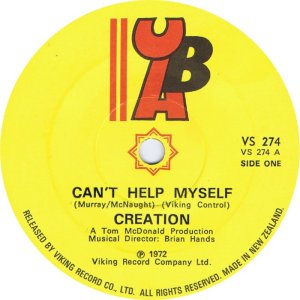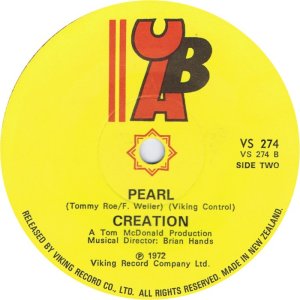 The constant touring took its toll on the group and within a few weeks of their Gold Disc success, the band broke up. John Rarity and Johnny Morris got back together with Peter Leef and Peter Matthews, and another friend Neil Mickleson, to form Prentice. They spent time on the Lion Breweries pub circuit. Glenn Timihou spent a period in Tapestry.
Greg Christensen met up with former Tanglefoot and Stacey Grove drummer, Mike Phillips, and set about putting together a new Creation. They recruited Paul Jeffares and John Maloney from the Hawkes Bay's Fortress on guitar and organ respectively.

Creation, 1973. Left to right: Mike Phillips, John Maloney, Greg Christensen, Paul Jeffares.
They went back to Tom McDonald and convinced him to record the new line-up. They selected an old 1960's song "Tell Laura I Love Her" with "Blind Boy" on the reverse. When released, the song peaked at No 3 on the National Charts in September 1973. The song was also released in the UK and also in Australia. In August 1974 the song was number one on the Sydney charts, so the group grabbed Neil Mickleson from Prentice, allowing Greg to be a frontman, and headed over to Australia.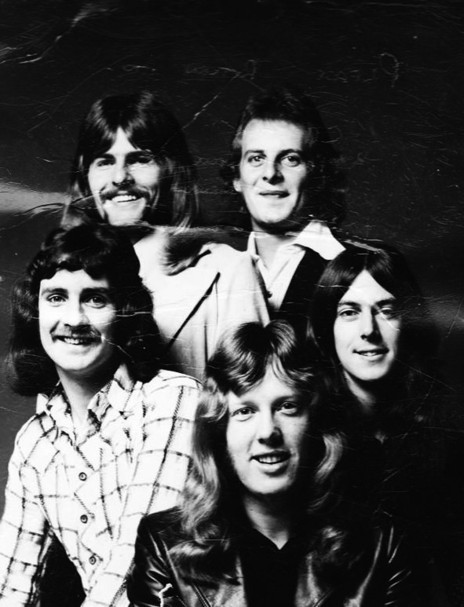 Creation in Australia, 1974. Clockwise from left: Mike Phillips, John Maloney, Neil Mickleson, Paul Jeffares, Greg Christensen.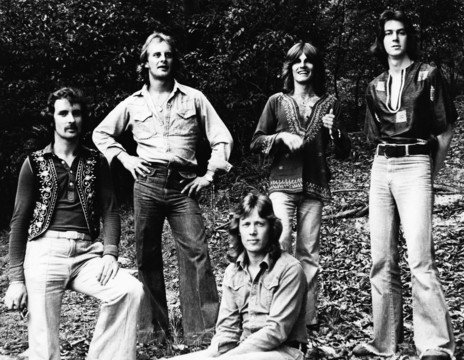 Creation in Australia, 1974. Left to right: Mike Phillips, Neil Mickleson, Greg Christensen (front), John Maloney, Paul Jeffares.
Creation spent the next year touring all the major cities in Australia, playing alongside some of the best groups from that country. Again its was very enduring and eventually it once more took its toll with the band splitting up. Greg headed back to Wellington.
Meanwhile Tom was still trying to take advantage of their prior successes by releasing some of the other songs he had recorded.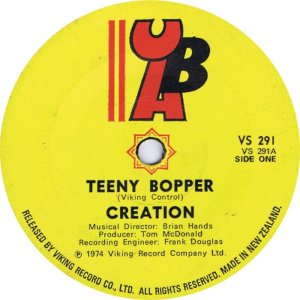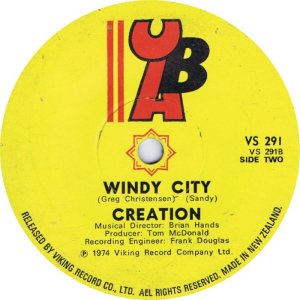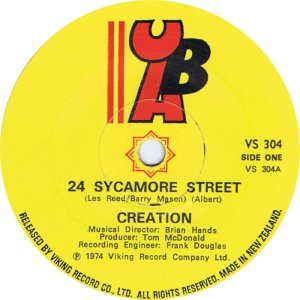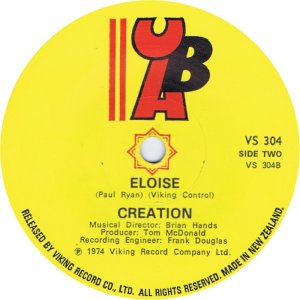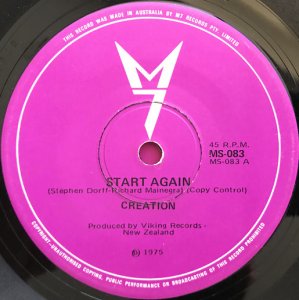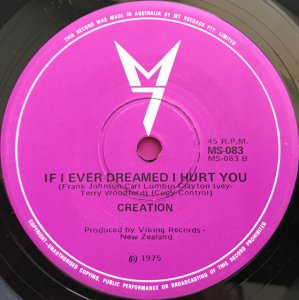 Greg Christensen went on to record three solo singles between 1977 and 1980. The first two were on the Vertigo label and were "Marie"/"The Good Guys and The Bad Guys" in 1977 and "Smiley"/"Windy City" in 1978. In 1980 his last single was on EMI and called "Baby I Like It"/"If You See My Baby". It was also released in Australia.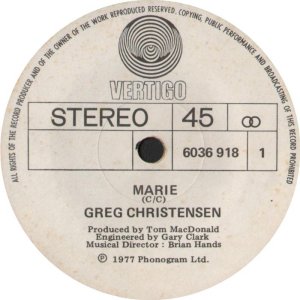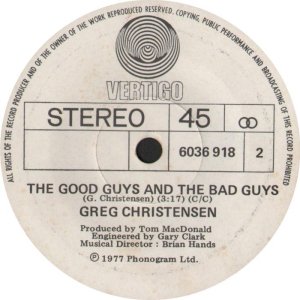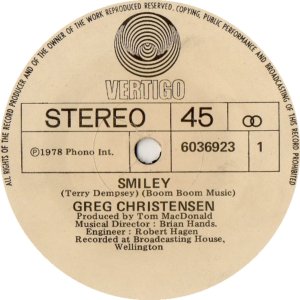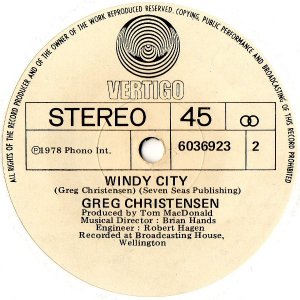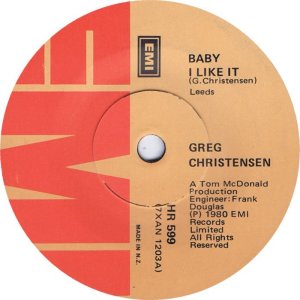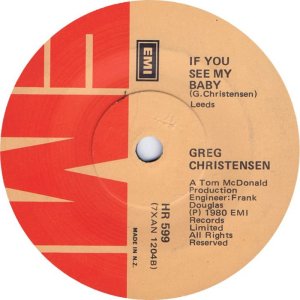 Creation can also be found on the following compilations.