Ticket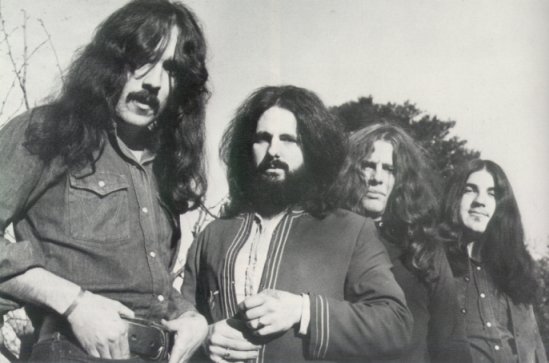 Ticket in 1972: L to R Eddie Hansen, Trevor Tombleson, Ricky Ball and Paul Woolright.
Line-Up:
Eddie Hansen (Lead Guitar)
Ricky Ball (Drums)
Paul Woolright (Bass Guitar)
Trevor Tombleson (Percussion / Vocals)
During the period of 1972, Ticket were New Zealand's ultimate acid band.
Guitarist Eddie Hansen emerged on the music scene in a group called Revival, which also contained vocalist Craig Scott. When Craig went solo in April 1970, the Revival broke up. At that point Eddie left Christchurch and headed to Auckland. He accepted a gig with Challenge, who were in their last days, after having had a couple of successful hits. He quickly realised that he shared a common interest in the styles of music of the likes of Crazy Horse, Traffic and Jimi Hendrix, with Challenge drummer Ricky Ball. The two of them decided to form their own group, in order to be able to play their preferred style of music.
The pair looked around for some like-minded musicians to join them, and found Paul Woolright to play bass guitar and Trevor Tombleson for vocals. With this line-up, Ticket was formed in May 1970.
Ricky Ball started his career with a group called the Beatboys, then the Courtiers, before becoming a member of the Challenge. Trevor Tombleson played bass guitar back in 1965 with a group called Moses and the Munks, before joining the Jamestown Union. He eventually left that group to pursue a solo career as M.T. Davies in 1967. Trevor became friends with Ricky Ball, and this friendship developed, with Ricky asking Trevor to join Ticket.
Ticket started playing gigs around Auckland, but were not getting enough work to pay the bills. Eddie called Trevor Spitz in Christchurch to see if he could help out with a venue. Trevor had been with the Four Fours and when he left them in 1966 he got a job managing Phil Warren's Monaco nightspot in Christchurch. This was the venue that Revival had played at. Trevor asked for a demo tape and after listening to it got the group a gig at another of Warren's venues, Aubreys, in Christchurch.
It was at Aubreys that Ticket developed a sound that was radically different to what any of them had previously played. Trevor Tombleson was one of the better singers of the underground scene, but it was Hansen's instrumental prowess which dominated the band. Tombleson wailed and Hansen scorched, and behind them stood one of the tightest rhythm sections around. Ricky provided a solid and relentless beat and Paul was the perfect partner to Ball's hard hitting style, holding down the bottom end with precision and just a touch of funk.
By mid-1971 Ticket had outgrown their Aubreys venue, and during that time had built up a big following in other South Island centres. In July 1971 the group decided to head north. Their reputation preceded them and concerts at Universities along the way were well attended and received. In Auckland the group came to the attention of promoters Barry Coburn and Robert Raymond. With new promotional power, the group supported Daddy Cool on their tour, and then headlined Coburn-Raymond's National Blues Rock Convention held at the Wellington Opera House. This attracted a capacity crowd and was also broadcast live on radio.
In October 1971, New Zealand's first international outdoor concert was held when Elton John had his debut show at Auckland's Western Springs. The support slot was well sought after and Ticket were successful, performing in front of 20,000 people.
Coburn even had his own record label, Down Under, so once again with his influence, Ticket recorded and released their first single. Actually released on the Ode label the single was "Country High"/"Highway Of Love". This was very successful for an underground group at the time, with "Country High" spending five weeks on the National charts in December 1971, peaking at number 12.
The follow-up single was "Dream Chant"/"Awake". Released on Down Under, it was not as successful, even though "Dream Chant" had been one of the group's most popular numbers back in their days at Aubreys. In May 1972, their debut album, "Awake", was released. "Awake" was produced by Frank Douglas at HMV Studios and released on the Ode label.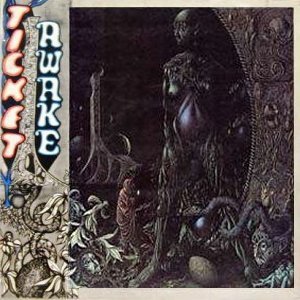 A third single "Stoned Condition"/"Then You'll Fly" was released on Down Under, but it was banned by the NZBC. In June 1972, Ticket crossed the Tasman, to perform a month long residency at Sydney's Whiskey-Go-Go. The reaction at the Whiskey exceeded everyone's expectations, and rather than returning to Auckland, Sydney based Robert Raymond secured them another residency at Chequers, another prestige gig. Performances in Queensland and Victoria followed.
While in Australia, a single was released there, "Awake"/"Country Radio", on Atlantic. Also while in Melbourne, the group recorded their second album, "Let Sleeping Dogs Lie". This was self-produced and recorded at Channel Nine's 16-track studio. The album was released in late 1972.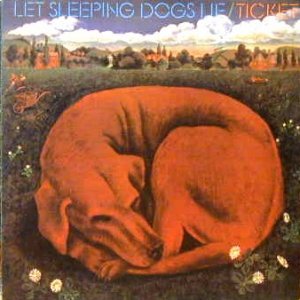 Everyone was happy with the album, except Eddie. He was becoming increasingly unhappy with Ball and Woolright's scotch and speed lifestyle, and the pounding beat which was at odds with the atmosphere he was trying to create. Eddie was becoming disillusioned with the hippie / drugs lifestyle.
Meanwhile back in Auckland, Coburn and Raymond, along with Hugh Lynn, had purchased a downtown nightspot, primarily to be used as a home base for Ticket. Management had great faith in the band and had huge plans for the boys over the next twelve months. Coburn and Raymond were in the process of organising a Woodstock style festival at Ngaruawahia for early 1973. Ticket would be given a key slot on the bill and, following the festival, would support headliners Black Sabbath on their Australian tour. This, they believed, would really break the group across the Tasman. That done, they would then head to the US in mid-year.
Ticket returned to New Zealand in November 1972 and opened the new Auckland venue, Levi's Saloon. Fans didn't seem to notice the growing animosity in the band, but it came to a head at the Ngaruawahia Festival. The crowd loved Ticket's performance, but Hansen was disgusted. It was their last gig.
Another single was released in New Zealand, "Mr Music"/"Let Sleeping Dogs Lie", while in Australia the b-side was "Them Changes". "Mr Music" was an uncharacteristic piece of funk which should have been a hit but wasn't.
After a few months break, Hansen reformed Ticket, with Glen Absolum on drums, Billy Williams on bass guitar and Steve Gunn on vocals. It just wasn't the same, even when Tombleson returned to take over from Steve Gunn. The group had disbanded by the end of 1973.
Tombleson changed his name to Trevor Keith and enjoyed a brief stint with England's Keef Hartley Band in the mid-70's and was later a member of Monsoon, a Melbourne band of expatriate Kiwis.
Eddie Hansen had been converted to Hare Krishna at this stage, the result of his close friendship with Harvey Mann. Eddie played for a short time in 1974 with Band Of Light, but by 1975 he was together with Harvey Mann in Living Force. In 1974 Ricky Ball and Paul Woolright were members of Rainbow. Ricky left that group in August 1976 to become a member of Hello Sailor. In 1980, Paul, Ricky and Eddie all ended up at the same time in Beaver.
Ticket can also be found on the following compilations.