Rockinghorse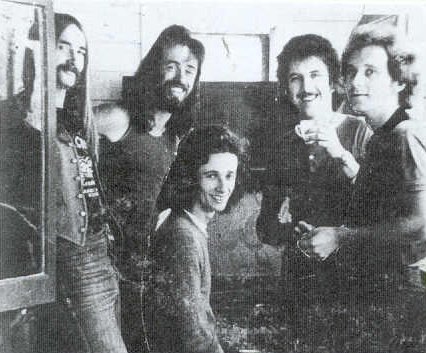 Line-Up:
Clint Brown (Bass Guitar)
Keith Norris (Drums)
Bruce Robinson (Lead Guitar)
Carl Evenson (Percussion / Vocals)
Wayne Mason (Guitar / Vocals)
Rockinghorse were a group that were fortunate to have come together at the right time. Alan Galbraith had returned to Wellington from London as HMV's in-house producer, just prior to the company's name-change to EMI in April 1973. Alan felt that the company needed a full-time house band to provide backing for the many soloists that they had on the books at the time. Alan went looking and in January 1974 he found Rockinghorse, and they provided backing for almost all the releases to come out of EMI in 1974.
Few groups hit success so fast in their careers as what Rockinghorse did. They were still in rehearsal stage when Galbraith came along, resulting in EMI providing not only a regular wage, but also management, equipment, transport and even clothes. The good thing about Rockinghorse was that they weren't just a bunch of new players trying to make it, but a group of experienced players who had been around for a while, playing in various groups.
Keith Norris and Clint Brown had been playing together since 1969, starting in Wellington's Rebirth. In mid-1970, the pair left and headed to Australia, thereby ending Rebirth, and they joined up with expatriates Dave Brown or Baker (saxophone) and Milton Parker (guitar) to form Tangent or Biplane ?. This group disbanded in March 1971 and Clint Brown and Norris returned to Wellington, where they joined up with guitarist Kevin Bayley, keyboardist Steve McDonald and guitarist Rick White, to form Taylor. Clint Brown was a busy man, also having a stint with Aardvark for a while in 1972 and 1973.
Taylor had moderate success, recording an album and also securing a much sought after residency at John's Place in Auckland. When they broke up in mid-1973, Brown and Norris returned to Wellington, where they met up with Wayne Mason and Carl Evenson from Fourmyula. This pair had just recently returned to New Zealand from Britain for a holiday, after having formed Flinders prior to their departure from London with fellow New Zealanders Bruce Robinson on guitar and Richard Burgess on drums. All four had returned to New Zealand, giving up on the task of making it in Britain. Bruce Robinson joined Mark Williams in Face, replacing Mack Tane, while in Wellington Brown, Norris, Mason and Evenson began jamming together. After Mark Williams went solo, the Face ended, so Bruce Robinson joined the rest of the guys in Wellington, providing them with a much needed guitarist. Bruce Robinson had originally been in the Pleazers and later Troubled Mind. Calling themselves Rockinghorse, they began rehearsals in late 1973. The group made their debut at New Plymouth's White Hart Inn in December 1973 with a country rock repertoire of covers and originals.
Now with EMI in 1974, Galbraith recorded and released their first single, "Good Old Rock 'n' Roll"/"My Fancy Man", in March 1974. A second single, "Take A Stronger Look"/"Whisper I Love You I Do", followed shortly afterwards. During 1974 and 1975, when they weren't doing in-house duties, Rockinghorse gigged extensively. In April 1975, their third single gave them their biggest hit. "Thru The Southern Moonlight"/"Greyest Morning Blue" reached number 12 on the National Charts. Their debut album, "Thoroughbred" was quickly released and contained the first three singles. The album was well-received and in November 1975 they were rewarded by picking up two RATA Awards, one for 'Best Group' and the other for 'Best Single'.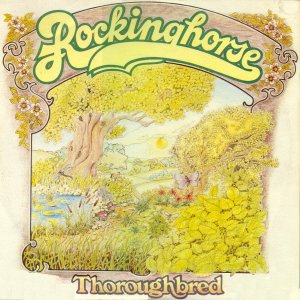 At the time of the awards, Rockinghorse had a residency at Wellington's Lion Tavern. Unfortunately for the group, the awards were in the afternoon and they were scheduled for their gig at the tavern that night. By the time they arrived at their gig, they had been celebrating for a few hours and the management were not impressed with the state in which they arrived, and told them to do their job or they would not play there anymore. Being "New Zealand's Best Group" suggested to them that they should not be spoken to in such a manner. They told the tavern manager where he could stick his gig and promptly walked out. Next day, after the excess had worn off, they tried to apologise, but it was too late, the word had already spread and Lion Breweries had been advised that Rockinghorse were troublemakers and they were banned from the breweries circuit for the next twelve months. Without the breweries, it was a struggle to survive.
Bruce Robinson left the group in 1975, just before the Lion Tavern incident and was replaced by Kevin Bayley. The group continued on and released two more singles during 1975, "Grand Affaire"/"Turn On The Light" and "Oh Marimba Go"/"So Do I", both included on the group's second album, "Grand Affaire", released in April 1976.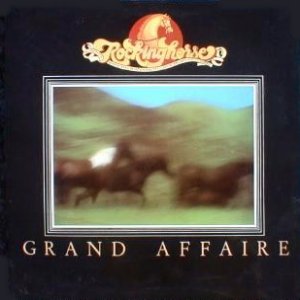 The album barely managed to break even in costs. When Alan Galbraith decided to leave EMI in May 1976, Rockinghorse found themselves without EMI's management and regular wage as in-house band. With poor sales from their second album and their inability to provide EMI with a successful follow-up hit single, led to their contract with EMI not being renewed.
In late 1976, Barry Coburn took over the management role. He patched up the differences with Lion Breweries and Rockinghorse were back on the road. Unfortunately the band had lost their impetus and never made up for the time they had lost because of the breweries. A new single, "You Can Love"/"Motorcycle Boogie" was released on Coburn's White Cloud label in 1976, but again the single failed to sell.
In December 1976 the band appeared at a one-day festival at Waikino. Headlining acts included the Country Flyers, Th' Dudes, and Ragnarok. Also present was the up-and-coming Hello Sailor.
In 1977, Carl Evenson left and Christchurch's Barry Saunders took over on lead vocals. Keith Norris also left and his drummer's seat was taken over by Jim Lawrie.
Coburn soon lost interest in the band during 1977 and Danny Ryan took over as manager in late 1977, but Rockinghorse's days were numbered and their time had passed. In 1978, Jim Lawrie left and he was replaced by Steve Garden.
Their last days were spent in a residency at Wellington's 'Last Resort', a venue co-owned by Clint Brown, manager Danny Ryan and a couple of others. This gave Rockinghorse a regular place to play, but by late 1978, patrons were demanding regular changes in performing bands, so Rockinghorse called it a day. Clint Brown was later to play in the Warratahs. Kevin Bayley formed Short Story in 1979.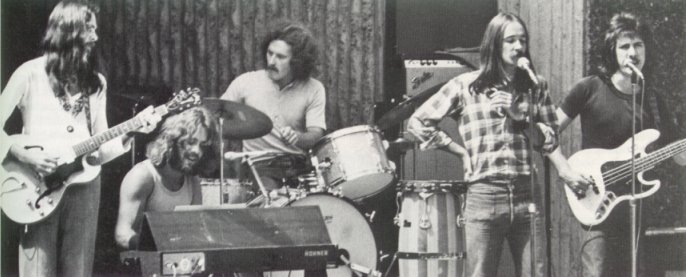 1974 L to R: Bruce Robinson, Wayne Mason, Keith Norris, Carl Evenson and Clint Brown.
Rockinghorse can also be found on the following compilations.